The 55 Best K-Dramas You'll Be Completely Hooked On
Wait, how is it already 2 a.m.?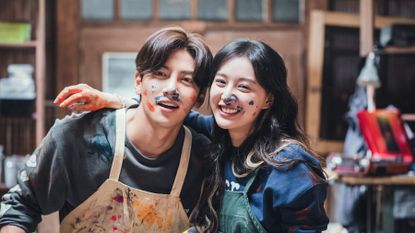 (Image credit: Netflix)
If you're not watching Korean dramas, better known as K-dramas, then you're missing out in several ways. First, there's the big-picture, cultural impact to consider: K-dramas and K-movies have become a worldwide phenomenon, and if you're going to be a pop culture connoisseur/productive denizen of the entertainment-loving internet—and you're here, so you obviously are both of those things—then you need to be versed in all things K-drama. And then there's the more important reason to watch Korean dramas: They are addictive and amazing, and you'll thank yourself for adding them to your pop culture diet.
Known for their interesting storylines and intense (if sometimes predictable) plot twists, Korean dramas can go from super sappy to incredibly heartbreaking to "WTF, what was that?" in a heartbeat. That variety is exactly what keeps viewers coming back for more. Here, we've listed the 50 best-ever K-dramas to watch, grouped by the most popular genres—and if you're well versed in the more established K-dramas, consult our list of the best new Korean shows on Netflix in 2023. (And if you're looking specifically for the all-time best K-dramas on Netflix, best K-dramas on Viki, best Korean dramas on Prime Video, or best Korean dramas on Hulu? We've got you covered there too.)
Action/Thriller Korean Dramas
If your Korean entertainment knowledge doesn't expand beyond Squid Game and Train to Busan, here's where to start. These thrilling K-dramas are filled with action and intrigue, with some selections touching on societal issues in a similar vein to Parasite. (Also, so many zombies!) Your next stop: the best Korean thriller movies.
'Squid Game'
If you haven't yet checked out Squid Game, which is set to become Netflix's most-watched show ever, then here's one more recommendation: This edge-of-your-seat Korean thriller on Netflix is definitely worth a look. In the viral hit, a group of characters in serious debt sign up to play a series of children's games for a chance at 45.6 billion won (about $38 million). The catch? If the players loose at Tug of War or Red Light, Green Light, they die. (For fans eagerly awaiting season 2, here's everything we know so far.)
'Sweet Home'
If you enjoyed Korean movies like The Call and #Alive, you'll be able to stomach and love Sweet Home. The show follows a guy who moves into a new apartment complex after the death of his family. Depressed and a loner, he starts witnessing frightening things in the building from some of his odd neighbors. If you're a peek-over-the-blanket-type person when watching horror shows like I am, then I'd advise you to tune into this during the day time. (I made the mistake of starting this show at night—never again.)
'Happiness'
This modern zombie drama is full of surprises at every turn, starting with being one of the only dramas to acknowledge the COVID-19 pandemic. Officer Yoon Sae-bom (Han Hyo-joo) has been dreaming of having her own apartment when she gets the chance to move into a high-rise with her high-school friend, Detective Jung Yi-hyun (Park Hyung-sik). Soon after they move in, an infectious disease sweeps the country, with those infected getting a craving of human blood. The apartment building ends up quarantined, with Sae-bom and Yi-hyun trying to keep the peace amoung the eccentric tenants.
'All of Us Are Dead'
This heart-racing zombie thriller offers another unique spin on the drama, following a group of high school students as the zombie apocalypse comes to their school. The kids are left on their own as their classmates quickly return, and we see how they handle the survival challenge while also getting storylines of parents and politicians handling the virus outside the school. The most interesting part is how classic high school tropes (crushes, bullies, etc.) are twisted into thrilling plots.
'My Name'
In this intense thriller, a young woman named Ji-woo (Han So-hee) sets out to avenge the death of her father, who was involved in the criminal underworld. She takes up a new identity as a member of the police force working with her father's old partner, Choi Mu-jin (Park Hee-soon).
'D.P'
This brutally realistic drama stars Jung Hae-in as An Jun-ho, following the young man as he enlists in the South Korean army as part of his mandatory military service. After his basic service, during which he struggles with the ritualistic hazing and "survival of the fittest" culture of bullying, he lands a spot in the Deserter Pursuit unit, where he's sent to catch soldiers who've gone AWOL. The stories of the deserters are intense, with the drama shining a light on mistreatment in the armed forces.
'Weak Hero Class 1'
This brutal webcomic-based drama tackles school violence through a realistic lens, taking place at a boy's high school where the richest students are the most powerful. Bullied student Yeon Si-eun (former Wanna One member Park Ji-hoon) sees his tormentors as an obstacle towards reaching academic success and getting a scholarship to Seoul National University. Though he doesn't see much need for friends, he eventually finds allies in fellow class outcast Oh Beom-seok (Hong Kyung), and the school's best fighter An Soo-ho (Twenty Five Twenty One's Choi Hyun-wook). Fair warning, the eight-episode drama has major twists and a devestating ending.
'Bloodhounds'
This action-packed crime drama takes place in fall 2020, as families and small businesses struggle to recover in the wake of pandemic lockdowns. Gun-woo (Woo Do-hwan), a talented emerging boxer, works part-time at various jobs to help support his mom's coffee shop. One day the shop is targeted by Smile Capital, a company run by loan sharks who convince Gun-woo's mom to sign a predatory loan. Gun-woo and his new friend, fellow boxer Woo-jin (Lee Sang-yi), team up with a benevolent lender to bring down Smile Capital's boss, Myeong-gil (Park Sung-woong).
Romance Korean Dramas
These romantic K-dramas are for the fans of intense, sweeping romances that can span from heart-fluttering to heart-wrenching in one episode. (Think Bridgerton, but even more swoon-worthy.) If you want to spend 16-20 hours invested in a serious slow burn, look here.
'Crash Landing on You'
A South Korean heiress, Yoon Se-ri, gets caught in a storm while paragliding and finds herself blown off course into North Korea. Se-ri then runs into Ri Jeong-hyeok, Captain of the North Korean Special Forces and a member of the North Korean elite family. Captain Ri eventually hatches a plan to get Se-ri back to South Korea with the help of his squad, but not before they all tackle the obstacles that come their way—and then some. This drama mixes romance with comedy and ultimately tells the tale of two star-crossed lovers. It's currently the highest rated tvN drama and the second-highest Korean drama in cable television history. (Also, stars Son Ye-jin and Hyun Bin have since gotten married and are expecting a baby!)
'Business Proposal'
This 2022 rom-com drama has become the year's biggest hit so far thanks to its hilarious romances (and a super-popular kissing clip). Shin Ha-ri (I.O.I. and The Uncanny Counter's Kim Se-jeong) is a food researcher at a company that just welcomed a new president, Kang Tae-moo (Ahn Hyo-seop). When her wealthy BFF (played by Seol In-ah) asks her to go on a blind date for her and ruin it, the date turns out to be Tae-moo. The morning after the disastrous date, Ha-ri receives a call—Tae-moo wants to marry her!?! Their hilarious courtship, as well as the second lead romance, will definitely steal your heart.
'Hometown Cha-Cha-Cha'
This country-boy meets city-girl romance starts when Seoul dentist Yoon Hye-jin (Shin Min-ah) loses her shoe during a visit to the seaside village of Gonjin. It's found by Hong Doo-shik (Kim Seon-ho), a jack-of-all-trades who does odd jobs around town. Hye-jin ends up moving to Gonjin, where Doo-shik helps her adapt to the new environment, and the couple slowly (and sweetly) grows feelings for each other.
'Coffee Prince'
This classic k-drama follows Choi Han-gyul (Goblin's Gong Yoo), the irresponsible heir to a conglomerate with a popular chain of coffee shops. One day he meets Ko Eun-chan (Yoon Eun-hye), a tomboy who's often mistaken for a man and has been the breadwinner of her family since she was 16. Not knowing Eun-chan is a girl, Han-gyul hires her to be his gay lover to get out of the blind dates his grandmother sets up. Han-gyul also takes over a derelict coffee shop, renamed Coffee Prince, to prove to his grandmother and ex-girlfriend that he is capable. As he's only hiring good-looking male employees, Eun-chan decides to keep up her gender charade to get a job at his cafe.
'Boys Over Flowers'
Boys Over Flowers is an old-school teen drama, focused on a group of popular/privileged/not-so-nice boys at the prestigious Shinhwa High School. The group, known as F4, bully others to get their way—until a working class girl named Geum Jan-di arrives at the school on scholarship and stands up to the boys.
'True Beauty'
If you want to follow a high-school love triangle, then this hilarious coming-of-age drama is for you. High schooler Im Ju-yeong (Moon Ga-young) has an inferiority complex after being bullied for years by students and family members for her looks. After learning makeup artistry from YouTube, she is considered a "goddess" and becomes more popular at school. Soon she falls into a triangle between mysterious Lee Su-ho (Cha Eun-woo), who recognizes her through her makeup, and his former best friend Han Seo-jun (Hwang In-youp).
'Weightlifting Fairy Kim Bok-joo'
This drama has one of the most likable protagonists and the cutest friends-to-lovers story. Kim Bok-joo (Lee Sung-kyung), a collegiate weightlifter training for the Olympics, meets Jung Joon-hyung (Nam Joo-hyuk) a swimmer at the same school recovering from a psychological problem. The two athletes start out as reluctant friends, but watching them fall in love makes for some hilarious, heart-warming moments.
'What's Wrong With Secretary Kim'
This beloved rom-com stars Park Min-young as Kim Mi-so, the skilled secretary to chaebol businessman Lee Young-joon (Park Seo-joon). The job is demanding and Young-joon is narcissistic and self-absorbed, and after nine years at her job, Mi-so has finally decided to quit and start living her life for herself. However, Young-joon refuses to let her go, and eventually he realizes that his feelings for Mi-so go beyond professional admiration. On Mi-so's side, she begins to see her slowly-softening boss in a new life, leading to a genuinely sweet love story (and some top-tier kissing scenes).
'Our Beloved Summer'
Ten years have passed since high schoolers Choi Ung (Parasite's Choi Woo-sik) and Kook Yeon-su (Kim Da-mi) starred in a documentary together. Though they started out hating each other, the pair later began dating and stayed together for five years. Now, five years after the rough breakup, the two adults find each other back in their lives at the same time the documentary goes viral, with fans clamoring for an update. Will Ung and Da-mi fall in love again while filming the sequel? Check out this enemies-to-lovers-to-enemies-to-lovers(?) drama to find out.
'Semantic Error'
BL (a.k.a. "Boys Love") dramas have grown in popularity over the years, and this acclaimed, college-based web series is a great intro to the genre. Strict computer science major Choo Sang-woo (Park Jae-chan) is placed into a group project with Jang Jae-young's (Park Seo-ham), the popular campus star. When Sang-woo removes Jae-young's name from the project because he didn't contribute, it ruins the design student's plans to study abroad. As Jae-young plots his revenge to torment the analytical brainiac, their feud blossoms into something more, as Sang-woo learns to follow his heart over his head.
'Doona!'
This heart-fluttering college romance is based on the WEBTOON webcomic The Girl Downstairs. Doo-na (Bae Suzy) was a member of the popular K-pop girl group Dream Sweet before she went into hiding due to mysterious circumstances. Won-jun (Yang Se-jong) is an ordinary college student who moves into a group home to discover his downstairs neighbor is a former idol. The two housemates from entirely different worlds slowly become curious about each other and let their respective guards down as the school year goes on.
Fantasy Korean Dramas
These sci-fi/fantasy shows range from modern to historical, and the magical elements can either be hidden among day-to-day life or blown out to encompass tons of lore Game of Thrones-style (though minus the gore, most of the time). K-dramas also love a good fated romance, so expect some mystical love connections.
'Goblin (Guardian: The Lonely and Great God)'
This series, written by Kim Eun-sook, is the fourth highest-rated Korean drama of all time. The fantasy romance is about a modern day goblin, Gong Yoo, who needs a human bride (Kim Go Eun) to end his cursed immortal life. His life then becomes intertwined with a grim reaper, Lee Dong-wook, who is unable to remember his past. The story evolves as all these strangers' lives intertwine.
'Hotel de Luna'
The Hotel Del Luna is a refuge for the dead, a middle ground that helps souls pass into the afterlife. All souls pass on after dealing with their unfinished business in life, except Man-wol (IU), the owner who has been cursed to run the hotel for over a millennium, as penance for her sins. The hotel also needs a human manager to help it run; the next fated human is Koo Chan-sung (Yeo Jin-goo), a Harvard grad who discovers that he can see ghosts. As they work together, Chan-sung begins to unravel the secrets of Man-wol's past.
'The Uncanny Counter'
This show loosely reminds me of Ghostbusters, but with an eclectic group of characters who each possesses special abilities. The five-person group, called "Counter," work at a noodle restaurant by day and at night, hunt down evil spirits who have escaped from the after life to go after humans. (Their red tracksuits in the show are iconic and honestly would make for great group Halloween costume in 2022—just putting the idea out there.) This K-drama has been very well received by the audience and will have you binging all the episodes in one weekend.
'Tale of the Nine Tailed'
You might want to keep the lights turned on for Lee Dong-wook's new show because it's a little scary (think scenes with ghosts and a water well à la The Ring). Aside from some minor scenes that make you shudder, however, the story largely revolves around his character Lee-yeon, a mythical fox known as gumiho, and a documentary filmmaker Nam Ji-a (played by Jo Bo-ah) who were once lovers in the past. (The foxes adopt human appearances, but have special powers.) Circumstances in the present bring the two on a treacherous journey that involves solving Ji-a's parents mysterious deaths and the two rediscovering their love for each other.
'Legend of the Blue Sea'
This fantasy romance show explores the relationship between a con artist and a mermaid who meet and fall in love. The mermaid, Shim Cheong, (played by the talented and beautiful Jun Ji-hyun) follows her lover Heo Joon-jae (Lee Min-ho) to land unbeknownst to him that she is a mer person. Juxtaposed against present day, the storyline also focuses on the two's Joseon-era incarnations, town head Kim Dam-ryeong and the mermaid Se-hwa. That pair met a tragic fate, so what does this mean for their current counterparts? Will Shim Cheong and Joon-jae meet the same bad fate?
'My Love from the Star'
In this rom-com, Do Min-joon (Kim Soo-hyun) is a handsome alien who landed on Earth 400 years ago during Korea's Joseon era. He's been waiting for a chance to return to his home planet for centuries. When he has three months left on Earth, he gets a new neighbor, Hallyu star Cheon Song-yi (Jun Ji-hyun), who resembles a young woman from his past. Their romance will have you watching the skies hoping for an alien invasion (as long as they look like Min-joon).
'Alchemy of Souls'
Set in the fictional country of Daeho, this period fantasy takes place in the world of mages, who live as nobles and warriors among other mortals. Elite warrior Nak-su has evaded authorities by using a forbidden spell called "alchemy of souls," which allows her to switch bodies. When she jumps into the weak body of Mu-deok (Jung So-min), she has to re-build enough strength to wield her powerful sword. So she takes a position as a servant for Jang-uk (Lee Jae-wook), a noble who needs a teacher to help him unbind his magic.
'Strong Woman Do Bong Soon'
This genre-bending action rom-com stars Park Bo-young as Bong-soon, a petite woman with superhuman strength. All the women in her family inherit this gift, but they can only keep it if they use it for the greater good. After witnessing Bong-soon as she single-handedly fights off a group of gang members, handsome gaming CEO Ahn Min-hyuk (Park Hyung-sik) hires her to be his bodyguard, as he's being threatened by an unknown enemy. While Bong-soon and Min-hyuk slowly begin to care for one another, the heroine is also put in increasing danger as a serial killer pops up in her neighborhood. (A sequel series, Strong Girl Nam-soon, is currently airing.)