Netflix's New German Thriller 'Dear Child' Will Give You Nightmares
But if that's your thing, this six-episode psychological thriller is a must-watch.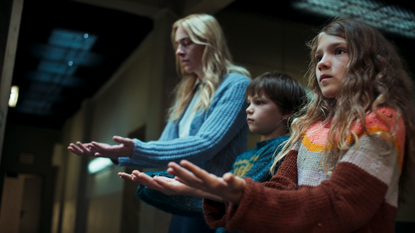 (Image credit: Courtesy of Netflix)
Marie Claire Newsletter
Celebrity news, beauty, fashion advice, and fascinating features, delivered straight to your inbox!
Thank you for signing up to Marie Claire. You will receive a verification email shortly.
There was a problem. Please refresh the page and try again.
Netflix's German six-part miniseries Dear Child begins with an unsettling scene. A blond woman (Kim Riedle) and two children, a 12-year-old girl (Naila Schuberth) and a younger boy (Sammy Schrein) are playing a learning game, running from wall to wall in a living room. They're interrupted when a sound alerts them that "Papa" has arrived home, and the woman instantly looks terrified. We see the trio line up and extend their hands as a man unlocks the heavily secured door and locks it behind him. He inspects the kids' hands, front and back, caresses their faces, and gives them energy bars. When he gets to the woman, she's shaking. Her upturned hand reveals a scar. "You shouldn't cry in front of the children, Lena," the man tells her. "Remember the rules." We don't see him enforce these rules, but we can imagine what comes next. What we want to know is what came before.
Adapted from Romy Hausmann's internationally bestselling book of the same name, Dear Child (Liebes Kind in the original German) explores the connection between this strange "family" and a 13-year-old missing persons case. Some time after the above prologue, the woman, called Lena, will escape from captivity, fleeing the windowless home only to be struck by a car. When the severely-injured Lena and an unscathed Hannah are discovered, authorities begin to unravel a dark web of secrets, as the mystery grows more unnerving and urgent with every new detail. The expertly-paced series switches between the present-day investigation into the mysterious trio and flashbacks to their time locked away under the mercy of their meticulous and cruel captor.
Dear Child arrived on Netflix on September 7, and it's since garnered acclaim from both critics and viewers who have shared their recommendations on social media. (It's also in the streamer's no. 1 spot as of Sept. 18.) It's been lauded for evoking contemporary mystery-thrillers like Gone Girl and Room (both also book adaptations), while pulling off several jaw-dropping twists per episode. The show is best when watched with absolutely no idea of what will happen (all details included so far are from the show's synopsis and its preview before you press play on Netflix), but prospective viewers should know that fans are not exaggerating the show's disturbing, compulsive central mystery. It's a good thing that it's only six episodes long because most watchers will find it extremely hard to pause their binge until they figure out who exactly Lena is and what's been happening in that bunker all those years.
Perhaps this show's most effective decision in TV's current saturation of true-crime content—both docuseries and scripted shows—is its focus on the victims and families affected by these crimes rather than the monster perpetrating them. The bulk of the series' time is spent with Lena and Hannah as they adapt to their newfound freedom, and both of them—especially Lena's struggles with her trauma—are treated empathetically rather than as spectacle or plot device. As series director and head writer Isabel Kleefeld points out in an interview, the story is told "from the victim's perspective, never from the perpetrator's perspective." Why this man did what he did isn't nearly as important as the effects in this series. (If anything, the lack of an in-depth explanation into the man's motivations is the most divisive part of the show, as some viewers are left wanting some sort of comprehensive explanation that often doesn't exist in real-world events.)
In an interview with Netflix's Die Woche, co-writer and co-director Julian Pörksen told the outlet, "These are all damaged characters: people who are severely scarred by a crime and deal with it very differently. The perpetrator is often the focus of such series and is glorified as a mysterious, dark force. That's not the case with us. And there is a main character who is extraordinary in every way. A girl who has a special view of the world, a special way of speaking, thinking and experiencing."
Honestly, it's hard not to get into the weeds about the show's every detail. The acting, the cinematography, now this deftly-woven story is presented and then unspooled bit by bit by bit. For thriller and mystery fans, Dear Child is an instant must-watch the likes of which haven't been seen in a while. Just make sure that you have a full six hours free to watch. (And maybe that the lights are on.)
Celebrity news, beauty, fashion advice, and fascinating features, delivered straight to your inbox!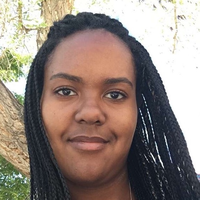 Contributing Culture Editor
Quinci LeGardye is a Contributing Culture Editor who covers TV, movies, Korean entertainment, books, and pop culture. When she isn't writing or checking Twitter, she's probably watching the latest K-drama or giving a concert performance in her car.