Emma Offline
With a hit podcast and over 20 million followers on social media, Emma Chamberlain became the Internet's best friend—and a new member of the fashion world's A-list—through her off-the-cuff honesty. But the rising culture mogul is also realizing the value that comes from doing—and saying—just a little bit less.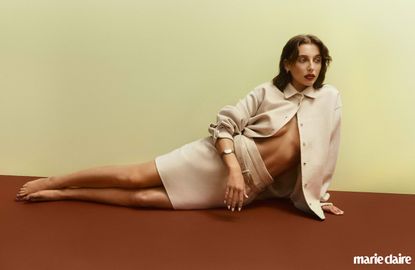 (Image credit: Olivia Malone)
Marie Claire Newsletter
Celebrity news, beauty, fashion advice, and fascinating features, delivered straight to your inbox!
Thank you for signing up to Marie Claire. You will receive a verification email shortly.
There was a problem. Please refresh the page and try again.
Emma Chamberlain's default vibe isn't anger, but this summer in Paris, she got pretty pissed.
The 22-year-old Internet It Girl was twirling through her first haute couture fashion shows. On a break from front row duty at Jean Paul Gaultier and Valentino, Chamberlain chatted with a fellow influencer whom she's too kind to name. "This girl was like, 'I don't even want to go to this show. I don't really want to go to that show,'" sighs Chamberlain. "All I could think was, Well then, why the fuck are you going at all? What that screams is that you don't care about fashion."
Chamberlain says this while burrowing into a plush chair at the Sunset Tower, an art deco hotel near Beverly Hills where Marilyn Monroe once lived. Today it serves as a living room for pretty people off-duty from fame. Sienna Miller sits by a fireplace; a dragon-rider from the Game of Thrones prequel sips Coke in the corner. The place is so Old Hollywood that I assume Chamberlain's big-deal agent has selected it for us, but when Chamberlain walks in, she greets our gray-haired waiter warmly—and by name. "I know the entire menu by heart," she says. "Can we get the truffle fries? Let's get the truffle fries."
After we order, Chamberlain looks me up and down, then asks five questions in a row without stopping: "Were you waiting long?" (No.) "Do you hate me already?" (Definitely no.) "Did you order a cocktail already?" (Definitely yes.) "Is your dress vintage?" (Yep, Miu Miu 2008.) "Should we hug? I feel like we should hug."
So we do. We hug.
Pulling away, I notice she's wearing my '90s junior high uniform: a long-sleeve white tee under a navy crew neck sweatshirt with the sleeves cut off, baggy Tanaka pants smeared in paint ("they came like that"), and scuffed Acne Studios sneakers that Chamberlain praises for their "dirty Converse vibes." Three thin gold chains peek out from her collarbone. Her outfit is boring. It's also amazing. As in, wait, maybe I need everything she's wearing amazing. Such is the seismic style force of Emma Chamberlain, and it's rocking me in real time.
Post-hug, Chamberlain splays her clay-colored manicure flat on the table, as if her hands are about to be x-rayed. Or maybe it just seems that way because the influencer has built her entire career on full transparency. Since launching her mega-popular YouTube channel in 2017, the waif-y Irish American has calmly riffed on everything from anxiety attacks to inexperienced sex, all while staring her audience—or at least her webcam—dead in the eye.
In person, Chamberlain's voice is the same lulling alto from her hit Spotify podcast, Anything Goes. Her eyes are the same Smurfette blue seen on the video blogs that made her a digital teen icon. Some celebrities look smaller and less shiny in person, like their allure is a going-out top reserved for date night. But Chamberlain's authenticity isn't a game; it is literally the game. Of course she's furious when an online peer lies to her face and pretends to love fashion, or pretends to care about anything at all.
In Chamberlain's words, "Sometimes it gets me in trouble, but I've never been able to not care since the day I was born."
---
Emma Frances Chamberlain was born on May 22, 2001 in San Bruno, California. Her mom is an aviation manager; her dad an artist. "I really am half my mom, half my dad," she says. "My mom is meticulous, could not be more organized. My dad is really creative." She grew up carpooling through the sleepy suburb of Belmont and cheerleading in high school. After recording her dance routines and editing them with deadpan comments, she made longform videos about her clothing hauls, her coffee orders, and her beach trips. Her ultra-relatable confessions on friendships and feelings were never cruel but often sarcastic; she always looked cool even when she didn't look entirely awake.
"I like to go back and rewatch her stuff," says her father, Michael, who bought Chamberlain her first camera. "I'm amazed at how good of an editor she was. Even at 16 years old, she was very impressive." The almighty algorithm agreed. Chamberlain's audience surged fast; soon she was getting recognized at her local coffee shop by teens she'd never met IRL. "I've read a comment or two [saying] Emma's pretending that she's not famous. And it's like, no! I just don't see myself that way. I genuinely do not and cannot." Fame, after all, implies somebody knows you. But as Chamberlain puts it, "I'm still getting to know myself."
That type of insightful honesty, along with Chamberlain's casual magnetism (and an industry that favors thin, white women) turned her into one of YouTube's top creators, with vocal fans like Jimmy Fallon and Jack Harlow, advertising deals with Hollister and Louis Vuitton, and 12 million current subscribers.
But live blogging can often feel invasive— especially for someone like Chamberlain, who was hitting "record" while experiencing her first adult bouts with anxiety and depression. "While vlogging, I was in sort of a hamster wheel," she says. "It just wasn't good for me. There was this pressure to make my daily life a bit more interesting that I couldn't avoid. And yet my daily life needs to be simple right now for my mental health." There were also issues of safety as Chamberlain was stalked by fans through supermarkets and cafés. (Chamberlain diplomatically calls these incidents "uncomfortable situations." When describing them, she pulls her collar up towards her chin as if trying to literally disappear into her clothes.) "I can't share my life the way I used to," she says. "There needs to be a major shift. And it's been a challenge to navigate what that looks like."
In part, it looks like a leap into the fashion stratosphere with partnerships at luxury houses and mass market conglomerates alike. "Fashion is so in unison with the culture," she says, grinning into her glass of sparkling water. "It's not just when you're watching the runway anymore. It feels like fashion is becoming less strict, and everything is being broken in half, and broken open for you." She smiles again. "There's a freedom that I love about saying, you know, Who could I be today?"
Chamberlain takes her role as a style arbiter seriously. Before her cover shoot—one for which she's billed as Creative Director— she sent the production team a digital reference portfolio, complete with a theme ("hungry for simplicity") and a mission statement: "Trend cycles have sped up to a point where there is no keeping up," she wrote. "Many [fashion fans] are reverting back to basics due to fatigue, myself included." But though the style was minimal, the effort was not. Along with the text, Chamberlain curated a packet of 18 separate pieces of visual inspiration, including a Miu Miu ad from 1996 and a stark Comme des Garçons look from the '80s worn by Christy Turlington. Many graphics were black-and-white; most were heavy on simple, slinky knitwear. "Sometimes it's harder to make the simpler things well," she says when referencing the Max Mara and CELINE pieces she wore on set, along with much of her own recent wardrobe. "I have a lot of respect for that kind of quiet, hidden quality."
Chamberlain's designer journey began in 2019 with a Louis Vuitton partnership that's now considered a watershed moment for luxury brands in the digital space. "Emma is a sort of virtual best friend for [Gen Z]," says Caroline Gaimari, the creative advisor who directed some of Chamberlain's Louis Vuitton campaigns. "She didn't shy away from showing how awe-struck she was. In fashion, one might pretend they've always belonged, but that's just not Emma's style." Instead, her "holy crap" disbelief at being invited to the industry's premiere spectacle—along with her remarkable skill posing for street style photographers outside the show—won her over 14 million views. (By comparison, Louis Vuitton's own runway video boasts a much smaller viewership of 210K—1.5 percent of Chamberlain's own audience haul.)
The Emma Effect doesn't just make us browse luxury fashion on our phones. When Chamberlain visited the downtown New York boutique Dauphinette in a 2022 YouTube video, the shop was invaded by teens and 20-somethings. "Girls kept coming in saying they were on The Emma Chamberlain tour," says Dauphinette designer Olivia Cheng. "Her video became an actual itinerary." The strawberry-encrusted plate that Chamberlain bought on camera was an instant sell-out, with adjacent merch like rose-dotted jewelry going next. "People are so drawn to her, I think, because it's difficult to tell whether she's relatable or aspirational," says Cheng. "Her persona is bigger than people want to understand. But there's a reason that [fashion] is drawn to her. She converts people into shoppers."
Chamberlain's stylist Jared Ellner, echoes that appeal. "In fashion, you really need to bring things to life to make them impactful and larger than life," he says. "She does it with such stride, in such a natural way. Not many people can do that. It's exciting to watch her conquer a world that she wasn't a part of." With Ellner at her side, Chamberlain has become a campaign face of Lancôme and a "friend" for luxury brands like Cartier and Thom Browne, plus more accessible labels like Levi's and Aritzia.
Chamberlain says she finds new brands to love—recently, it's been Amomento bags and KNWLS corset tops—on platforms like Pinterest and Ssense. "I can't stop scrolling it," she says of the online shopping hub, unaware that she's eerily echoing what many teens and 20-somethings say about Chamberlain's own content streams. "It's a problem."
As Chamberlain says this, she stretches her arms way up to the sky, showing off her layered, skate-park basics. The women in adjoining tables preen in pouf-sleeved mini-dresses and logo handbags, craning their necks with various degrees of subtlety to study Chamberlain's vibe shift and take inventory of what, exactly, they might be channeling next. In fashion, there are moments when the past and the future collide, and everyone asks, "Wait, is my outfit totally wrong?" before recalibrating for all tomorrow's parties. This style apocalypse—a wardrobe beginning that's also a trend's end—often arrives via wispy young women. Tonight in Hollywood—and on screens all over the world—Chamberlain is that style oracle.
But there's an unspoken rule to fashion's obsession with minimalism: It's usually championed as a conduit for whiteness and thinness, something social media is quick to reward. Black women were sporting coffee-colored lip gloss and slicked back hair years before white women made it a "clean girl" beauty staple; images of plus size models in crop tops are routinely flagged as "explicit content" while the exact same look is #sponcon for their slimmer peers. The fact is, Chamberlain may appear less polished compared to mega-glam titans like Kylie Jenner, but she's still a luxury avatar—the human embodiment of a pair of 501 jeans that are expensive because they're perfectly ripped.
I ask Chamberlain if she thinks fashion's reliance on "effortless" style is solely about intuitive dressing, or if unbothered ease is only rewarded when it also reinforces the status quo. But the Gen Z mouthpiece insists her appreciation of pared-back style is actually a mental health hack: "Getting dressed shouldn't be stressful. Having a wardrobe that's like your quiet friend that listens but is really fun when it's just the two of you, that's how I imagine it," she explains. "And more is not always better!"
In Chamberlain's view, style is most impactful when it can champion both mental and ecological clarity. She points to a certain reliance on loud logos, extreme colorways, and hyper-fast trend cycles endemic to the digital age. "For my generation in particular, it's just, like, 'Buy, buy, buy!' It's exhausting. It produces anxiety. And it doesn't make us happier. A few beautiful things that feel really good to wear; those do."
We have reached the point when both of us have to pee.
"Would it be weird if we go together?" Emma asks. We decide it would, so I hang back with what's left of the fries and try not to be creepy while watching other people watch Emma Chamberlain walk to the bathroom. There's a stark generational divide—those over 40 scan her flitting form and go back to their martinis. Millennials do a double-take to make sure it's her and then begin furtively texting. A group of teens just outright stare. Soon, though, Ye Olde Gen X may also be part of Chamberlain's fan base.
"Her audience skews younger, of course," says Spotify's Julie McNamara, the Head of Global Podcast Studios. "But it's grown 20 percent since she's been on our platform. I've been excited to see how many people in older demographics are tuning in."
Chamberlain has been working with Spotify since 2022, when she began a licensing deal to host her podcast, Anything Goes, with exclusive video content. (Often, it's just Emma talking into a microphone on her bed; her special guest stars are her cats, Declan and Frankie, who have more than 240K Instagram followers collectively.) The show consistently ranks in the top 10 of Spotify's podcasting charts; at the time of publishing, it sits squarely at number seven, and is currently the number one podcast hosted by a woman.
On Anything Goes, the influencer talks candidly about her own life hurdles and how they collide with bigger issues of art, style, and trust. A recent show focused on "building a healthy social life," another asked if using Facetune is an act of evil. "We reached out to Emma because she's a true voice for Gen Z," says McNamara. "She's more like an essayist or a poet, I think. People are thinking about what she says long after she says it. I don't know any other 22 year old who can be such an authentic surrogate for their audience." McNamara reveals she's even taken fashion cues from her star employee: "I myself am middle-aged, and thanks to Emma, I now know how to pronounce Loewe. I actually just bought one of their purses—Emma has one too."
Chamberlain is also a beverage mogul. In 2019, she launched her eponymous brand, Chamberlain Coffee, which features smiley cartoon critters on blends like "Social Dog Medium Roast" and "Cake Batter." The line counts United Talent Agency—the Hollywood home for Greta Gerwig and Harrison Ford, as well as Chamberlain herself—as an investor. In June, Chamberlain Coffee raised an additional $7 million in funding with help from Electric Feel Ventures, whose portfolio also includes Gen Z hitmakers like Starface pimple patches and Poppi probiotic soda. "This year, when I would go surfing, I started seeing girls on the beach with Chamberlain Coffee bags," says her father. "This isn't in LA. This is in this small town where I live. That was kind of cool."
---
Ten hours after I meet Chamberlain, I will be on a flight from Los Angeles wearing my own version of her look—a long sleeve Uniqlo thermal under an oversized Grateful Dead tee, a tiny Jennifer Meyer star charm dangling at my throat. I will spot Chamberlain's video podcast on anxiety as a Delta in-flight entertainment option, right alongside My Best Friend's Wedding and Crazy Rich Asians. My jaw will drop and I will gulp "omigod!" so forcefully, the flight attendant will ask if something is wrong. I will sip my ginger ale, crunchy with ice, and listen to Emma Chamberlain talk some more—only this time, she will be on a tiny screen in the infinite sky.
But right now, Emma Chamberlain—the actual human one—still sits in front of me as the Sunset Tower crowd calls it a night. The retired studio head seated behind us has blown out his birthday candles. The jazz band at the back is packing up to go home. We have been sinking further and further into the hotel's big patio chairs for three hours. We have annihilated the truffle fries. But unlike many starlets whose lives have just been dissected by a stranger in real time, Chamberlain is in no real rush to leave. "I could do this all night!" she laughs. "Don't you have any more questions for me?!"
I do, actually. Just one. What, exactly, is Emma Chamberlain's endgame? Is it to become her own fashion brand? To parlay her podcast, which has lately included a noticeable spike in interviews, into a talk show career à la Drew Barrymore? Maybe—but Chamberlain is also keen to do more work on the business end of things. "If it all goes wrong and I'm like, 'I can't post another selfie on Instagram. I can't do it!' I'm gonna go and be an agent or a therapist," she says.
"I used to say that my life goal was to be happy. Then I realized, now that I'm an adult: It's not about being happy all the time. It's about doing what you believe in. Like, there's a lot of shit on the Internet that doesn't provide value and is actually harmful. My goal is to do the opposite. I'm not always going to perfect it, but for the foreseeable future, it's that."
---
Photographer: Olivia Malone | Creative Director: Emma Chamberlain | Entertainment & Talent Director: Neha Prakash | Art Director: Brittany Holloway Brown | Fashion Director: Sara Holzman | Stylist: Jared Ellner, The Only Agency | Beauty Director: Deena Campbell | Hair Stylist: Graham Nation, The Wall Group | Makeup Artist: Kelsey Deenihan, The Wall Group | Manicurist: Thuy Nguyen, A-Frame Agency | Set Design: Lauren Machen, Lalaland Artists | Production: Samantha Rockman | DP: James Ollard, Amusement Productions | Camera Assistant: Tony Brown, Amusement Productions
---
---
The Fashion Changemakers Issue
Celebrity news, beauty, fashion advice, and fascinating features, delivered straight to your inbox!
Faran Krentcil is a fashion writer for Marie Claire and a contributor for Elle, The Wall Street Journal, Harper's Bazaar, and the BBC. She is the founding editor of Fashionista.com and a former Tumblr style ambassador. She is also an illustrator who has done work for Bergdorf Goodman, Topshop, and Bleach London. Faran is currently a professor of fashion journalism and critical theory at Parsons School of Design and The New School. She lives between New York City and Narnia.