Editors handpick every product that we feature. We may earn commission from the links on this page.
The 33 Best New Podcasts of 2020 (So Far)
Never endure a boring car journey again.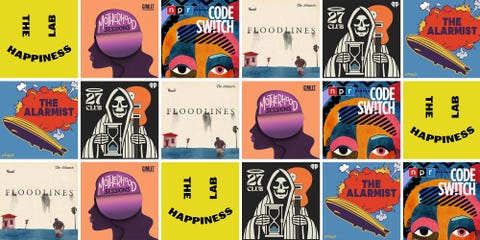 Design by Susanna Hayward
Oh, podcasts! They can turn any dull moment into an enjoyable one, whether you're commuting first thing in the morning, road-tripping across the country, or dabbling in some summer cleaning. While there a tons of great podcasts to choose from, with topics ranging from true crime to politics , it can be hard to find your next best listen. Before you go searching unto eternity, here are our picks for the podcasts we've been loving in 2020. So if you're looking for a show that'll allow you, the listener, to solve a murder; listen in on teenagers to feel 17 again; seeking advice on how to be a #GIRLBOSS from fashion icon Diane Von Furstenberg or feel existential with the podcast equivalent of a Black Mirror episode, you've come to the right place.
For this list, as with our 2019 list, we picked either brand-new podcasts or existing podcasts with a fantastic new 2020 episode (or episodes!). Ahead, here are 33 podcasts we can't get enough of and want to share so you can give them some listening love. So grab a speaker, AirPods, or a quiet room away from your family (a.k.a me) and start listening.
This content is created and maintained by a third party, and imported onto this page to help users provide their email addresses. You may be able to find more information about this and similar content at piano.io