50 Photos From MTV Spring Break That'll Take You Back
Truly incredible.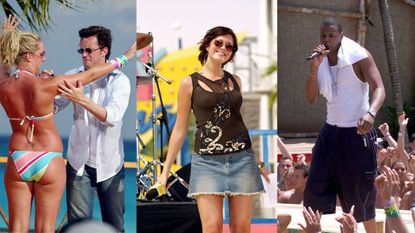 (Image credit: Getty Images)
1/50
Carmen Electra: 2000
Hello, where can I get a star-shaped rhinestone belly button decal? Asking for a friend who has my same name.
2/50
Sisqo, Pink, and Tyrese: 2000
I have many questions, including but not limited to when will knee pockets become a thing again? Because I'd like to make sure it's not in my lifetime.
3/50
Destiny's Child: 2000
The perfect photo doesn't exi—.
4/50
Rebecca Romijn and Destiny's Child: 2000
Based on the historical evidence that is this photo, 2000 was truly a great time for denim. Its personal brand has never been stronger.
5/50
Enrique Iglesias: 2000
I'd like to interrupt our scheduled Bey content to take a moment of silence for Enrique Iglesias' pants. Praying he unzipped the lower half at some point and put these things out of their misery.
6/50
Beyoncé: 2000
Okay, back to Beyoncé. Is that...is that a G-string made out of diamonds, or am I hallucinating?
7/50
Jay-Z: 2000
FYI, Jay-Z was also at Spring Break 2005, but he and Beyoncé hadn't started dating yet. Gonna assume they have MTV to thank for their entire relationship.
8/50
Eminem: 2000
"Must. Stop. Pants. From. Falling. Off. Curse. This. Trend."
9/50
Dr. Dre: 2000
Attention @ Eminem: This is how to wear pants.
10/50
Carmen Electra and Ja Rule: 2001
Wow, what a totally useful and not at all function-less belt Carmen Electra is wearing! You love to see it!
11/50
Carmen Electra and Tyrese: 2001
Sorry, I need another look at this outfit in an attempt to understand its intended habitat—the beach? The mall? A rodeo? Nope, sorry, still confused. Moving on!
12/50
Tyrese: 2001
Also, let's take a moment to acknowledge Tyrese feeling himself on the dance floor. Love him in linen.
13/50
Carson Daly: 2001
Remember when Carson Daly was the host of literally every single show? Yeah, me neither, it's fine.
14/50
Dream: 2001
If I learned one thing from Dream's Spring Break performance in '01, it's that wrapping your arm in a random piece of plaid fabric was socially acceptable, nay, encouraged.
15/50
Eve: 2001
Tag yourself, I'm the white guy in the first row looking adoringly at Eve because she's perfect.
16/50
Jessica Simpson: 2001
IT'S CALLED SUN PROTECTION, OKAY?
17/50
Shifty Shellshock and Carson Daly: 2001
I know you're currently like "what is a shifty shellshock" so please be advised that he's a member of the band Crazy Town and his nipples appear to be pierced with a safety pin. That's all.
18/50
Molly Sims: 2001
Question: Should bright pink shorts make a comeback, y/n?
19/50
Ashanti: 2002
The ice blue eye shadow? The shiny lip gloss? This is legit 2002 encapsulated in one picture.
20/50
Kelly and Jack Osbourne: 2002
This photo is SENDING ME. Can we go back to 2002, please?
21/50
Kylie Minogue: 2002
I don't know if it's the torn-to-shreds fabric or the inexplicable mesh, but to be completely frank...your swimsuit cover-up could never.
22/50
Mandy Moore: 2002
I'm very concerned about how unimpressed everyone in the background of this photo looks. Don't they know they're standing behind future This Is Us star Mandy Moore? I MEAN!
23/50
50 Cent: 2003
Rare photo of 50 Cent being attacked by a bunch of streamers furious at him for forgetting his shirt.
24/50
50 Cent: 2003
Don't worry, he escaped from the streamers unscathed.
25/50
Kelly Clarkson and Justin Guarini: 2003
No words, just dhsajkdhsjkakkadjsakdhsja. I'm gonna need a minute to come down from this one.
26/50
Missy Elliott: 2003
Um, if this is was what 2003 was like, we all need to go back immediately because the picture evidence is flawless.
27/50
Mandy Moore: 2003
Oh look, Mandy Moore's back and she's wearing the most confusing tank top that's ever been made. Imagine the tan lines. IMAGINE.
28/50
Randy Jackson and Paula Abdul: 2003
Wait, sorry, I take it back. Didn't realize 2003 was secretly all about tank tops made out of string.
29/50
Sum 41: 2003
Also, apparently this was the year Sum 41 took the stage to remind everyone they're a very mainstream band that's also ~alternative~.
30/50
Sofía Vergara: 2003
Apologies for the all-caps but SOFIA VERGARA HAS NOT AGED A DAY SINCE THIS PHOTO WAS TAKEN
31/50
Lindsay Lohan: 2004
I know you've been anxiously wondering why there are no photos of Lindsay Lohan, but fear not. 2004 was definitely her year.
32/50
Lindsay Lohan: 2004
Actually, nevermind. Does anyone know how to go back in time and un-see something? DM me if so. Thank you in advance.
33/50
Jessica Simpson: 2004
I cannot tell whether this is a tube top or a pillowcase Jessica cut a cleavage hole into, but either way I'm loving this journey for her.
34/50
Pauly Shore and Randi Cox: 2004
Nope, nope, nope, do not want, must un-see.
35/50
Ciara: 2005
The fact that I can't see the bottom half of Ciara's pants in this photo is haunting me. Are they pockets? Frills? The world needs answers!
36/50
Matthew Perry: 2004
The only person more uncomfortable than Matthew Perry signing this stranger's woefully sunburnt body is me looking at this picture.
37/50
Matthew Perry: 2004
My feelings exactly, Matthew Perry. My feelings exactly.
38/50
Drew Barrymore and Jimmy Fallon: 2005
Jimmy Fallon, are you okay, bud?
39/50
Drew Barrymore: 2005
Welp. This picture hasn't aged super well!
40/50
Vanessa Minnillo: 2005
Just think: A mere 15 years later, Vanessa would go on to host the most important television show of our lifetime. (Obviously, I'm talking abut Love Is Blind.)
41/50
Vanessa Minnillo and Omarion: 2005
Honestly, Spring Break Vanessa was THRIVING.
42/50
Paris Hilton: 2005
Stop everything, the Queen of Spring Break has ARRIVED. Long may she reign.
43/50
Nick Cannon: 2005
Cute pic from before he'd been taken hostage by the cursed and clearly evil army of costumes on The Masked Singer.
44/50
Rob Schneider: 2005
Hello, 911? I'd like to report the fashion crime that is Rob Schneider's fedora.
45/50
Lil Wayne: 2006
Be real: How many shirts with the exact hibiscus print featured behind Lil Wayne did you own in 2006?
46/50
Sean Paul: 2006
Dude looks like his entire body was splattered with paint, but I guess this was "fashion" at the time.
47/50
Ying Yang Twins: 2006
Please note that the Ying Yang Twins are partially responsible for Britney Spears' song "(I Got That) Boom Boom." And for that we must be eternally grateful and stan forever.
48/50
Tila Tequila: 2008
Presenting without comment, Tila Tequila being the most Tila Tequila-y ever.
49/50
Bebe Rexha: 2014
Did you know Bebe Rexha used to be a brunette? Ya do now.
50/50
Trey Songz: 2014
The perfect photo to end this gallery with. No need to thank me.
•••
For more celebrity news, beauty and fashion advice, savvy political commentary, and fascinating features, sign up for the Marie Claire newsletter.
Marie Claire email subscribers get intel on fashion and beauty trends, hot-off-the-press celebrity news, and more. Sign up here.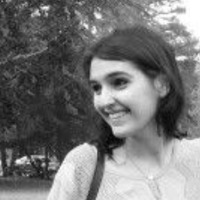 Mehera Bonner is a celebrity and entertainment news writer who enjoys Bravo and Antiques Roadshow with equal enthusiasm. She was previously entertainment editor at Marie Claire and has covered pop culture for over a decade.