45 Trendy Gifts for Every Woman in Your Life
Whether it's for a birthday, holiday, or just to say "I miss you."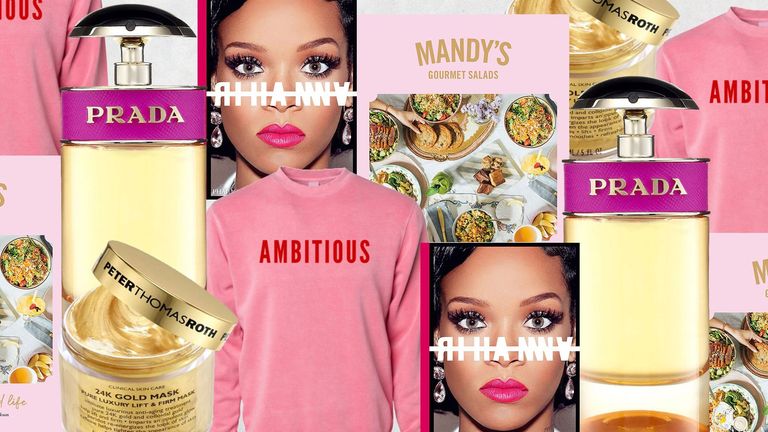 (Image credit: Design by Morgan McMullen)
There's no better feeling than exchanging presents with the people you love—even though the process of actually choosing what to gift is a real drag. Now more than ever, we could all use a little pick-me-up from our friends, even if that just means sending a card to say "hello" as a reminder that we're all in this together. Ahead, we've rounded up 45 gift ideas for the women in your life, all of which will make 'em love you even more. At the very least, they'll give you inspiration for what to put on your next birthday or holiday wish list, which is approaching quicker than you think!
1/45
Prada Candy Eau de Parfum
Prada Candy is for the beauty aficionado. They will appreciate its unique fragrance, which blends white musks, benzoin (which gives the perfume a vanilla-like note), and caramel accord to create a warm, sweet, and inviting scent. And the gorgeous bottle—with its swatch of bold fuchsia—is eye-catching on any vanity.
2/45
Athleta Kinetic Waist Bag
Not your mom's fanny! Athleta's kinetic waist bag has just enough room to stash your phone, wallet, keys, and mask during a busy day of errands and coffee meetings. It can be worn as a crossbody, as seen here, or on your waist.
3/45
'Mandy's Gourmet Salads: Recipes for Lettuce and Life'
If they're a salad enthusiast, they'll appreciate these A+ recipes from Mandy's Gourmet Salads, which will also happen to look great on their kitchen counter.
4/45
5/45
Octaevo Candle Sculpture
This candle sculpture from Octaevo, which doubles as a piece of art, is exactly what she needs for her coffee table.
6/45
Forvr Mood Lit Kit Candle Care Set
Speaking of candles, make sure they have this chic candle care set from Forvr Mood, which includes a snuffer, a dipper, and a trimmer, to help the candles last and eliminate potential toxins if the wick isn't trimmed.
7/45
FEED The Linen Bundle
FEED's linen bundle set can hold everything from a laptop to a towel, and helps provide 35 school meals to kids in need.
8/45
Jungalow Golden Brass Planter Set
If they're not already a plant mom, this golden brass planter set will convince them otherwise.
9/45
Alo Yoga Muse V-Neck Pullover & Muse Short Set
Alo Yoga's soft-ribbed lounge set perfectly blends comfort and style. If she's still working from home, it will look like she got dressed in the morning!
10/45
Telfar Medium Bag
She'll want to show off her coveted Telfar bag everywhere—brunch, errands, a night out, and, yes, even the office.
11/45
'You Deserve Better' by Tyler Cameron
If they're a fan of The Bachelor franchise, they'll appreciate Tyler Cameron's new book, You Deserve Better, which includes anecdotes and lessons on life and love from The Bachelorette contestant.
12/45
Brooklinen Indoor Party Puzzle
Gift the creative in your life this indoor party puzzle designed by London-based artist Tess Smith-Roberts.
13/45
'Men to Avoid in Art and Life' By Nicole Tersigni
There's a 99 percent chance they've been mansplained to before, which is why they'll fully appreciate this Men to Avoid in Art and Life book to spark some much-needed joy.
14/45
McBride Sisters Black Girl Magic Wine Trio
The Black woman in your life deserves the McBride Sisters' bestselling Black Girl Magic wine trio, complete with riesling, rosé, and zinfandel, to add to her collection.
15/45
Papier Wellness Journal
You already know the positive effects of journaling. Encourage her to take five minutes out of the day to spend quality time with this pretty wellness journal. Did we mention it's customizable?
16/45
MoMa Design Store Dusen Dusen Everybody Tissue Box
It's been a tough year. Get them this chic tissue box designed by Ellen Van Dusen to go along with the theme of 2020.
17/45
Diptyque Un Air de Diptyque Electric Diffuser
If they're a Diptyque candle fan, they'll be obsessed with the brand's electric diffuser that will look like a work of art in their living room.
18/45
Bomba Curls Forbidden Hair Mask
For a little self-care, encourage her to put on this deep-conditioning hair mask, which helps restore curl elasticity, moisture, and shine, while she jams to her favorite music.
19/45
Mother Denim "Total Bummer" Socks
When will she ever voluntarily buy herself a pair of cute socks, like this pick from Mother Denim that says exactly what she's thinking?
20/45
'Home Body' By Rupi Kaur
Rupi Kaur's latest collection of bestselling poetry, Home Body, is the reminder she needs right now to embrace love, family, change, and most importantly, herself.
21/45
Etsy "Ew, David" Face Mask
The only acceptable gift to give the Schitt's Creek fan in your life—a sign of the times.
22/45
Read Receipts UK "Pinky Promise" Tee
If you haven't seen Read Receipts all over your Instagram feed, allow us to introduce you to one of the chicest handmade tee brands around. A portion of proceeds from this "Pinky Promise" shirt will go to Emily's List to help elect more Democratic women to office.
23/45
Epara Comforting Body Cream
Epara's comforting body cream is specifically made for women of color to tackle hyper-pigmentation, leaving skin feeling smooth and hydrated after it's applied. Make time for a full-body application after a long shower for an extra dose of self-care.
24/45
Roxanne Assoulin Stack 'Em Up Vase
We like to call this a two-for-one gift: a minimalist vase to place her flowers in that also doubles as a piece to stack her bracelets on.
25/45
Sourcebooks 2022 The Legacy of Ruth Bader Ginsburg Wall Calendar
Honor the late Supreme Court Justice Ruth Bader Ginsburg with this 2022 wall calendar that features inspirational quotes from the legend.
26/45
Phenomenal 'Ambitious" Sweater
Gift the ambitious women in your life this soft crewneck sweater from Phenomenal, the brand founded by Meena Harris (yes, she's vice-presidential nominee Kamala Harris' niece!).
27/45
Garden24 "Beautiful Things" Stoneware Mug
Let Morgan Harper Nichols send you a daily morning reminder that beautiful things are coming, no matter how bleak the world may seem right now.
28/45
USPS Envelope Crop Top Long Sleeve Shirt
Save the USPS and look cute while doing it in this envelope crop top.
29/45
Google Nest Audio
If she's a music lover that can do without the bells and whistles of the traditional Google Home, she'll be obsessed with the new Nest Audio that will blast her favorite songs 75 percent louder. Available in five colors, it will also blend right in with her home decor.
30/45
Society6 Indomitable Strength Art Print
Support Black artists and shop this beautiful print that will look perfect above her WFH desk.
31/45
Rowing Blazers Warm & Wonderful x Rowing Blazers Women's Sheep Sweater
Yes, Rowing Blazers recreated the iconic sheep sweater Princess Diana wore in the '80s. Royal title not included.
32/45
re-inc Color My Source Paint Kit
Get creative on the weekends with this acrylic paint kit, which includes two blank canvases and five custom Source paint colors. The kit was created in collaboration with Color My Story, a Black women-run business "dedicated to mental wealth through storytelling and art." Seven percent of the profits will be donated to the Holistic Life Foundation.
33/45
Summer Fridays Jumbo Jet Lag Mask
Nothing says self care like a leave-on face mask from Summer Fridays that can be worn as a nightly mask, daytime moisturizer, or in-flight during a trip overseas (remember those?).
34/45
Missoma Gold Mini Cord Hoop Earrings
Once she adds these Missoma gold medium-size hoops to her jewelry collection, the compliments will start pouring in.
35/45
Greer Chicago Greeting Card
When all else fails, consider sending her a thoughtful note on a gorgeous greeting card from Black-owned stationary brand Greer Chicago.
36/45
PETER THOMAS ROTH 24K Gold Mask
Peter Thomas Roth's 24K gold mask will make her feel like a million bucks when her face is suddenly firm and glowing. Ten bucks says she'll upload an Instagram story of herself while she's wearing the mask—it's that good.
37/45
Staud Pet Custom Sweatshirt
We all have that one friends who's a little too obsessed with their dog. You know who she is—make sure she receives this customizable embroidered pet sweater from Staud.
38/45
Gray Malin The Beach Porcelain Tray
Complete her coffee table with this Gray Malin beach porcelain tray from the famed photographer that she can stash matches and loose jewelry on.
39/45
This Works Sleep Power Nap Spray
These days, a full night's sleep has become a rarity. This Works' sleep power nap spray filled with notes of lavender and essential oils can help with that.
40/45
Voluspa Limited Edition Cut Glass Jar Candle
Voluspa's Mokara candle will fill her home with a blend of orchid, white lily, and spring moss. Trust me, it's more than just a candle—it's a piece of decor.
41/45
Away Travel The Longitude Tote
Away's Longitude leather tote is every minimalist woman's dream with its roomy interior and removable exterior strap. It makes for a perfect gift thanks to its personalized monogramming feature.
42/45
Phaidon Press The Rihanna Book
Yes, this is a gigantic book about Rihanna's life and yes, your best friend needs it for her coffee table. That is, after you two schedule a Zoom wine night and sift through the 504 pages virtually. It's a work of art, really.
43/45
HidrateSpark Tap Smart Water Bottle
She doesn't have to be a fitness enthusiast (or workout at all, really) to love this bluetooth-equipped water bottle. It syncs to your phone, keeps track of how much water you're consuming, and gives you punny reminders to drink up throughout the day. Yes, it's amazing as it sounds.
44/45
Outdoor Voices Springs Leggings
Come for the booty-enhancing fit, stay for the pretty colors. Outdoor Voices' textured compression leggings will look great during that Zoom workout class...or, you know, "on the way to the workout." Just make sure to size up.
45/45
Lululemon Go Getter Tote Bag 15L
Take this waterproof bag to a gym class or an overnight trip you've been planning with your girlfriends. It fits a 16-inch laptop, which makes for an easy work commute as well.