Under $100: Stylish Gifts for Your Fashion-Obsessed Friends
It's okay—buy yourself something, too.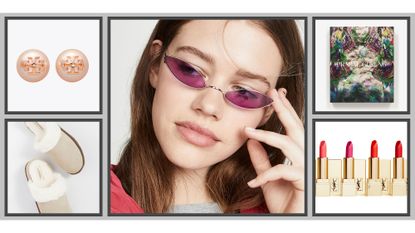 (Image credit: Design by Morgan McMullen)
For some of us, the season of gift giving is also the season of ramen eating. Buying presents, flights home, festive activities...those credit card charges can add up quickly! Our advice? Give yourself a limit—spend no more than $100 on any gift. There are plenty of stylish pieces for $99 or less just waiting to be scooped up—we've found 25 of the best of these affordable gifts for women, ahead. The best part: You'll probably have cash left over to treat yourself with.
1/25
Harry N. Abrams 'Prabal Gurung: Style and Beauty with a Bite'
A Coffee Table Book
This beautiful coffee table book traces designer Prabal Gurung's footsteps from his classroom in Nepal to dressing iconic figures such as Michelle Obama and Oprah. It's filled with inspiration, mood boards, sketches, runway shots, and never-before-seen photographs of his design process. For fashion lovers and fans of Gurung, this is a must-have.
2/25
Stone and Strand Gold Initial Ring
A Monogram Ring
A quick and easy way to make a gift feel special is to personalize it. This minimalist initial ring is under $100, adorable, and great for everyday wear. She can stack it with her other gold rings or style alone when she wants something on her ring finger.
3/25
Lou and Grey Softened Jersey Pajama Set
A Pajama Set
Lou and Grey makes some of the most comfortable sleep and loungewear, so you can't go wrong with this airy top and drawstring bottom set. Bonus: The sleepwear set was made in a HERproject partner factory. (HERproject is a collaborative initiative that empowers low-income women working in global supply chains.)
4/25
Lumira Persian Rose Scented Candle
A Fancy Candle
She's all about aesthetics, especially the way her candles look in the apartment. This Persian rose scented option from Lumira will live up to her expectations and set the gift-giving bar high in your friend group.
5/25
Le Labo Bergamote 22 Liquid Balm
A Fragrance Roller
She's not the best at packing light, so help her out with this liquid balm fragrance, which will easily replace her heavy perfume bottles. She'll be able to tote this anywhere, from her purse to her carry-on, and smell fresh right as she hops off the plane in Paris.
6/25
Tory Burch Crystal Pear Stud Earring
A Pair of Pearl Earrings
Your friend likes effortless jewelry, so gift her this pair of Tory Burch pearl studs that give off preppy, classy vibes. It's the kind you wear to your grandmother's 90th birthday or with a t-shirt and jeans to the coffee shop—basically, they're a fit for any occasion.
7/25
Slip Plum Slipsilk Pure Silk Pillowcase
A Silk Pillowcase
She prefers quality over quantity, so give her this luxurious silk pillowcase. The only problem? She might sleep through her Monday morning alarm.
8/25
Linda Farrow Black Eyewear Pouch
An Eyewear Case
An eyewear pouch is key to protecting your sunnies or optical lenses from getting scratched, twisted, and/or broken. This fancy case from Linda Farrow can be monogrammed up to three letters for a cute holiday gift.
9/25
MZ Wallace Small Metro Pouch
A Carry-All Pouch
Stuff this fuchsia metallic pouch with all the miscellaneous items that usually float around in your work tote. That includes your keys, lip balm, receipts, and anything else small enough to lose.
10/25
Shashi Blair & Serena Bracelet
A Pair of Friendship Bracelets
Friendship bracelets get a modern upgrade with this pair from Shashi. Whether you choose to give it to your niece as a gift or BFF, it'll bring back some nostalgic memories of camp. This bracelet is made in NYC, so with every purchase, you'll be supporting Manhattan's Garment District too.
11/25
Mejuri Travel Case
An Accessories Travel Case
Traveling is the easiest way to lose things. This jewelry pouch will keep your earrings, rings, and necklaces safe. The compact size also allows you to stick it in your purse, tote, or carry-on so your precious jewels will always be near you.
12/25
Shopbop Home Floral Pitcher
A Decor Item
This unglazed porcelain pitcher is elegant and feminine, making it a solid decor piece to keep on your table or bookshelf. Stick a few pieces of pampas grass through the top for an eye-catching centerpiece in the room.
13/25
Yves Saint Laurent Travel Size Rouge Pur Couture Lipstick Set
A Lipstick Set
If she never leaves the house without a swipe of lipstick to complete her outfit, you must get her this six-piece YSL lipstick set. It comes in a travel-friendly size and the hues are rich and bright to keep her pout on point with the rest of her look.
14/25
Sorel Nakiska II Slippers
A Pair of Slippers
After a long day in heels, these Sorel slippers will hug and cushion her tired arches. Wear them indoors or outside to run a quick errand, either situation is fine as the faux-fur lining keep your toes toasty all winter long.
15/25
Urban Outfitters Velvet Zodiac Journal
A Chic Journal
Help her set new intentions and achieve her goals in the new year with one of these velvet zodiac journals. Not only is it super stylish to have on the nightstand, but it'll also keep her thoughts/ideas organized in one spot.
16/25
Rag & Bone Addison Beanie
A Beanie
There's a reason hats, scarves, and gloves make good gifts: they're a necessity—but not a boring one. Make sure she stays warm and cozy with this blush beanie from Rag & Bone. The cold never bothered her anyway.
17/25
BAGGU Standard Baggu Triple Set
A Set of Reuseable Bags
Your environmentally-conscious friends (so all of them, right?!) will absolutely love these re-useable nylon bags from BAGGU. They can be used as grocery bags or regular day totes and come in a set of three to hold all your belongings (and suit your wardrobe needs).
18/25
FLIGHT 001 5-in-1 Universal Travel Adapter
A Travel Adaptor
Fashion girls love chic things, and this travel adapter falls into this category. They're easily stackable (to save space in your suitcase) and come in the funnest colors. Now all that's left is to finally plan that trip the two of you have been talking about.
19/25
Zella Wool & Cashmere Gloves
A Pair of Cashmere Gloves
These touchscreen-compatible wool-and-cashmere gloves will allow her to endlessly scroll through Instagram and heart those #OOTDs without freezing her fingers off. They come in three different colors though my favorite is this winter white option.
20/25
Books with Style Where's Karl?
A Fun Fashion Book
For those who miss Karl Lagerfeld, this book will bring you closer to him (literally). Your task: To find Lagerfeld hidden in different picture scenarios. He'll always live on in our memories, our clothes, and this book.
21/25
Acne Studios Astaria Sunglasses
A Pair of Sunglasses
For the friend who is escaping the dreaded January cold with a trip to the tropics—we're totally happy for her and not at all jealous—gift her these tiny sunglasses. The purple tinted lenses are trendy, stylish, and affordable at $90. Pair with a tequila sunrise.
22/25
Urban Outfitters Amped Fleece Throw Blanket
A Cozy Blanket
This is for the fashion girl who is secretly an introvert and enjoys staying home versus mingling at parties. (Hello, this is me.) She'll appreciate you supporting her couch potato ways with this plush throw blanket. It won't hurt to also buy a bottle of red wine along with this present.