Stephanie Gilmore's Violent Attack Forced Her to Start Over
World-class-surfer Stephanie Gilmore thought nothing could bring her down—until a violent attack ended her string of successes. Now her story is being told in a new documentary, Stephanie in the Water, which chronicles her comeback rise to the top of the waves.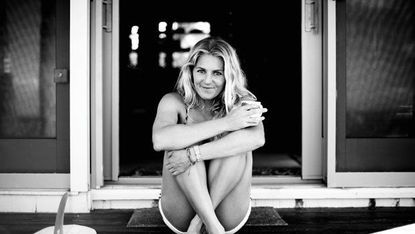 (Image credit: Morgan Massen/Courtesy of Roxy/Getty Images)
Her neighbords had seen him wandering the area many times before—a homeless man, squatting in a building directly across from her apartment complex.
Stephanie Gilmore wasn't home here in Coolangatta, a small southern suburb of Australia's Gold Coast City, very often; her surf career kept her on the road, chasing the world's best waves, for almost eight months out of the year. It was two days after Christmas in 2010, and Gilmore had asked a friend to see a movie that night. She certainly deserved a break: Just weeks before, Gilmore had taken home the 2010 Association of Surf Professionals (ASP) world title in Puerto Rico, meaning that, at 22, she was the top female surfer on the planet for the fourth year in a row. She'd also just signed a five-year, $5 million contract with Quiksilver, making her surfing's highest-earning woman. "I was thinking, Surely this has to end," Gilmore recalls. "Life can't continue going up like this. What's going to happen?"
When her friend couldn't make the movie, Gilmore went back to her apartment complex, parked her car, and started toward the stairwell to her apartment. Out of the corner of her eye, she saw a barefoot man, disheveled and dirty, kneeling down behind a short wall in the parking lot, as if he were tinkering with something in his hands. She ignored him and kept walking, but something didn't sit right—a telltale prickle on the back of her neck and sick feeling in the pit of her stomach signaled danger. Before she stepped into the dark stairwell, she turned around to make sure the man wasn't following her. There he was, just a few feet away, holding a steel rod. Their eyes met. Run upstairs! she thought. Go! But the man lunged at her, forcefully swinging the rod at her head, sending a blinding pain through her. He hit her again, breaking the bones in her left wrist and the top of her hand. By this time, Gilmore's screams had alerted others. A group of neighbors chased after the perpetrator as he raced away on a bike. Over a span of five minutes, he had altered the course of Gilmore's championship run.
Like many Australians from the Gold Coast, a surfer's paradise on the beach in Queensland known for its world-class waves, Gilmore grew up in the water. Her father, Jeff, who maintained the grounds at the nearby wildlife preserve, surfed every day, and still does. As a kid, she says, "we didn't really have a choice. He was going to take my two older sisters and me surfing, whether we liked it or not." Gilmore was naturally athletic—excelling in soccer, touch football, and field hockey—but gravitated toward surfing, and began riding waves daily at age 10. "Trying to master one of the most powerful elements on the planet can be daunting," she says. "A lot of Australians have a big respect for the ocean. You learn how to read it."
By 12, she was good enough to win local weekend contests. That year, Australian surf company Rip Curl took notice and sponsored the fledgling champ. "Anytime I would get a trophy, I was like, 'This is the best thing ever,'" she recalls. "I loved winning." Her mix of personal ambition, intense focus, and a relaxed, play-it-how-it-lays surfing style went over well with the judges. "When waves are coming, you know you're about to experience something cool, but you're also plunging into the unknown," Gilmore explains. "The wave could be perfect, or it could wipe you out. You might get pulled into a barrel, where the water curls over you and you're inside it, and you're literally in the womb of Mother Nature."
When Gilmore was 15, she walked the 200 yards from her house down to the local beach to watch a Women's World Tour event. Man, I can smash all these girls, she thought. These were her idols, the best female surfers in the world, yet she knew she was better. There was nothing else in her life that she cared about more than surfing—during her senior year, she even missed her prom to compete in Hawaii. "There were definitely times when I was like, 'Oh, I'm not going out with my friends because I want to get up early and surf,' but I just felt like I was taking a better path," she says. In 2005, at 17, she entered her first adult contest as a wild-card competitor. As she'd predicted, she did, in fact, smash the competition to take home the top prize. A year later, while her friends went off to college, Gilmore went pro, joining the Women's World Tour, where the highest-ranking professional female surfers battle it out in competitions held around the world. That year, she became the first rookie to ever win a world title.
Her achievements weren't just personal ones. As she gathered trophy after trophy, she also proved how far female surfers have come. Board-sports market research company Board-Trac found that 30 percent of the 2.9 million surfers worldwide in 2010 were women, compared with just 19 percent in 2001. "Things have really changed in the last 15 years, and rapidly in the last five," Gilmore says. "There are so many girls now. At first, I don't think the guys liked it, and women felt they had to compete against the guys to gain respect. Now, the guys and girls learn from each other. We're blossoming into our own. We love to be powerful and beautiful and strong."
When she woke up the morning after the attack, lying in a bed in the Tweed Hospital, down the road from her home, Gilmore was given good news: Her assailant, who had a history of paranoid schizophrenia, had been arrested and jailed. (In 2012, he was sentenced to four years in prison; Gilmore didn't have to testify.) But there was bad news, too. "You can't surf for six weeks," her doctor said. It was the first time in 12 years that she'd been out of the water for more than a day at a time—and the first event in the 2011 season, the Roxy Pro Gold Coast, was exactly six weeks away. She left the hospital that day with five stitches on her head and one arm in a cast. "People are injured all the time," she says. "I knew I would heal, but [my concern was] more emotional than physical."
Friends and family filled her small, ocean-view two-bedroom apartment, but Gilmore was still rattled from the attack, sleeping with the lights on and constantly double-checking that the doors were locked. After spending hours visualizing herself in the waves, she headed back into the water five weeks later, against her doctor's orders. Assuming she'd immediately be back in top form, she'd already signed up for the Roxy Pro, in nearby Burleigh Heads, Australia.
But time away had taken its toll. She tried rising on her elbows to prop herself up; her arms were still weak and her legs wobbled underneath her like jelly. She couldn't even get to her feet. "I just sat on the beach, put my board over my head, and cried," she says. "It was the first real moment of doubt that I'd ever had. I thought, Wow, I don't think I can win this year." She eventually placed fifth at the event.
When she officially fell out of contention for the world title in May after surfing in the Billabong Rio Pro in Brazil, she was relieved. "I was like, 'OK, just accept it. It's happened. I didn't win.'" With the 2011 season a wash, Gilmore tried to focus on regaining her strength. Maybe the best way to recover, she decided, would be to stop competing—to simply have fun in the water again. She traveled to places like Indonesia and Mexico with a group of six close friends, not to train, but just to surf. "I was so caught up in trying to win world titles," she says. "I'd always been so successful, and it felt so easy to just keep winning. I started to wonder, Why do I want to chase a trophy? My parents aren't crazy, driven ex-Olympians, so I wonder where this comes from. I had to reassess why I'm doing this: Because I love it. I want to do everything in my power to get that back, because it's what I'm here to do."
Still, by the end of 2011, without her usual roster of championships behind her, the press had piled on. "They were saying, 'Steph's done now. The young girls are too good; she's going to be left behind,'" Gilmore, then 23, recalls. At first she thought they might be right. But the more she watched video footage from her free-surfing trips, the more certain she was that she could make it back. "Those videos reminded me that I can still achieve whatever I put my mind to. I just needed to start fresh."
At the beginning of the 2012 season, Gilmore discovered an unexpected benefit of no longer being the reigning champion: "Everyone was expecting so much from the other girls, but not me," she says. "In 2009 and 2010, I was really relaxed. But in 2012, I was determined to put my heart and soul into everything I did."
She trained longer and harder, putting in more hours in the ocean than ever before. At each stop on the tour, she visualized how she'd approach the waves. Right off the bat, she won the first 2012 tour event and eventually qualified for the finals in Biarritz, France, on July 14.
The morning surf was stormy, but Gilmore woke up optimistic. When her biggest competition, Australian Sally Fitzgibbons, didn't make the final round, Gilmore knew the world title was hers to lose. She was nervous, but she clinched a high score on her first wave. The beach filled up with spectators. As Gilmore floated on her board in the water, looked toward the beach, and heard her score announced, she knew she'd won.
"It was like a fairy-tale story for me," she says. "One of the best days of my life." Fireworks shot off above the awards ceremony as she was handed her fifth world title. "The other titles came naturally. With this one, I turned from a surfer into an athlete. To overcome something and figure out a way to train harder, surf better, and make it work … I treasure this one most of all."
Photos via Morgan Massen/Courtesy of Roxy/Getty Images
Related:
What it's Like to Film the World's Best Female Surfer

The Most Inspiring Women Surfer Quotes

New Star of '24: Live Another Day' Talks About Her Other Life as a Surfer

Game Changer: Women in Sports
Celebrity news, beauty, fashion advice, and fascinating features, delivered straight to your inbox!