New Star of '24: Live Another Day' Talks About Her Other Life as a Surfer
The true meaning of "sea legs."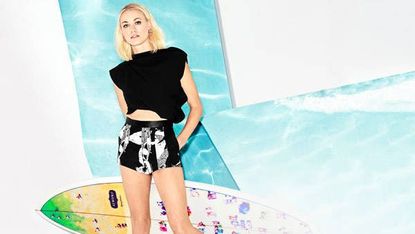 (Image credit: Archives)
As a CIA agent in this month's 24: Live Another DaY (Fox), Yvonne Strahovski, 31, makes serious waves; offscreen, she rides them on a custom-built surfboard.
LITTLE MERMAID?

I grew up being afraid of waves and deep water. It sounds odd because I'm Australian, and most people view us as water babies.
SURF'S UP

Some girlfriends of mine introduced me to surfing last year. I clicked with it despite my fears. I like adventurous things—rock climbing, canyoning, caving, hiking. That athletic chip took over; it wanted to conquer a new sport.
WHAT LIES BENEATH

You never really know if a shark's lurking down there or not! It's such an uncontrollable factor.
SEA LEGS

When you finally get that first wave all the way in, it's exhilarating. At the same time, you have a real sense of calm. It's a beautiful balance of two feelings.
HOME TURF

Malibu, California.
DREAM SWELL

I've heard the south of France is amazing!
WATER WORLD

In Hawaii, I took a trip to the North Shore of Oahu where I saw some amazingly large waves: Waimea Bay was breaking at 50 feet! On a calmer day, I went out and surfed my first five-footer.
GOLDEN RULE

Don't jump in front of anyone who's already on a wave.
PIMP MY RIDE

I've got a seven-foot board with three fins. It's a '70s aqua green, with a thin red stripe around the edge. Right above the fin I put a little number "1," to signify that it's my first.
BEACH DAZE

Surfing feels like a clear and present mind. At the end of a session, it's just clarity for me.
Celebrity news, beauty, fashion advice, and fascinating features, delivered straight to your inbox!