An Unbreakable Spirit
Sold to a brothel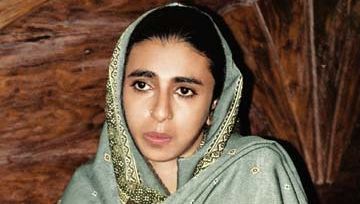 (Image credit: Nicholas D. Kristof)
She was kidnapped, drugged, and sold to a brothel, where she worked for more than five years. The most remarkable thing about Aisha Parveen is not that she escaped -- but that she never stopped fighting for her freedom.
For the first 14 years of her life, Aisha Parveen lived with her family in a village in the wild northwestern region of Pakistan, enjoying what in retrospect was a pleasant, cosseted, and rather boring life. Then, as she walked to school one day, she was hit on the head and knocked unconscious-and in the years since, nothing has ever been the same. When Aisha awoke, she found herself imprisoned in a brothel in the Pakistani town of Khanpur, hundreds of miles away. (After knocking her out, her kidnappers had drugged her to keep her incapacitated during transport.)
"I didn't know what had happened to me or where I was," she says. "Then, when the drugs wore off, they told me I was to be a prostitute." Aisha refused to comply. She wept, screamed, and pleaded to go back to her parents. She fought back against the men who entered her room to rape her, even when they beat her into submission. The brothel owner -- a man named Mian Sher who was, like Aisha, a member of the Pashtun tribe -- punished her with beatings and torture. At one point, he forced hot tongs into her vagina, says Aisha, to humiliate her and break her spirit.
None of this is particularly unusual in Pakistan. In fact, all around the world, girls in their early- and midteens are kidnapped and imprisoned in brothels, then raped and bullied- even forced to eat dog droppings -- to break their will and make them accept their fate. These girls spend years in captivity, often until they are too sick with AIDS to attract customers. Numbers are elusive, but estimates by various organizations suggest that each year, hundreds of thousands of girls are forcibly trafficked into brothels.
The United Nations has estimated that in Asia alone, 1 million children are held in conditions amounting to slavery. Aisha, now 20, is fiery and feisty, a slender young woman who is quick with laughter and tears. As hard as he tried, Mian Sher was never able to break her. She continued to fight, despite the fact that during the years following her abduction, not a day went by when she wasn't beaten by Mian Sher or his wife.
For six years, Aisha remained trapped inside the brothel. At night, she was forced to sleep naked so that she would be too embarrassed to try to escape. Two other girls also continued to resist -- as a result, Aisha believes they were murdered. In any case, death may be imminent for all the girls at Mian Sher's brothel: None of them have access to condoms, and the potential for AIDS is immense.
THE PRICE OF FREEDOM
After six years of captivity, at the beginning of 2006, Aisha got a break. A metalworker named Mohamed Akram was doing work inside the brothel when he encountered Aisha and took pity on her. Sensing his sympathy, Aisha begged him to help her flee. A fledgling romance blossomed as the pair plotted her escape. Late on the night of January 5, Aisha rose in the dark, quietly put on clothes that she'd hidden, and slipped past Mian Sher (who slept in a bed between her and the door). She exited the brothel, locking her captor inside. Then she ran out onto the street, where Mohamed Akram had a car waiting. They were married the next day.
That should have been the beginning of a wonderful new life, but brothel owners in Pakistan are powerful men who often pay bribes to win support from the police. In this case, Mian Sher promptly went to the police, claiming that Aisha was his second wife, and that by running away with Mohamed Akram, she was committing adultery. The police filed charges against Aisha. Meanwhile, thugs apparently hired by Mian Sher tried to kidnap her several times. This was the point at which I met Aisha. She was at her wit's end, hiding and terrified that Mian Sher would catch her. If he did, Aisha felt certain he would take her back to the brothel and rape, torture, then murder her. So I went to the brothel to interview Mian Sher, alone.
A powerful, balding man, Mian Sher warily offered me tea. (Throughout our conversation, he also periodically flew into rages.) He denied that he ran a brothel, despite my encountering one of his customers in person as I entered the compound. When I asked why he wanted to have Aisha sent to prison, Mian Sher was very direct: After she was arrested, he would go to the jail and-as her nominal husband-bail her out. Then, he explained, she would be his again. Aisha's court hearing was scheduled for the following Monday, so I rushed to use the regular column I write for The New York Times to call attention to her plight, before it was too late.
My effort worked: The Pakistani government ordered the charges against Aisha be dropped, and Mian Sher was arrested instead. The police who had tried to hand her back to the brothel now offered her protection. Readers called the newspaper to ask how they could help. The U.N. invited Aisha to address a conference on sex trafficking in Vienna. While she is still worried for her safety, for the first time, Aisha has hope for the future. Although she believes she is infertile (the result of a forced abortion while she was in the brothel), she now plans to devote her life to fighting trafficking of other children, as a substitute for raising any of her own. Still, Aisha knows there are more than a million others still enslaved in the brothels of Asia.
I'll never forget my first conversation with her, when she exploded in tears at the thought of the courts returning her to Mian Sher. "God should not give daughters to poor people," Aisha told me despairingly. "And if a daughter is born, God should grant her death."
Join Marie Claire and Nicholas D. Kristof to End Sex Trafficking in Pakistan.
Sex trafficking has received more attention in the past five years, and a handful of organizations are doing heroic work in fighting it.

The following are reputable organizations where you can volunteer your time or donate money:
Coalition Against Trafficking in Women (www.catwinternational.org (opens in new tab))
Ecpat (www.ecpat.net (opens in new tab))
Equality Now (www.equalitynow.org (opens in new tab))
International Justice Mission (www.ijm.org (opens in new tab))
Vital Voices (www.vitalvoices.org (opens in new tab))
To help Aisha build a new life, contact the Asian-American Network Against Abuse of Human Rights: (www.4anaa.org (opens in new tab)).