Your Guide to Miami's Art Basel
Your guide to a fun-filled Art Basel weekend in Miami!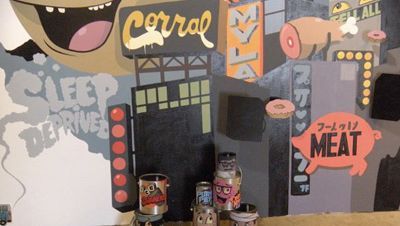 (Image credit: Archives)
On the ten-year anniversary of Art Basel Miami, the Swiss-born contemporary art festival has evolved into something so much more spectacular than anyone in the city would have ever imagined years ago. Art Basel began as a single art fair at the Miami Beach Convention Center and now there are dozens of satellite fairs, concerts, and fashion events that add depth and excitement to, what is arguably, the most wonderful week and biggest party of the year in Miami. The 10-year-anniversary celebration will include free outdoor performances and live art, as well as a large-scale outdoor project called Art Video.
We've included our "must-sees" and "must-dos" for an unforgettable Art Basel experience below. But beware — sleep isn't one of them!
The Ice Palace, 1400 North Miami Ave.
Dec. 1 - 4
Less chi-chi (and less expensive) than Art Basel, which takes place at the Miami Beach Convention Center, PULSE presents and promotes large-scale sculptures, installations, and performances. The art fair focuses on contemporary art and society and is both an indoor and outdoor exhibit, for art-lovers who want to get a little tanning in at the same time.
The Florida Room, 1685 Collins Ave. Admission by guest list only.
Through Dec. 5
It's been called the traveling Studio 54 and now for the fourth year in a row, this Parisian nightclub takes over the Florida Room during the week of Art Basel. Le Baron is the perfect spot for a late-night soiree, if you can get in that is. Lines of people speaking English, Spanish, and of course French, wrap around the side of the Delano Hotel waiting to be let in, so make sure to RSVP to this epic party.
FENDI "Craft Alchemy" at Design Miami
Meridian Ave. & 19th St., adjacent to the Miami Beach Convention Center.
Through Dec. 4, 12 p.m. to 8 p.m. and Sunday 12 p.m. to 6 p.m.
Designer Elisa Strozyk and artist Sebastian Neeb team up for this Design Performance installation and transform discarded FENDI leather into antique-style furniture. The project is inspired by an original room at Palazzo FENDI, the company's international headquarters, built around 1700.
The Rotunda Space, 3252 NE 1st Ave., Suite 101
Dec. 1- Dec. 4. Check website for schedule
GGG is back for the fifth consecutive year, showcasing urban contemporary art and design. This year, the show will highlight famed architect Marc Fornes, designer and architect Volkan Alkanoglu, creative artist and curator Billi Kid, digital agency Branger-Briz, and other talented urban contemporary artists. Sponsored by Sushi Samba, last year's gallery exhibit featured music and free caipirinhas -- it was a blast!
Mason Martin Margiela presents "Love, etc."
Maison Martin Margiela, 3930 NE 2nd Ave., Suite 101
Through Dec. 3. Admission to cocktail reception by guest list only.
An off-site installation and cocktail reception near the Maison's Miami store will feature seven large panels, each with different images of the interiors at La Maison Champs-Elysées as well as objects belonging to the design objects collection from Line 13. Everything will be displayed twice in order to create a mirror effect.
Cafeina Wynwood Lounge, 297 NW 23rd St. Admission by guest list only.
Thurs. Dec. 1 from 9 p.m. to 2 a.m. Check website for more Art Basel events and installations at Cafeina.
GUESS and Motorola are hosting the launch of fashion, beauty, and shopping website Refinery29's Miami edition. The party will be a "night of drinking, dancing, and temporary-tattooing" according to Refinery, and artist Justin Belmont has created a Warhol-inspired art garden especially for the party.
Friends with You presents "Inner Space, the Secrets of the Unknown!"
3930 NE 2nd Ave., Suite 202
Dec. 1 - Jan 28 from 11 a.m. to 7 p.m.
After witnessing last year's "Rainbow City", a larger than life 40-piece environmental installation by Friends with You artists Samuel Borkson and Arturo Sandoval II, we know "Inner Space" will be incredible, too! The guys promise that this year's exhibit at their studio space will be filled with many "magical surprises."
The Overthrow Castle, 41 NW 20th St.
Dec. 3, from 5 p.m. to 4 a.m.
This party happens one night a year and we hear it's awesome! Who doesn't want to party in a castle? There will be great music, live art, and installations by artists such as Ron English, Sam Flores, Tara McPherson, Jeremy Fish, Mark Bode, and Greg Mike.
OHWOW presents "It Ain't Fair"
81 NE 40th St.
Dec. 1 - 4, Friday and Saturday 11 a.m. to 7 p.m. and Sunday 11 a.m. to 5 p.m.
"It Ain't Fair" is back for the fourth time and the theme of the exhibit is materialism. "It Aint Fair" differs from many contemporary art exhibitions because instead of exploring the abstract, it focuses on "the physicality of artwork, the matter that constitutes an object, and the new methods employed by artists toward approaching material."
Celebrity news, beauty, fashion advice, and fascinating features, delivered straight to your inbox!