One Year Later: How Beyoncé's Surprise Album Ended Up Changing the Music Industry Forever
She woke up like this—and we'll never be the same.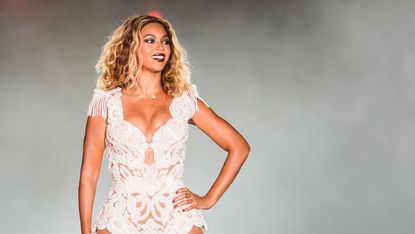 (Image credit: Archives)
A year ago today, Christmas came early. Beyoncé released an entire album at midnight, with no warning, little fanfare, and a music video accompanying every single song. If you're like me, you threw out all pretense of working that day—it was a Friday during the holidays,after all—and you listened, watched, and absorbed the magnitude of the opus. How did she pull it off? What did it all mean? In what world was it possible for her to do all this in secret? Somehow the already godlike Mrs. Carter had managed to deify herself overnight.
In the months that followed, it's become clear that the influence of that major Beyoncé moment is far-reaching...and industry-changing. Here, let us count the many ways Queen B has altered the face of music forever:
She changed the sound of pop.
There is R&B, there is EDM, and then there is the catastrophic, dissonant clash that can be found on most of the upbeat tracks on Beyoncé. Listen to the first few seconds of "***Flawless" again and you'll hear a chaotic array of drum beats, stuttering vocals, and for lack of a fancier musical term, the bleep bloop bleeps of a Casio keyboard from 1991. "***Flawless" and "Partition" both contain two completely different songs and melodies sewn into one, and "Blow" changes rhythm several times in its five minutes. On first listen, the album also seemed remarkably low tempo. Beyoncé answers for that, however: "The bass get lower/Radio says 'speed it up'/I just go slower." And she made those tempos catchy, and likable. Ta da!
She forced you to buy an entire album.
Really, when is the last time you bought an entire album? I think mine was in 2001. But through an exclusive agreement with Apple, you couldn't purchase standalone tracks of Beyoncé on iTunes. You had to buy the whole thing, which was also, at first, the only way to view the videos. Not only did this make her money—she sold over 800,000 copies in the first weekend of the album's release—but it also kept her audience from the now-common practice of listening to songs piecemeal. You had to experience the album as one whole sonic experience, the way people used to, noting the musical and lyrical themes (in this case, sex and sex and sex). She also withheld the album from Spotify or Rdio for the first 50 weeks of its life, long before Taylor Swift made headlines for pulling her music from streaming services.
She made videos an art form again.
Yeah yeah, MTV doesn't play music videos anymore. But Beyoncé cares little for that cultural change-up, and created17 entirely distinct and visually compelling videos for the 14 tracks on her album. Each was interesting, each was provocative, and several came with their own memorable dance moves—the "XO" arm gestures, the "***Flawless" hand flip. Lord knows how she did it, or how much help she had, or how many nondisclosure agreements were signed, but the videos made it clear that Beyoncé is a visual artist in addition to a musician. Also, she beat Kanye West to the whole visual album thing.
She put the emphasis back on performing.
Beyoncé can actually sing. Beyoncé can actually dance. Beyoncé is actually charismatic. Even people outside the Beyhive can admit that she is very talented and works extremely hard. She just seems to care more than most people in the music industry. If you coughed up the cash to see her On the Run tour, there were typically 43 songs on the set list. Sure, some of that number came from husband Jay Z, but he seemed to really be there for intermittent moments of catching her breath. After she performed for 16 straight minutes at the MTV Video Music Awards this past fall, hitting every song on the new album, Jay presented her with the Video Vanguard Award (a sort of lifetime achievement for MTV), and called her "the greatest living performer." It wasn't just husband hubris. Can you think of a better one?
She got unabashedly, unapologetically intellectual.
Who says celebrities should keep their mouths shut about politics? Beyoncé didn't just sing about equality—she performed on MTV in front of a billboard screaming, literally, "FEMINIST." She lent a precious 54 seconds of a pop song to Chimamanda Ngozi Adichie's landmark TEDx talk about feminism. She may have complicated the conversation by juxtaposing the message of one with the bare, male-gazed rear end of another, but even that was interesting and demanded discussion. And hey, she included not one but two rhapsodies about oral sex (male and female). We call that progress.
She made some major additions to the cultural vernacular.
The most successful pop culture topics sneak their way into everyday conversation. You know a movie is iconic when its script is being quoted by your mother: "On Wednesdays, we wear pink." It's hard to believe that it's only been a year since we started saying "I woke up like this" and"surfboard" and righteously silly lines like "I sneezed on the beat and the beat got sicker." Beyoncé creates culture. That's all there is to it.
Never one to miss an opportunity to celebrate, Bey released a little video today to commemorate the one-year anniversary. Watch here:
Celebrity news, beauty, fashion advice, and fascinating features, delivered straight to your inbox!