12 Things You Never Knew About Audrey Hepburn
Like: She wasn't the first choice to play Holly Golightly.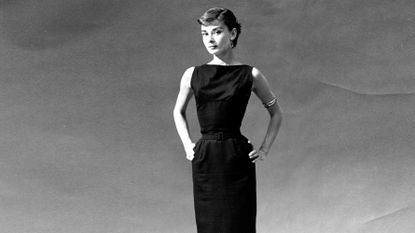 (Image credit: ARCHIVES)
Audrey Hepburn isn't exactly an International Woman of Mystery, but you've got to wonder how a single person could be so ridiculously-talented, intelligent, chic, and poised all at once... surely she's got some tricks up her sleeve. So, today, on what would've been her 86th birthday, we're getting sneaky à la her character Nicole Bonnet in How to Steal a Million and doing some old-fashioned sleuthing for little-known facts about the award-winning British actor and humanitarian.
1. Audrey Hepburn isn't her real name. She was born Audrey Kathleen Ruston and didn't start calling herself Audrey Hepburn until 1948.
2. She's a member of the EGOT club. One of 14 people in the world, she's won an Emmy (hosting Gardens of the World with Audrey Hepburn), a Grammy (spoken word album Audrey Hepburn's Enchanted Tales), an Oscar (best actress in Roman Holiday), and a Tony (best actress in Ondine).
3. She spoke five languages. She could speak English, Spanish, French, Dutch, and Italian.
4. She wasn't Truman Capote's first choice for Holly Golightly. In fact, the author had his heart set on Marilyn Monroe for the part. "She was Truman Capote's first choice," Sam Wasson, author of Fifth Avenue, 5 A.M.: Audrey Hepburn and Breakfast at Tiffany's, told ABCNews.com. What's more is that Monroe didn't take the part because Paula Strasberg, her advisor and acting coach, said she shouldn't be playing a "lady of the evening."
5. IRL, a danish was not her choice treat. Sorry Breakfast at Tiffany's diehards, but according to a 1960 New York Times report, "Miss Hepburn, it developed, had no affection for the Danish, preferring ice cream at Schrafft's."
6. She's an introvert. She said so herself in a 1953 interview with LIFE Magazine, explaining: "I have to be alone very often. I'd be quite happy if I spent from Saturday night until Monday morning alone in my apartment. That's how I refuel."
7. She loved the color cyan. According to her son Luca Dotti, the blueish-green hue was her favorite.
8. She began dancing at age five. By 1944, she was a proficient ballet dancer and secretly danced for groups of people to collect money for the Dutch resistance.
9. Her parents were Nazi sympathizers. While Hepburn boldly supported the resistance (see above), her father, who abandoned her when she was a little girl, and her mother, Ella, were members of the British Union of Fascists, according to Biography.com. Fortunately for Hepburn, this was little-known in the 1950s as it would have been disastrous for her image.
10. A breed of Tulip was named after Hepburn. According to the Netherlands Flower Information Society, a new hybrid breed of tulip was named for Hepburn, "as a tribute to the actress's career and her longtime work on behalf of UNICEF."
11. She had a pet baby deer named Pippin (and nicknamed 'Ip'). According to AnOther magazine, on the set of her 1959 film Green Mansions the animal trainer suggested Hepburn take the deer home with so that it would follow her on-screen. The fawn became her sidekick and even went with her to the supermarket.
12. Her feet were larger than you'd expect. Despite her small frame, Hepburn actually wore a size 10 in shoes. "I'd like to be not so flat-chested," she once said. "I'd like not to have such angular shoulders, such big feet, and such a big nose." She reportedly also bought her signature ballet flats half a size larger to avoid a squeezed-in look.
You should also check out:
In Honor of Audrey Hepburn's Birthday, We Got Holly Golightly Highlights
The Most Romantic Movie Scenes Of All Time
Lauren is the former beauty editor at Marie Claire. She love to while away the hours at coffee shops, hunt for vintage clothes, and bask in the rough-and-tumble beauty of NYC. She firmly believes that solitude can be a luxury if you've got the right soundtrack—that being the Rolling Stones, of course.