The Women We Lost in Charleston
We've heard enough about Dylann Roof—it's time to focus on the women whose lives he tore away.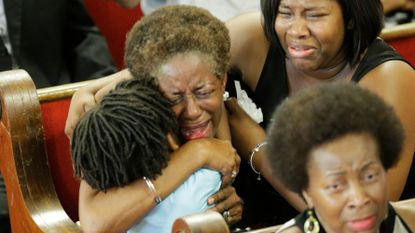 (Image credit: Archives)
Marie Claire Newsletter
Celebrity news, beauty, fashion advice, and fascinating features, delivered straight to your inbox!
Thank you for signing up to Marie Claire. You will receive a verification email shortly.
There was a problem. Please refresh the page and try again.
By now, you know the name of the Emanuel African Methodist Episcopal (AME) Church in Charleston, South Carolina. And you know the name of the shooter, Dylann Roof, who opened fire during Bible study last week and killed nine innocent victims.
But do you know the names of the inspiring, heartbreakingly good women he killed? Do you know the poignant history that brought them together?
The congregation of AME dates back to 1787, and the original building was burned to the ground in the 1820s amid rumors it was the headquarters for a slave revolt. By the time it was rebuilt, all-black churches were outlawed, and worship took place underground until the end of the Civil War. Booker T. Washington and Dr. Martin Luther King, Jr. spoke there, and Coretta Scott King led a march from its front steps.
This long and difficult history is why worshippers called it "Mother Emanuel," and it's part of what drew them there on the evening of June 17. Now they join a brutal litany of injustices.
Here are the women we lost.
The Mentor Sharonda Coleman-Singleton, 45
A pastor, speech therapist, and track and field coach, Coleman-Singleton motivated her students in a very particular way: She ran alongside them. The New Jersey native was a single mother of three. Chris Huskey, the principal and her colleague at Goose Creek High School, said: "She taught those young ladies how to be better young ladies, and that can never be replaced." The Gator Nation family of athletes and students gathered in the gymnasium the evening after her death for an evening of prayer. "She was love. She was love. She still is love," her sister Jaqueline told CBS.
This is Sharonda Singleton.She had 3 kids & coached high school track.Remember her.#CharlestonShooting pic.twitter.com/UVIV2bmtOpJune 18, 2015
See more
The Advocate
The lifelong Charleston resident managed the busiest branch of the city's library system, and all 16 branches were closed to honor her memory the day after the shooting. Her employers called her "a tireless servant of the community." She also worked for not one but two nonprofits dedicated to the cause of public housing, serving as president of the Septima P. Clark Corporation. One of her brothers, former North Carolina State Senator Malcolm Graham, said in a statement, "It is unimaginable that she would walk into a church and never return, but that's who she was—a woman of faith."
This Sunday would have been Cynthia Hurd's 56th birthday… one of 9 killed in SC church shootings. pic.twitter.com/7WXot9hI5TJune 18, 2015
See more
The Matriarch
The oldest victim of the shooting had an active social calendar, traveling from one relative's graduation to the next huge family reunion to whatever celebration would follow. Her nephew Kenneth Washington said, "My aunt was a loving person. She never taught us to hate." Another nephew, Tywanza Sanders, died trying to save her. They were attending Bible study together that night, and he threw himself over her body.
Ethel Lance, 70
Lance had already suffered enough tragedy. She lost her husband in 1988, as well as a daughter to cancer in 2013. She found solace singing the gospel song "One Day at a Time" at weekly gatherings of the church's senior citizens group. She worked as a custodian at the Gaillard Municipal Auditorium for over 30 years, and was a lifelong member of Mother Emanuel. "She was the heart of the family," her grandson said.
SHE HAS A NAME: Ethel Lee Lance, worked at Emanuel AME Church in Charleston for 30 years. She was killed last night. pic.twitter.com/7OHjsnhD8fJune 18, 2015
See more
The Preservationist
Alongside Reverend Clementa Pinkney, who was also killed in the attack, Thompson worked to restore and preserve Mother Emanuel's buildings through fire, earthquake, hurricane weather, and other troubled times. She was determined to do the same for the church's spiritual life, and so this mother—and wife of a pastor from another church—joined the ministry, receiving her license on Wednesday night just hours before her death. "There's no one speech that someone can give, no one protest or rally or vigil or march or document to fix this," said her half-brother J.A. Moore to MSNBC.
Myra Thompson, 59. Murdered in the #AMEChurchShooting. Rest In Power. #BlackLivesMatter pic.twitter.com/E82YDobrKBJune 19, 2015
See more
The Singer
Another woman on this list who dedicated her life to the church and to social justice, Middleton-Doctor worked as the Charleston County director of the Community Development Block Grant Program. A mother to four daughters, she also sang in the church's choir, and co-parishioners and friends talked of her transporting voice. "My beautiful songbird," relative Laurie Middleton wrote on Facebook. Her family is calling on the community to not let her death be in vain. "We should put our faith to action, making a conscious decision to be more than empty drums that have long lost their melodies. In South Carolina the Confederate flag—an unequivocal symbol of hate—remains on statehouse grounds. We must demand the flag be removed immediately—we cannot let icons of racism fly free within our society," they said in a statement. "We call on all people, public officials, faith leaders and Americans from all walks of life to help address the festering sores of racism as it spurs an unforgiving culture of violence."
Rev. Depayne Middleton Doctor is confirmed as a victim of #CharlestonMassacre. She was a church singer #SayTheirNames pic.twitter.com/SEuYczPZoLJune 19, 2015
See more
Celebrity news, beauty, fashion advice, and fascinating features, delivered straight to your inbox!
Maria Ricapito is a writer who lives in the Hudson Valley.