My Dad Was a Serial Killer
They thought they knew their fathers—as protectors and playmates, as teachers and disciplinarians—but these women's dads had dark sides that would shatter not just their victims' families, but also their own.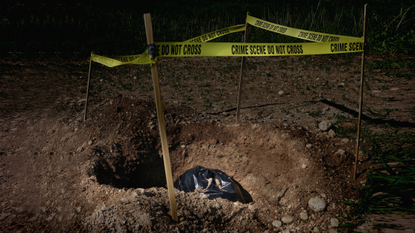 (Image credit: Archives)
Melissa Moore had just turned 16 the first time she visited her father in prison. It was the summer of 1995, and Keith Hunter Jesperson was on trial for the March 1995 murder of his girlfriend, Julie Ann Winningham. On the other side of a Plexiglas wall, "he picked up the phone and the first thing he said to me was, 'Missy, my best advice is that you change your last name,'" says Moore, now 36. "And that, to me, was his confession that it was all true. I burst into tears because I was hoping he would say it wasn't."
Jesperson, a long-distance trucker, had been divorced from Moore's mother for five years by then. Though he's claimed to have killed 160 victims, eight murders—of women from Oregon to California to Florida—have been attributed to Jesperson, and he is currently serving two consecutive life sentences at the Oregon State Penitentiary. Known as the Happy Face Killer (for the smiley face sign-off on notes he wrote to police and the media), he strangled and sexually assaulted his victims. In 2002's I: The Creation of a Serial Killer by Jack Olsen, Jesperson dispassionately walks the reader through the 1990 murder of his first victim, a developmentally disabled young woman named Taunja Bennett he met in a bar near Portland, Oregon, and killed in his house, a crime he would recall for sexual gratification for years afterward.
While on the road, Jesperson would often visit his kids in Yakima, Washington, then Spokane. "The question that every family member gets is, 'How could you not know?'" says Moore. "'What did you know?' Most family members are totally oblivious." She only knew she was afraid, dreading her father's visits. He was unpredictable, scary. When she found some stray kittens, he tortured and killed them in front of her. (He had a long history of abusing animals.) She saw a roll of duct tape under the pillow in his truck's sleeping cab and remembers thinking that was an odd place to keep it. Hers was a childhood of "walking on eggshells" around her "chauvinistic, controlling, verbally abusive" dad, she says. "You're so on edge all the time. You're always, What's his mood? What's he doing now? That seething energy underneath the surface—I could watch him explode, could see the mood swings."
Some daughters of murderers have fonder memories of their fathers, like Taalibah Muhammad, whose father, John Allen Muhammad, was the D.C. Sniper, or Beltway Killer. "Whenever it was time for us to come home or play, he was always there; he was always there to tuck us in at night," Taalibah, 22, says. "I honestly could say that I had a great childhood with him."
Over three weeks in October 2002, 10 people were shot at random and killed (three others were injured) in parking lots and on sidewalks around Washington, D.C.; Maryland; and Virginia. From a sniper's nest jerry-rigged in the back of a blue Chevy Caprice, John and his 17-year-old accomplice, Lee Boyd Malvo, began their spree. Taalibah, who was 9 at the time, hadn't seen her father since August 2001, when she, her brother, and her sister were retrieved from Bellingham, Washington, where they had been living with John. He had taken them from their mother, Mildred Muhammad, in Tacoma, Washington, as a custody hearing was pending. (The couple had separated in 1999.) Shortly after being reunited with her children, Mildred relocated the family to the D.C. area to help care for her sick mother. The following year, Taalibah and her siblings were whisked out of school and into protective custody once the police suspected their father as the perpetrator. (They had found in national records that Mildred had a restraining order against John.) "When his picture popped up [on the news] and they were naming him the D.C. Sniper," Taalibah says, "the thing that I really remember is just crying."
During John's trial in the fall of 2003, Mildred, who now works with domestic-abuse survivors through her After The Trauma organization, homeschooled the kids, but not because she was ashamed—or wanted them to be. "Some friends that I thought were friends were not when the information was released," Taalibah recalls. "From the outside looking in as a parent—they want to protect their child. I mean, the D.C. Sniper's child is in attendance," she recalls. "So for the protection of us and the protection for the children at school, it was beneficial." But she was never sheltered from the harsh reality: "My mom always wanted us to watch the news every day, so we were going to find out regardless...When it came to the verdict [guilty of capital murder], I just went completely numb."
Besides dealing with public ostracism and private shame, these daughters had to separate themselves from their fathers' horrific acts: His crimes were not theirs. "My mother told us, 'He will always be your dad,'" says Taalibah, "'but that does not mean that everything he does you take responsibility for. He's his own individual, and so are you.'" Even if other schoolkids didn't see it that way. "The most challenging question I've gotten was, 'Do you have guns at home, too? Will you do the same thing he did?'" she continues. "Extremely blunt, no filter. It's just, 'You're the daughter. I get to ask you anything without [thinking] how you feel.'"
By the time she was an adult, Rebecca Lafferty realized she had to stop owning her father's crime. Her dad, Dan Lafferty, and uncle Ron Lafferty, both members of a Mormon fundamentalist splinter group, believed that God had ordered that their 24-year-old sister-in-law, Brenda Lafferty, and 15-month-old niece, Erica, be "removed." (Brenda had angered Ron by encouraging his wife to leave him when he wanted to take a second bride.) It was July 24, 1984—Pioneer Day (when Utah residents commemorate the 1847 arrival of Brigham Young and the first Mormons in the Salt Lake Valley)—and Rebecca was 7 years old. She remembers the police pounding on the door of the Salem, Utah, home she shared with her mother, who had just separated from Dan, and four younger siblings.
"It was late at night, and my mom sounded panicky," says Lafferty, now 38. "She was like, 'Hurry, get some clothes and put them in a bag.' I remember just scrambling, like, 'What's going on?' And then we rode in a cop car to another city, where we stayed with one of my mom's girlfriends."
As recounted in Jon Krakauer's 2003 book, Under the Banner of Heaven: A Story of Violent Faith, Ron savagely attacked Brenda (official records say both men beat her). Dan had slit the baby's throat, leaving her in her crib. When they left, Brenda lay on the floor with her throat cut. The brothers then went on the lam, and the authorities feared for the families' safety. The men were caught a few days later in the buffet line of a Nevada casino.
Dan, who is sentenced to life at Utah State Prison, has told journalists that he feels no remorse for his actions. "All the emotions that he feels, he knows how to shut them off," Rebecca says. "He becomes very disassociated. I've seen it and I've experienced it in his eyes." She decided that in order to heal, she needed to sort out her feelings for her father. Before reading Krakauer's book, she'd known only the bare outlines of the crime. While she was reading, she says, "I couldn't breathe. Being a mother [of three children], [I was] thinking of my little baby, thinking of Brenda wanting to protect her baby."
"It was confusing for me, because I'm like, I can't feel angry at him, because that means I don't love him," continues Rebecca, a Salt Lake City-based dental assistant who has become a reiki master and a hypnotherapist dealing with traumatic memories. "And then I got real with that just a couple years ago: 'No, I didn't like that you did that. I don't agree with that, but I love you. And I love you.'"
When Rebecca was younger, everyone knew who she was. It was hard to grieve for her aunt and cousin, or for the father she visited in prison—the one who patiently taught her how to tie her shoes or pushed her on the swings or tickled her until she couldn't breathe—when she was the "baby killer's" daughter, as a junior high schoolmate called her one day. "I stood up, walked to the back of the bus, and I really let it out on this girl," Rebecca recalls. "I remember smacking her, and rage came over me. I was so tired of all the hurt and the pain and the shame and whatever else I was carrying, so I took it out on that poor girl."
Taalibah's mother counseled her children on the reactions they might face. "I thank her for being straightforward and not making up a story," says Taalibah. "I'm thankful for her taking the time to get us mentally prepared for anything that came our way. When I was in seventh grade, this boy came up to me and said, 'Your dad killed my cousin.' I guess he was trying to find blame. I said, 'I send my condolences to your family, and I hope that if you feel uncomfortable around me, then don't be around me, but I'm here as a friend to you.'" Her mother emphasized that John's actions were not their fault or responsibility—or an excuse for failure. "My mom always taught me and my siblings that we should never use what happened to us for a sympathy card," Taalibah says. "You should make it your own and stand firm that this is what happened, but this is what I'm going to do."
There's no official tally of how many children of murderers are living in the U.S. and how they're coping, but the women we spoke to were open about their struggle to move on with their lives. A sophomore in college in Cleveland now, Taalibah is majoring in voice. She and her sister (also a voice major) are working on a YouTube channel to showcase their neo-soul and opera music. "Singing is a therapy for me, when I need to express myself in a way that only music can," she says.
The six dark weeks of her father's first trial in 2003 (he was sentenced to death in March 2004; he was convicted on another six counts of murder in a 2006 trial) still haunt her. "I always wanted to [visit him in prison], but I knew that I couldn't," she says. Her mother didn't allow it, fearing a disruption in the children's stability. Taalibah held out hopes of talking to her father on the phone before he died. November 10, 2009, was John's execution day. His lawyers had alerted the family to be ready. "We were waiting all day, and we never got a call," says Taalibah. "His lawyers explained at the end that he just didn't want to. That made it even worse, because why wouldn't you want to talk to your children? I would have said, 'I love you, and I always will.' Knowing that he heard that from me, and me getting a response from him, I would have been free."
Rebecca, who, against her family's wishes, is working on a book about her childhood, has also struggled to free herself from the past. In her teens, Rebecca drifted away from the lDS church. "I became very rebellious," she says. "I was pissed. I had a big chip on my shoulder." In her search for peace, she ended up in The Landmark Forum, a program that aims to help attendees reach breakthroughs in personal and professional development through seminars and group discussion. This and hypnotherapy helped her understand that she deserved a life she wanted, even if she felt guilty. "It started with forgiving myself and accepting that [my family] is that way. It's having compassion for myself."
Moore, who lives in Los Angeles, also felt unworthy of happiness. "I can't forgive the crimes [my father] committed, because that's not my place," she says. "But as far as what he's done to me personally and what forgiveness means to me, I have let go and moved on with my life." She has turned her journey into a mission. Though not a trained therapist, she has counseled some 300 family members of killers.
This journey began when her daughter, then in grade school, asked why Moore never talked about her father, with whom she had cut off contact. (Her daughter is now 14; Moore also has an 11-year-old son.) She began writing a journal, which she published in 2009 as the book Shattered Silence, and, after attending a Dr. Phil seminar, was asked to tell her story on his show. She was apprehensive about people's reactions. "I felt like it would probably be the best thing to do to get the help I needed, but also if there's someone else who felt the same way I did, maybe they would get the advice they needed. I knew I couldn't be the only family member of a serial killer out there, and that helped me to go forward...You have to make hard choices: When do you tell your children? If they're executed, how do you grieve? Even though they do these heinous things, there's a part of you that remembers their good elements. You can't turn those off, unfortunately. Do you love them? That's a complicated answer for many people."
Moore has filmed a six-episode TV series for LMN, Monster in My Family, which begins airing July 1. In it, she introduces the families of killers to those of their victims. "I felt serial killers get a mega spotlight on the atrocities they commit, and you hear names of the victims, but almost on the sidelines. I wanted to bring their voices to the forefront," she explains. "People are like, 'Do victims really want that?' And they do. A lot of them say it's nice to hear the family members send their condolences...We're not making amends. We're not trying to make restitution. It's mostly, 'We want to hear your story.' I'm not apologizing on behalf of my dad. I'm apologizing as a caring human being to another caring human being."
As well as taking the innocent lives of their victims, these fathers took something from their daughters. "I'm OK, and I have rebuilt my life. But my dad got a life sentence; I got a life sentence," Moore says. "I'm always going to be a daughter of a serial killer, and I have to choose how that's going to affect me. I'm always having to make that choice: Do I want to hide today, or do I want to live today?"
This article appears in the July issue of Marie Claire, on newsstands now.
Celebrity news, beauty, fashion advice, and fascinating features, delivered straight to your inbox!
Maria Ricapito is a writer who lives in the Hudson Valley.