Revenge Porn Has Met Its Match, and Her Name Is Kamala Harris
The California Attorney General is kicking a** and taking names.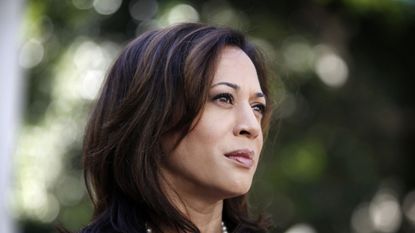 (Image credit: Archive)
California Attorney General Kamala Harris scored a major victory this spring when Kevin Bollaert, who ran the website ugotposted.com, was sentenced to 18 years in prison for posting more than 10,000 sexually explicit photos (known as "revenge porn") online and demanding $250 to $350 from victims to remove the images. It was the first case of its kind in the U.S.—and Harris has done it again: In May, Casey Meyering, who ran the revenge-porn site winbystate.com, pled no contest to extortion and other charges. Here, Harris discusses the toll on victims, how she got tech firms to change their policies, and her run for U.S. Senator Barbara Boxer's seat in 2016.
Marie Claire: You're not a fan of the term "revenge porn." Why is that?

Kamala Harris: The word "revenge" suggests that there is a legitimate reason to lash out and that's not present in these cases. And the term "porn" suggests the victim intended [the images] would be distributed publicly—that's just inaccurate. Those terms also invite judgment and questions about the morals or the appropriateness of the behaviors of these women when, in fact, they're victims. I prefer the term cyber exploitation because that's really what's happening here.
MC: Why was this issue an important for you to take on?

KH: I wanted to make a very strong statement to victims as well as perpetrators that this behavior will not be tolerated. What two consenting adults do in a consensual, romantic relationship is their business. But when it crosses this boundary to where it's used as a tool to denigrate, humiliate and degrade—that's not something that we're going to accept. It violates our laws, it violates the rules of a civil society, and we will put all our resources into protecting victims and giving them a voice—even in the face of a crime that is meant to make them feel small and has stifled their voices in many ways.
MC: What message do you hope Kevin Bollaert's conviction sent?

KH: This case removes any ambiguity about what's against the law. It also makes clear that a computer can be as lethal as a weapon. Anyone sitting at home with the anonymity of a laptop should be very clear that that will not immunize them from arrest, prosecution, and prison.
MC: What did you see in the trial that drove home the seriousness of this crime?

KH: The consequences of this crime are life-long. People make decisions about who other people are based on their online presence. Think about it: your sister just started dating a new guy. "What's his name? Let's go online and check him out!" Right? The other reality of the Internet is, once something is up there, it's almost impossible to take it down.
The other piece of this that you also have to remember—and I see this across the board even with cyber bullying—is that since it happens online, often the victim learns about it in the quiet of their own space and they feel completely isolated and alone. Part of it is the shame—knowing that tens, if not hundreds of people, can see that image of you forever—but it's so much more than that. It makes victims walk around not knowing who has seen these photographs and how they are being judged. We had cases of women who were in graduate school applying for jobs and they never got an offer and later realized it was because the prospective employer had gone online and seen these images. We had one woman who was suicidal, and other women who suffered from deep, clinical depression.
MC: Twitter and Facebook have all recently said exploitative images will no longer be tolerated. Is that something that came out of your conversations with those companies?

KH: I think so. I asked some online companies to come in for a meeting about how we could create a safer environment online. They were wonderful. Many companies really want to lead on this issue because this is the reality of innovation: You create something new that has incredible benefits, but then you see there's another side. We want to minimize, if not eliminate, the harm that can come as a result.
MC: You're running for Congress. What women's issues would you take on?

KH: I'm focusing on the economy, and women's issues are economic issues. The majority of minimum-wage workers are women, who also disproportionately have a responsibility to take care of children and senior relatives. Also, when we talk about crimes against women, the Violence Against Women Act is a very important law that needs to be highlighted and renewed. And we need work on universal pre-K. So there are a lot of issues, but that's for the next interview!
A version of this article appears in the July issue of Marie Claire, on newsstands now.
Marie Claire email subscribers get intel on fashion and beauty trends, hot-off-the-press celebrity news, and more. Sign up here.
Kayla Webley Adler is the Deputy Editor of ELLE magazine. She edits cover stories, profiles, and narrative features on politics, culture, crime, and social trends. Previously, she worked as the Features Director at Marie Claire magazine and as a Staff Writer at TIME magazine.