Why 'Clueless' Couldn't Be Made Today
The seminal teen flick would never see the silver screen in 2015.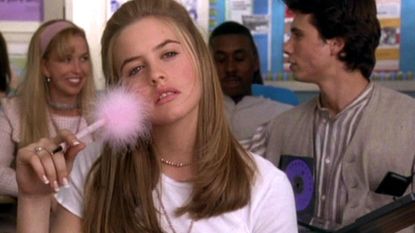 (Image credit: Paramount Pictures)
"Everybody in Hollywood passed on it," writer-director Amy Heckerling told Jen Chaney, author of As If: The Oral History of Clueless (opens in new tab), at a recent Q&A at New York's famed Strand Bookstore. She was talking, surprisingly, about her now-legendary teen film, which just celebrated its 20th anniversary on Sunday.
It's hard to imagine a time when Clueless was anything but a bona fide hit and a pop culture classic, but back in the early '90s, it very nearly didn't get made. Originally conceived as a TV show by Heckerling, who had directed Fast Times at Ridgemont High and the Look Who's Talking franchise, the project that would eventually become known as Clueless—it cycled through several different names including No Worries and I Was a Teenage Teenager—bounced between studios, from Fox to Paramount. Adam Schroeder, one of the movie's producers, told Chaney that "teen movies were just not happening." After all, the mid-'90s were a few years past the '80s teen movie peak of Pretty in Pink, the Breakfast Club, and Ferris Bueller's Day Off.
As difficult as it was to bring Clueless to the screen, Heckerling eventually got her way. (Thank god.) But two decades later, would she have been able to pull off a mid-size budget film (Clueless was made for a comparatively cheap $13 million) aimed at teen girls?
Probably not, at least according to Heckerling and Chaney. It's not that studios are unwilling to spend money on movies that are aimed at a young female demographic. They do, but only for a certain kind of teen girl movie—the type based on bestselling YA novels set in a dystopian future. "A lot of the teen movies that we've seen have these sort of heightened fantasy things, like the Hunger Games and Twilight," Chaney pointed out. But like most American teenagers, Cher Horowitz is just a girl in a non-dystopian world. She's not fighting for survival. Her greatest adversary is the road test inspector from the DMV.
"The bottom has dropped out. It's really small or really big, like a country with no middle class," Heckerling told Chaney of the modern landscape for teen-based movie budgets. Even if Cher Horowitz and her friends would technically be "one percenters" according to the modern parlance, the budget of the movie that chronicled their lives was thoroughly blue collar.
And if a teen movie these days doesn't feature supernatural or dystopian futuristic narratives, it has to have, at the very least, a virtually guaranteed audience for the studio to be willing to take the risk. Take the Fault in Our Stars and the upcoming Paper Towns, which are both based on wildly bestselling novels by John Green. "They know there are scads of kids who already loves those stories," Chaney said. It's much harder to sell something new, a story that doesn't yet exist yet. Those kinds of teen movies tend to get produced independently, and don't often see the light of day.
And though Clueless was also based on a book—Jane Austen's Emma—Heckerling and others didn't exactly use it as a selling point when trying to get the film produced. "It's not like, 'Oh it's a Jane Austen adaption, let's put all of our money behind it,'" Chaney said. (In fact, because Heckerling later mentioned that Clueless had been inspired by the Austen classic, she knocked herself out of the running for "Best Original Screenplay" at the Academy Awards.) Besides, being based on a novel that's nearly 200 years old—Emma will celebrate its 200th birthday this year—and a prominent feature on required high-school reading lists isn't necessarily a recipe for success at the box office.
But these days, studio execs aren't just looking at records of past success—they're also using metrics like social media reach to determine which stars can drive the most interest. John Green's appeal to studios, for example, extends beyond his book sales—he also has millions of followers on Twitter. Back in 1995, there was no Magic 8 Ball like social media—you just had to guess at which stars and which writers would resonate with audiences. "For people who have something to say but they haven't established that reach yet, it's really really hard for them to break through and get an opportunity to make a movie," Chaney observed.
All of which is to say: We had a very special thing with Clueless. The kind of thing that doesn't come along often, but reinvents a generation when it does.
And while the landscape may have changed around it in the past 20 years, hey...at least Paul Rudd hasn't.