Olympics Prep: Here's What It's Like in Rio de Janeiro Right Now
One editor explores "the Marvelous City".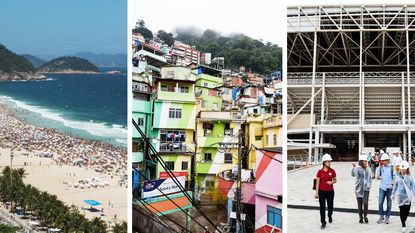 (Image credit: Design by Katja Cho)
This summer, the 2016 Summer Olympics will be held in Rio de Janeiro, Brazil, AKA the Marvelous City. Chosen from a competitive shortlist of cities including Chicago, Madrid, and Tokyo in 2009, seven years later—tensions are running high.
Between Zika scares and concerns that the city hasn't made good on its seven-year commitment to cleaning itself up, Rio is under a magnifying glass. Now I'm no scientist, nor one of the water sport athletes whose blood, sweat, and tears will be seeping into the Olympic waterways, but having visited Rio in December—I feel compelled to share my experience.
Whether you're attending the Rio 2016 games in August, planning a trip to the seaside metropolis, or just curious, know this: A pristine beach vacation it is not—and that's where its beauty lies. Here's what I saw through the lens of both a tourist experiencing the fruits of the land and a writer exploring the next home of the Olympics.
Olympic prep is in high gear and it's shaking up the city
The Olympic fever is palpable in Rio and as part of my exploration of the city, I visited the organizing committee for the Rio 2016 Olympic games in Rio's Cidade Nova neighborhood. They operate out of a new streamlined, green-conscious building complete with rainwater harvesting and energy saving systems. It's impressively modern in both aesthetic and practice.
During a presentation given by Mario Andrade, executive director of communication for the Rio 2016 committee and Leo Tristão, country manager for Airbnb Brazil, I learned all about how their team is preparing to host the world. And while it's undeniable they've had their fair share of obstacles—from pollution to upgrading the city's congested infrastructure—they're on track and unwaveringly optimistic about Rio's upward, socio-economic trajectory and the lasting legacy the Olympics will leave behind.
To date, billions of dollars have been invested in improving Rio's transportation system, over 50,000 temporary and 15,000 permanent jobs have been created around the games, and new initiatives like the Alliance for Sport and Development are bringing sports education and activities to the underprivileged youth in Rio's poorest areas.
In addition to meeting with the organizing committee, I traveled to Barra de Tijuca for a guided tour of the Olympic Park, AKA the heart of the games. Located west of the city, the four-quadrant stretch has 15 competition venues and is surrounded by lagoons and mountains.
In the park, there are a total of nine venues—seven new, two existing. They were about 95 percent complete when I visited and the games had even staged their first competition, a tennis test event, that month. Practically a ghost town aside from construction workers, it was surreal to imagine that in that in a matter of months, it'd be a bustling, high-octane arena for the greatest athletics and most dedicated sports fans in the world. After the Olympics, many of the competition spaces are set to become public schools, sports facilities, and communal leisure spaces.
Airbnbs are the new hotels
For locals and tourists alike, Airbnb has been a game changer—especially as the Olympics draw closer. The home-rental company, which has become an official partner for alternative accommodations during the games, will offer 20,000 affordable housing options for the nearly 400,000 visitors that will be traveling through the city for the games. But here's the thing, Olympics aside, Rio is already the fourth largest city (exceeded only by Paris, New York, and London) with Airbnb properties, which means you have a wealth of authentic and affordable options no matter when you visit.
On my trip, I stayed in a spacious studio apartment in Ipanema with a bedroom, full kitchen, and bathroom that was, simply put, a dream. From the ultra-modern design (think sleek white everything with bold color accent pieces) to the location—just two blocks away from Ipanema Beach—it was my own little oasis. I walked everywhere, got to know the gorgeous neighborhood, and even befriended the owner of corner açaí stand.
As a jaded New Yorker, the craziest thing for my to wrap my head around was the fact that it only cost $85 a night to stay in what felt like the lap of luxury. Prices for hotel rooms in the area began in the hundreds—not to mention, I was contributing to the local economy in a more meaningful, people-to-people kind of way.
During my trip, many of the locals I met were, in fact, Airbnb hosts and one evening I ended up a house party in the hills of Santa Teresa with live jazz from the musicians behind The Favela Bass Project—an organization that provides brass and percussion lessons to Rio's low-income neighborhoods. The spacious spread was ultra-modern-meets-bohemian and I can't think of anywhere I'd rather throw an Olympics house party. You can check it out here.
There's less crime, but greater inequality
As beautiful as Rio is, there are reality checks at every turn. There's a great divide between the rich and poor, but it's beginning to slightly improve. Rio's historic mountainside favelas, where 1 million of the city's 6 million residents live, are the city's poorest areas and for quite some time have been too dangerous for outsiders, let alone tourists.
Since 2008, the government has begun to pacify these urban, poverty-stricken places to make them safer for those who live there and to open them to visitors. The first to be pacified was Favela Santa Marta, which happens to be where Michael Jackson filmed his controversial music video (directed by Spike Lee) for the controversial anthem "They Don't Care About Us."
I visited Santa Marta during my trip and upon arriving there, I was immediately struck by its brightly painted houses in the main square, which are part of the pride-boosting Favela Painting art project by Dutch artists Haas&Hahn. But it wasn't until I got to the top of Santa Marta, saw the sweeping views of Rio, and then made my way down through its rows of little houses and narrow alleys that I truly got a peak into favela life. Despite having so little, the feeling of community was overwhelming. From kids playing soccer to the adults socializing in the tiny waterhole-like bars, there was an infectious energy.
However, a reality check did come in form of the community police walking through the village with rifles at the ready. It was startling, but it was an instantaneous reminder that, as a tourist, I'm not privy to what's really going on all of the time. The experience made me appreciate all I had back home, but also inspired me to think of happiness in simpler terms. Because when it came down to it, this community was vibrant and in higher spirits than others I've seen with much more.
It's as beautiful as ever
A city is only as colorful as its different neighborhoods, or "barrios," if we're getting Rio specific. Five of the city's most popular areas include Copacabana, Ipanema, Santa Teresa, Leblon, and Barra da Tijuca, which is home to Olympic Park. For the beach, and in turn, stunning views of sites like Sugar Loaf Mountain and Christ the Redeemer, it's all about Copocabana and Ipanema.
For nightlife, Leblon is the destination. It may be the most affluent neighborhood, but it still attracts a diverse crowd with its slew of open-air bars, restaurants, and cafes. One of the most picturesque neighborhoods is Santa Teresa, which is located on the top of a hill by the same name and is comprised of super-narrow, winding cobblestone streets among 19th century mansions, art galleries, restaurants, and bars. It attracts a cultured, bohemian crowd.
While proximity-wise, Barra de Tijuca is closest to the main Rio 2016 action (and Olympic Village), the games will be taking place all over the city. For example, you will be able to catch sports like beach volleyball, cycling, and sailing right on Copacabana Beach. The other primary destinations for sporting events include Maracanã—home of the legendary Maracaña Stadium, which will stage the opening and closing ceremonies and football matches—and Deodoro, the second largest area of concentrated activity that will host a variety of traditional and newer sports.
The nightlife is unlike any other
It's no secret—Rio likes to party. It's ingrained in Carioca culture and I can only begin to imagine the revelry that will take place before, during, and after the Olympics. Simply put: Nightlife and music are inextricably linked, whether you're at a local watering hole or a ritzy samba club.This is the land where João Gilberto first saw and eulogized about "The Girl From Ipanema," after all!
Now, live music is everywhere, but it's especially prominent in the Lapa area, as many spots have al fresco seating and it's legal to drink on the street—thus making the street a party in and of itself. The energy is off the charts and it's no wonder that it's likened to New Orlean's Bourbon Street. One of my favorite spots in Lapa was the Rio Scenarium, which full disclosure: is definitely a tourist hotspot, but not for nothing. It's old-fashioned in a non-tacky way, from the antiques adoring the walls to the velvet-curtained stage where a bossa nova band led by a glamorous Brazilian goddess.
Needless to say, there will be no shortage of venues for drinking, dancing, and celebrating from dusk till dawn. If the World Cup was any indication, Lapa especially, will be at a fever pitch.
It's a nonstop beach party, too
I'd never considered a barely-there bikini before Ipanema Beach. Beaching (it's definitely a verb) in Rio is such an utter celebration of the human body in every shape, and size, you just want to be as free as the locals. There are *zero* hang ups and I've never found it so easy to while away the hours on a beach.
Between the gorgeous mountains that frame your views and the fresh coconut water and caipirinhas waiting for you at all times, it's heavenly. Rio also boasts a great diversity in the types of beaches it has. Ipanema and Copoacabana are the most popular, but there are plenty of other sandy destinations. If you're looking for something more tranquil there's Costa Verde, or if you'd like to go off the beaten path, a car ride and a hike will take you to Praia Grumari.
As far as the Olympics go, there's no doubt it will be one big, nonstop beach party. In fact, beach volleyball will be holding midnight matches on Copacabana beach for the sole purpose of creating a party atmosphere and allowing for close proximity to the neighborhood's bars, according to Reuters.
There's a thriving beach sports scene
Olympics attendees can get in on the athletic action too. A retired high school athlete, I rediscovered my love for soccer, volleyball, and tennis all at once. How? By learning how to play footvolley, or futevolei, which is a sport created in Brazil in the '60s on Copacabana Beach that combines beach volleyball and soccer. It basically has the same rules as beach volleyball except that players aren't allowed to use their hands and you play with a soccer ball. The other major Brazilian beach sport is frescobol. It's similar to tennis, but the idea is that you never let the ball touch the sand and the player you're rallying with is not your opponent, but your partner. It's all about keeping the ball in play. From the sand resistance to contorting unused muscles in all sorts of way to keep the game alive, it was challenging and fun. Plus, a solid way to ensure that all partying was hard earned.
Annnd it's impossible to stop eating and drinking
Food is an integral part of Carioca culture with top-notch street food, all-you-can-eat steakhouses, juice bars, açaí stands, and cafes everywhere. My biggest takeaway was that this is the land of bread and cheese. No matter where I went, pastries with cheese baked into them were everywhere. It's carb heaven, but fear not, as fresh-squeezed juices are also at every turn.
My most sumptuous dinner came courtesy of one of Rio's best-known churrascarias, which had a buffet-style offering of appetizers, salads, and sushi before its waiters come around offering as much grilled meat as you could ever hope for. It's a true test in trying to pace yourself.
As far as drinks went, my liquid diet, in addition to fresh juices, consisted primarily of the most delicious black coffee I've ever had (Brazil is the world's largest coffee producer) and Brazil's national cocktail the caipirinha made with fresh cachaça (fermented from fresh sugarcane juice, sugar, and lime). Cheers to Rio 2016!
Follow Marie Claire on Instagram for the latest celeb news, pretty pics, funny stuff, and an insider POV.
Lauren is the former beauty editor at Marie Claire. She love to while away the hours at coffee shops, hunt for vintage clothes, and bask in the rough-and-tumble beauty of NYC. She firmly believes that solitude can be a luxury if you've got the right soundtrack—that being the Rolling Stones, of course.