Katie Couric Is on a Mission to Expose America's "Seeming Obsession with Guns"
Following the debut of her new documentary Under the Gun, Couric talks gun violence, the NRA, and change.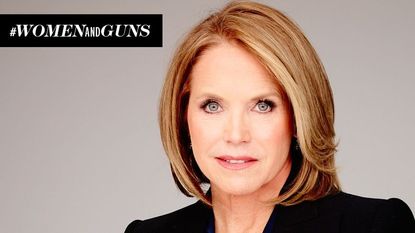 (Image credit: EPIX)
This story is a follow-up to MarieClaire.com's special report Women and Guns: The Conflicted, Dangerous, and Empowering Truth. Join the conversation on social media with the hashtag #WomenAndGuns.
A group of Jessica Ghawi's friends and family sit around a table at a Chinese restaurant, taking turns talking about what they loved most about her. "She had an amazing talent of making you feel like you were her greatest friend," her mom, Sandy Phillips, says about the aspiring sports journalist. "You know what I remember? Her first hockey interview." Unprepared to do the questions on the ice, Ghawi walked out onto the rink in high heels. A video clip shows her falling down over and over again and, with a smile each time, getting back up to continue the interview.
Four years ago, Ghawi was killed during the Aurora, Colorado movie theater shooting after narrowly escaping a mass shooting in Toronto. The last words she texted to her mother, coming to visit her from Texas, were: "I can't wait to see you. I need my mama."
Katie Couric stays mostly off camera and behind the scenes in her latest project, Under the Gun, a documentary about gun safety. As an executive producer, she lets the families of gun violence victims, gun owners, and news footage take center stage.
Instead you hear Couric's familiar voice asking questions and listing shocking statistics about guns: "In America, there are more gun stores than McDonalds and Starbucks combined," she says in the film.
Couric tells MarieClaire.com that after three decades of reporting on mass shootings and urban crime, she didn't understand why things were getting worse instead of better, so she decided to shine a spotlight on the topic. Here, we talk about about her project, gun safety, and the how this year's presidential election comes into play:
Marie Claire: Why did you want to get involved in this project?
Katie Couric: I've spent so much of my life as a reporter asking why and this was a very confusing issue to me because I saw these mass shooting events happen time and time again and I covered them and I got to know all of the victims' families. I also covered urban crime on a regular basis. When Sandy Hook happened, I just didn't understand why nothing was being done about gun violence. In the midst of that tragedy, I remember hearing a conversation about it being a watershed moment and then nothing happened. Why has this problem not been resolved? Why haven't we made any progress? I've been covering gun violence for 30 years, and the country is becoming more and more dangerous. I wanted to have a better understanding. I think we all have a limited understanding of the history of gun violence and of America's seeming obsession with guns. I really wanted to approach it from a blank slate and paint a picture of why so little has been accomplished over the last few decades.
MC: What did you learn making this documentary?
KC: I learned that there's a very twisted and complicated web of forces at work that have kept us as a country from coming together and moving forward on this issue, like policies that were surreptitiously put in place that didn't get much attention. I learned that the messaging has been controlled by an extreme element of the gun lobby that doesn't necessarily represent its members. I learned that the gun lobby seems to be beholden to the gun manufacturers because of the bottom line and they seem to be a de facto marketing firm for the gun manufacturers. And I learned that people who are affected by gun violence never really get over it. How could you?
MC: Did you find any differences in the mindset around guns for men and women?
KC: Hm, that's interesting. I think it really depends. I think geography probably plays a bigger role than gender in how people feel about the gun issue. Senator Chris Murphy from Connecticut, who has been at the forefront of this issue, said that being blessed by the gun lobby or the NRA has become a proxy for asserting your conservative bona fides, which I think is true. It think it's also become a proxy for the anti-establishment, staunchly independent strain that we're seeing surface in this election cycle—anti-regulation, anti-government.
MC: What does your film illuminate about guns that perhaps viewers haven't seen before?
KC: I think there's been very few in-depth examinations of this aside from [Michael Moore's 2002 documentary] Bowling for Columbine and there was a documentary about Newtown. But it's been more about the personal toll that this kind of tragedy takes on an individual, on families, and on a community. But I don't think the issue has been quite dissected this way. The producers really embedded with the families, too, and I think it feels very intimate.
MC: You talk a lot about the NRA and question whether or not the organization is truly representing all gun owners. Why do you think that's such an important question to focus on?
KC: I think we've been lead to believe it's a very black and white issue, that it's, like NRA president Wayne LaPierre said, "You're either with us or against us." And I thought, we've got to talk to those members. All the surveys we read and the man-on-street interviews bore out the notion that the organization wasn't representing its members. As we dug deeper, we saw that a lot of people on the [NRA] board worked for gun manufacturers. They clearly have a very tight relationship with the gun makers. And I think this fear of repercussion—you saw that with Smith & Wesson, and you saw that feeling on Capitol Hill. They're kind of bullies. I heard one senator describe them as paper tigers. Because they are such a vocal minority and such a politically active minority, they do have power.
MC: Do you think your documentary will actually move public opinion—or simply reinforce the views of gun control advocates?
KC: There is a silent majority of people. As we saw, 74 percent of the NRA favors universal background checks, which I think a lot of people will find surprising. And the NRA only represents 5 percent of gun owners. I think there's a broad swath of people whose views are being misrepresented, whether or not they'll rise up and say, "We don't agree with the leadership," I'm not sure.
If it only speaks to the choir, that's okay, too. I'm hoping it will make everyone able to have a more intelligent and informed conversation about the issue. We didn't want it to be a polemic. And we really wanted there to be a chance to let gun owners say what they were worried about. They feel strongly and they are authentic in their beliefs and you have to respect their beliefs. We all owe it to ourselves to be educated. You shouldn't have an opinion without portfolio. It's important to take a rational, holistic view of the issue.
MC: When you go to vote, will the candidates' platforms on gun safety affect how you vote?
KC: Yes. Hard to make this movie and say no.
---
Under the Gun airs on EPIX on Wednesday, May 18 at 9:45 p.m., Tuesday, May 24 at 8 p.m., and Sunday, May 29 at 9:45 p.m.
For more on guns and their impact, see Marie Claire's Women and Guns project here.
Celebrity news, beauty, fashion advice, and fascinating features, delivered straight to your inbox!
Kate Storey is a contributing editor at Marie Claire and writer-at-large at Esquire magazine, where she covers culture and politics. Kate's writing has appeared in ELLE, Harper's BAZAAR, Town & Country, and Cosmopolitan, and her first book comes out in summer 2023.