We're Focusing on the Wrong Things About Omar Mateen
Why is his history as a domestic abuser not a bigger part of the conversation?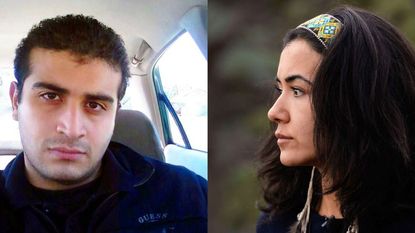 (Image credit: AP/Getty)
Marie Claire Newsletter
Celebrity news, beauty, fashion advice, and fascinating features, delivered straight to your inbox!
Thank you for signing up to Marie Claire. You will receive a verification email shortly.
There was a problem. Please refresh the page and try again.
On Sunday, June 12, at approximately 2 a.m., while I was scarfing down my Sehri—the pre-dawn meal Muslims eat during the holy month of Ramadan to prepare for a long day of fasting—29-year-old Omar Mateen was committing the single deadliest mass shooting in American history, gunning down 49 innocent people at a gay nightclub in Orlando.
I awoke to the devastating news—and a detail that hit, literally, close to home: Like me, Omar Mateen was a Muslim-American born in Queens, New York. My heart sank. Amidst the horror of coping with what he had done, I knew what was coming for Muslims across the United States. Like clockwork, Trump launched into anti-Muslim rhetoric, and his supporters swiftly latched on.
The synthesis of the coverage about Mateen over the past few days—that he had apparently pledged allegiance to ISIS, that he became enraged when he saw two men kissing in public, that he often talked about killing people—suggests that he was a homophobic, extremist Muslim.
But what about Mateen's ex-wife, Sitora Yusufiy, bravely coming forward to tell the world that he had beaten and tortured her?
Mateen often assaulted Yusufiy while she was sleeping, attacked her for simple things like not finishing the laundry, confiscated her paychecks, and didn't let her call her parents. After an unbearable few months, Yusufiy's family rescued her from being married to a man who was erratic, violent, and clearly very disturbed.
The more I learned about Mateen's history of domestic violence, the more enraged I became. I knew first-hand just how dangerous a man who puts his hands on the woman he supposedly loves can be. I myself have just fought tooth and nail to escape a four-year relationship with a man who physically and emotionally abused me. That's why I'm fasting for Ramadan, for the first time in years—it's my spiritual elixir to recover from a seven-month process of wrangling myself out of the debilitating pain, betrayal, and manipulation that my abuser had inflicted on me.
In Yusufiy, I saw myself.
I also saw a problem with what we're fixating on, as a culture, about Mateen. His possible ties with terrorist organizations hits a very raw, very real nerve—yes. His homophobia is chillingly, fatally regressive—yes. But why is his history as a domestic abuser not as big a part of the conversation?
Statistics from the American Psychological Association show that almost a third of the mass shootings in America last year were reportedly related to domestic violence. Compare that to FBI research which shows that 94 percent of the terror attacks in the U.S. between 1980 and 2005 were carried out by non-Muslims.
Yet Muslim and terrorist are almost synonymous terms. Islam, the religion of almost 1.6 billion peaceful people and roughly 23 percent of the world's population, is enduring harsh scrutiny for being the motive behind Mateen's actions, while his violent domestic abuse seems to be considered just another trait that proves he was a Bad Guy.
The road from abuser to mass murderer is much shorter than we realize. Men who eventually commit large-scale acts of terror often seem to start with violence at home—Tamerlan Tsarnaev, the Boston marathon bomber, was arrested for assaulting his girlfriend in 2009; Cedric Ford shot 17 coworkers in Kansas earlier this year a mere hour and a half after being served a restraining order by his ex-girlfriend on the grounds of domestic abuse. According to Vice President Biden, 40 percent of the mass shootings between 2009 and 2012 started with a shooter who first targeted his spouse or partner.
Then, troublingly, there's this: A felony domestic violence conviction is the single greatest predictor of future violent crime among men, according to the Washington State Institute for Public Policy's analysis of The Offender Accountability Act.
Of course not all abusers will become mass murderers—but in this case, as in many before it, he did. So let's pay attention to the details about Mateen that deserve scrutiny most: a history of violence and a heart full of hate.
Celebrity news, beauty, fashion advice, and fascinating features, delivered straight to your inbox!
Jennifer Chowdhury is an independent journalist based in New York City and Bangladesh. She covers the South Asian and Muslim diaspora with a specific focus on gender rights. She is passionate about covering stories on women of color around the world whose voices are stifled by patriarchal attitudes, systematic racism and socioeconomic burdens.