"I'm an Olympic Underdog": Runner Sarah Attar on Her Journey to Representing Saudi Arabia in the Games
In 2012, an average runner found herself racing world-class athletes at the summer Olympics. Now, she may do so again at this month's Rio games. Here, the unlikely Olympian tells her story.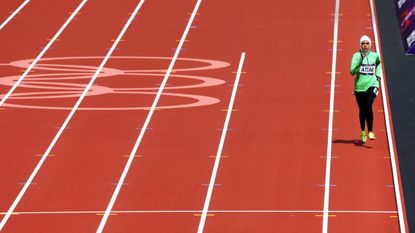 (Image credit: Getty)
Marie Claire Newsletter
Celebrity news, beauty, fashion advice, and fascinating features, delivered straight to your inbox!
Thank you for signing up to Marie Claire. You will receive a verification email shortly.
There was a problem. Please refresh the page and try again.

Before the 2012 Summer Olympics, no female athlete had ever competed for Saudi Arabia. By law, women were forbidden to participate, but one month before the London games, thanks to pressure from the International Olympic Committee, the Saudi government announced that it would send female competitors for the first time. The decision marked a huge step forward for the famously restrictive country, but there was a catch: Because Saudi girls are prohibited from playing sports in public schools and almost no opportunities for women in sports exist, there were few female athletes to tap to represent the country.
That's how Sarah Attar, who was born in California but has dual citizenship (her father is Saudi Arabian), found herself with an invitation to take part in the Games. At the time, Attar was an average runner for Pepperdine University's track team, where she was a rising junior studying art. That summer, she and one other woman (Wojdan Shaherkani, a judo fighter) became the first women to compete for Saudi Arabia in the Olympics.
Attar ran the 800-meter race, with a time of 2 minutes, 44.95 seconds, coming in dead last in her heat (she ran the final 30 seconds alone on the track after the other athletes had finished) and second-to-last out of the total of 41 runners (the woman who placed behind her suffered an injury during the race). Still, her history-making run earned her a standing ovation from the crowd. After the games, Attar's life changed completely—she's now a sponsored athlete training with some of the world's best runners and preparing for this month's Rio Olympics. The invitation to compete again will likely come last-minute, but she wants to be ready. Here, Attar, now 23, tells her story in her own words.
Shortly before the invitation to compete at the Olympics came in the mail, I learned that somehow my name had gotten in the mix of potential athletes. I remember saying to my mom, "But I haven't hit any of the time standards." I knew I wasn't qualified to race alongside the best runners in the world, but I also knew the enormity of what was happening— that I would be one of the first female athletes to compete for Saudi Arabia. It seemed crazy to pass up such an amazing opportunity. When I got the official invitation, I said to myself, How is this real life?
The decision to allow women to compete for Saudi Arabia in the games was controversial. When you do something that breaks the status quo, there's always going to be two sides: those who support you and those who don't. I tried to focus on the positive—I received so many words of encouragement and messages from girls telling me I inspired them.
Representing Saudi Arabia required more conservative running clothes than what most athletes wear. My mom and I pieced together an outfit: a long-sleeve shirt, full-length running tights, and a head cover we found online. I was proud to wear the uniform and liked that wearing the appropriate dress connected me to Saudi girls who want to run and have to be covered while they do it. I'm glad that they had a chance to see someone competing at a high level who looks like them.
When I arrived at the games, it was so surreal. I felt like I was seeing it as a spectator—I kept having to remind myself that I was there as an athlete. I never imagined I would walk around the Olympic Village, run on a track next to athletes I'd watched on TV, or have my name announced over a loudspeaker while 80,000 people cheered.
Running the race was an out-of-body experience. I had to look down to make sure my legs were still moving. I didn't realize I was getting a standing ovation as I finished—the crowd was a blur of color and sound. It was the most incredible two laps of my life.
A lot has changed since then. Oiselle, an athletic apparel company for women, sponsors me, and I am living and training full-time with an elite group of distance runners in Mammoth Lakes, California. I was even on the cover of Women's Running magazine, which called me one of the most powerful women in running. More and more, I am realizing my place in history. There is a whole generation of girls in Saudi Arabia who now have a female Olympic role model to look up to—that didn't exist before. They'll grow up knowing that competing in the Olympics is a possibility, and that's what means the most to me.
This story appears in the August issue of Marie Claire, on newsstands now.
Celebrity news, beauty, fashion advice, and fascinating features, delivered straight to your inbox!
Claire Trageser is a journalist in San Diego, where she works for the NPR affiliate KPBS. She also contributes to a variety of outlets, including Marie Claire, Runner's World, and Parents Magazine.