How This 28-Year-Old Woman Retired with $2 Million
Start taking notes.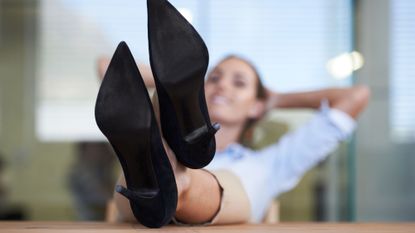 (Image credit: Getty Images)
Marie Claire Newsletter
Celebrity news, beauty, fashion advice, and fascinating features, delivered straight to your inbox!
Thank you for signing up to Marie Claire. You will receive a verification email shortly.
There was a problem. Please refresh the page and try again.
JP Livingston is a 28-year-old living in New York City. She likes to wake up late and lay in bed reading blogs, catch up with friends on GChat and binge on Netflix. Sound familiar? Well, she can do this 7 days a week because she's already retired with more than $2 million to her name.
Yes, JP (a pen name she uses on her blog The Money Habit) had a lucrative job as an investment banker before her retired life, but she saved all that cash by keeping her expenses extremely low and investing, she tells Forbes.
After graduating from Harvard in 2009, JP didn't start working in finance right away, either. She spent a summer at a Buddhist monastery in Taiwan and then her first job out of college was as a horse-trekking assistant to nomads in Mongolia.
"Going to a school like Harvard can sometimes make you feel like you have to pursue a certain kind of high-powered corporate life to be respected," JP told the outlet. "I had been feeling a lot of that pressure and this experience helped. I remember one night we were visiting a temple in the mountains. I was laying on a very thin bamboo mat on a hard wooden plank at probably 4 a.m., staring up at the ceiling. All we had was basic food, a uniform, and peace and quiet, and I was happy, happier than I was at school many days surrounded by a smorgasbord of opportunities and privilege and leadership and all that. It reminded me that we don't need much to live a happy life."
After moving to NYC and getting a job as a banker, JP tells Forbes she took that inspiration to live frugally by living off $24,000 a year, which included paying $1,100 in rent (she lives with her husband and dog in a 325-square-foot apartment), and allowing for $900 a month in additional expenses for food, clothes, etc.—which, in NYC, is pretty conservative. Plus, she continued to invest her money, which she'd been doing since she was 19.
"My total net worth is $2.25 million. I'd say that about 60% of it was saving and 40% of it was investing," JP told the outlet. "Today I live with my husband and dog. Instead of $24,000 per person, I'm living off $32,500 per person ($65,000 total). So our savings rate remained very high while I was working. My husband still works even though our nest egg covers all our expenses."
In addition to making money off of her investments, JP says she and her husband make living in the expensive city work by shopping at Trader Joe's and buying furniture off Craigslist. And she couldn't be happier with her decisions.
"I don't think I'd go back to a conventional 9-to-5 job voluntarily, at least not with pay in mind," says JP. "I could see myself working again for someone else if it were work that aligned with what I wanted to contribute to the world."
Follow Marie Claire on Facebook for the latest celeb news, beauty tips, fascinating reads, livestream video, and more.
Celebrity news, beauty, fashion advice, and fascinating features, delivered straight to your inbox!
Kate Storey is a contributing editor at Marie Claire and writer-at-large at Esquire magazine, where she covers culture and politics. Kate's writing has appeared in ELLE, Harper's BAZAAR, Town & Country, and Cosmopolitan, and her first book comes out in summer 2023.