ESPN's Britt McHenry: "I Blame Myself, but the Video Is Not Who I Am"
When 30-year-old sportscaster Britt McHenry went viral for an outburst caught on camera, her life imploded. Now she reveals what happened next.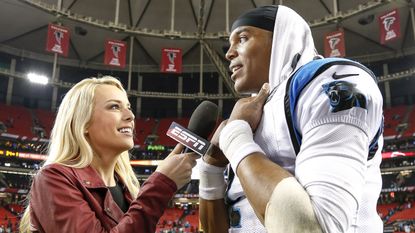 (Image credit: Don Juan Moore)
The Twitter storm began on one of the best days of my career.
I was in New York City for the National Hockey League playoffs in the spring of 2015. The biggest star of the league had agreed to talk to ESPN on camera exclusively. As both a journalist and die-hard hockey fan, I was beyond elated to get to do the interview. Afterward, feeling pretty empowered, I went to grab some lunch. That's when I glanced at Twitter.
I learned that a video of me had been posted online. In it, I said some regrettable things in a moment of anger: I had lashed out at the employee of a towing company after my car had been towed, insulting her on the basis of her personal appearance, job, and education.
And with that, I would experience the highest of professional highs and the lowest of personal lows in just one hour.
A sports blogger quickly called, asking for comment about the video. My stomach dropped. Then my bosses called, recommending that I return home to Washington, D.C. On the train, dozens of texts poured in from friends, family, coaches, and players who had seen or heard about the video. They said they knew it didn't represent my true character. "You will get through this," they said.
It was advice I needed. Right then on the train, a CNN breaking-news alert hit my phone—and I was the breaking news.
The video took off like wildfire across the media and blogosphere. To make matters worse, when I arrived home, I received a different kind of text message: My childhood soccer coach, a friend and mentor I had grown up with, had just died. He was one of the most important figures in my adolescent life.
It's difficult to recall what came next, other than a foggy memory of walking toward a security car parked outside the train station in Washington. My company had hired a security detail to pick me up because people had begun physically threatening me online. I remember feeling a sense of numbness, even though I had tears streaming down my face. I wanted to wake up from this bad dream.
An avalanche of posts and tweets followed. With each new post, I felt like my life was imploding all over again. Soon more than 30,000 new people had started following me on Twitter, tweeting threats and insults I can't repeat. I truly feared for my life. So much so that I eventually filed a police report for my protection.
I was suspended from work for a week. I hibernated, not leaving my place other than to walk my dog. When I turned on the television, it seemed like people were talking about the video on every channel. Assumptions were made about me, my life, and, most hurtfully, my family.
I know that as a public figure, scrutiny comes with the territory, and it can be magnified massively by a mistake. But my parents are the most decent people you will ever meet. My dad served in the Air Force for more than 20 years and did a tour in Iraq. He dedicated his life to serving all types of people in this country. My mother, a former hairdresser and salon designer, put her career aside to raise my sister and me. She's a two-time cancer survivor who lost her left eye to the disease at a very young age. Imagine how she felt, hearing that her own daughter had insulted a woman about her looks when she had been bullied about her own as a child.
Tabloid reporters from as far away as the United Kingdom showed up at my parents' home in Florida. I'll never forget the distraught phone call I got from my mother that day. Neither of my parents deserved any criticism. In no way did my family have a sense of entitlement or come from any kind of wealth, as some commenters incorrectly assumed.
My parents gave me every opportunity possible—I was the one who failed them.
I knew I had brought all of this on myself. I apologized on Twitter and meant it. I felt awful about the hurtful words that had come out of my mouth in the exchange with the towing company employee. No matter the tenor of the conversation, I never should have responded in such a personal way.
Amid the chaos, I tried not to look at the tornado of vulgar and sexist insults online. In fact, I told myself that the only way to survive the onslaught was to avoid it. So I went back to work, telling myself to focus. As a result of what had happened to me personally, I believed I had to prove my professional credibility all over again, starting from zero—actually, from less than zero. Every time somebody questioned why I still had a job, my goal was to break news and show them why. I put blinders on, concentrating on the next assignment, not letting myself unravel.
A couple of months later, I finally started reading the posts about me online. Bloggers called me "vile," a "bleach-blonde bubblehead," and "a sorry excuse for a human being." I would stay up late at night, torturing myself with Google searches, punishing myself for what I had done and reminding myself that this nightmare was real.
It's hard to describe how it feels to have people dislike you when they don't even know you. It takes a toll on your mind and body alike. In fact, in dealing with all the stress, the vision in my right eye grew cloudy. I could no longer see clearly; everything was a blur. I went to a retinal specialist, who diagnosed me with CSR, a condition in which vision is impaired, often due to trauma or extreme stress. Neither medication nor time helped alleviate the problem. I had no choice but to start a series of injections directly into my eye to try to regain my vision and prevent further damage. The first time I watched the needle approach my eye (yes, you're awake for this!), I broke down, halting the process until I could regain my composure. I was a wreck, not so much because of the injection, but because of what had brought me to that point.
It would become the first of endless injections, and I still flinch every time. The doctor says the vision in my eye might never improve.
I blame myself for all of this. But the video is not who I am. I'm telling this story because I want people to know the real me, to understand the true story about my upbringing, and how that night changed everything. It's my hope that someone reading this can learn from it and avoid the same pitfall.
When I was growing up in Florida, my parents encouraged me to play sports from a young age—soccer, softball, and basketball. I took to soccer the most, playing in high school and in my freshman year at a small liberal arts school in Florida called Stetson University. In college, I held various summer jobs, including working for a store that sold T-shirts and sandals. There, I learned how to recite the lyrics to every Jimmy Buffet song and how to fold a T-shirt perfectly, which I still do to this day.
During my senior year, I landed an internship at ABC News in Washington. I fell in love with broadcast journalism—I was intoxicated by the fast-paced schedule, the storytelling, and the people I met while assisting photographers on Capitol Hill. I knew what I wanted to do and became a woman on a mission, graduating a semester early.
I applied to the Medill School at Northwestern to get a degree in journalism. It was a dream to attend the same school that has produced some of the most prominent members of the media today. In fact, many of my current colleagues at ESPN studied there. I couldn't afford the tuition without financial assistance, so I took out student loans. Like most people my age, I'm still paying them off.
After finishing grad school in 2008, I got a job at the ABC affiliate in Washington. It was a trial-and-error process for me, with a major learning curve. I started as a business reporter and didn't have a camera crew, so I set up the camera, filmed myself, and edited all of my own pieces. After a year or so, I talked to my boss about covering sports. He said it was fine if I wanted to do it, but only on my own time and my own dime. So that's what I did.
On a visit home to see my parents, I reported on spring training for the Washington Nationals since, coincidentally, they practiced 30 minutes away. I was excited that the station used the footage, but bummed that none of my own reporting made air.
Still, it paid off. When the network needed someone to fill in as a sports anchor over an Easter holiday, my boss called me. It turned out to be a big news day in the sports world: The quarterback for the Philadelphia Eagles was traded to the Washington Redskins. As fate would have it, I was the only one on the scene for coverage. It was a sink-or-swim moment. Soon after, I had a contract as a sports reporter.
Six years later, in the spring of 2014, I got a job at ESPN covering professional football, hockey, and baseball. Again, I had a lot to learn. In those three leagues alone, there are nearly 100 different teams, and a slew of people to know as you switch back and forth between sports. You write your own material, and there is no teleprompter when you go on air from the field. I jumped right in, networking and studying up. I got exclusive interviews; I broke news.
I was 27 years old and felt like I was on my way. Of course, it wasn't all sunshine and rainbows. I was dealing with the same kinds of challenges that many single women in their 20s face: insecurities, long work hours, and the occasional loneliness. But I loved my career.
Then, one fateful night in the spring of 2015, about a year after I started the job, I returned home from an assignment and drove to a restaurant with a friend. After dinner, rather than getting back into my car, which was parked in the restaurant lot, we walked across the street to say hello to another friend. An hour or so later, I came out to discover that my car was gone. It had been towed. It was a holiday and a quiet Sunday evening, which meant parking was free on the streets and the lot had plenty of space. But you're not supposed to park in the lot, if, at any moment, you step off the restaurant premises.
I rushed to pick up my car from the impound lot that night. During a conversation with an employee that was unpleasant in both directions, I lost my cool and went way overboard. To this day, I constantly think, why not just pay the bill and walk away? But when you speak in times of anger and emotion, you're not thinking clearly. The video of the incident that later circulated online was edited, making it look like I was the one doing all the talking, but I never should have said what I did. It will forever be something I'm embarrassed about and will regret.
Eventually, people turn their attention to a new scandal. But I know the posts about me will live forever online. They're the first things that pop up when you Google my name. When I meet people, I wonder what they're thinking. If I go out on a date, I feel a need to explain myself before the guy even gets to know me. I wonder: What is his family going to think of me? Would they accept me? The most important thing I could ever dream of having is my own family. I try to tell myself that when I meet someone who truly loves me, he and his family will still embrace me—flaws and all.
In general, people I meet face-to-face have been understanding. I'll be reporting on a game, and if the video comes up, they'll say, "Hey, we all make mistakes." I'm grateful for those human moments. I'm grateful for my family, and for the support I received from colleagues in my darkest moments. I'll always appreciate the viewers who continue to welcome me into their homes.
My goal now is to turn my experience into something positive. I'm getting ready to speak in high schools about how to be mindful of your words, how to be self-aware.
The most difficult speech will be the one I have to give to my future children someday. Every parent wants their kids to be proud of them, and unfortunately, I'll have to use myself as an example of how not to behave, a hard truth I think about daily. But I can advise them on how to cope if you get shamed online or bombarded by hateful posts, because at the end of the day, none of that vitriol matters. For me, the key has been to focus on the present and on how to make myself a better person every day.
I know now that as soon as you feel an empowering moment of success, you can experience a moment of utter failure just as fast. It's what you do after those moments that defines you. None of us should be judged solely by our worst mistakes. And, when you get the opportunity, you should work as hard as you can to prove that.
Follow Marie Claire on Facebook for the latest celebrity news, fascinating reads, livestream video, and more.
Celebrity news, beauty, fashion advice, and fascinating features, delivered straight to your inbox!
Abigail Pesta is an award-winning investigative journalist who writes for major publications around the world. She is the author of The Girls: An All-American Town, a Predatory Doctor, and the Untold Story of the Gymnasts Who Brought Him Down.