A Love Letter to Daria and Buffy on Their 20th Anniversary
Here's to the heroines I never knew I needed.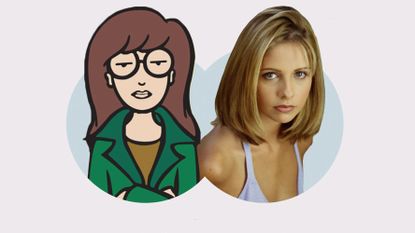 (Image credit: MTV/WB)
Marie Claire Newsletter
Celebrity news, beauty, fashion advice, and fascinating features, delivered straight to your inbox!
Thank you for signing up to Marie Claire. You will receive a verification email shortly.
There was a problem. Please refresh the page and try again.
Buffy the Vampire Slayer and Daria both premiered in March 1997—each with high-school aged kick-ass female leads (Buffy literally, Daria philosophically). The shows were completely different from one another, but they had something in common: they offered me (and you, maybe) something to really identify with.
Buffy and Daria weren't just aspirational screen teens. They weren't the popular girls. They were different and they owned it. They're smart, loyal and—with a customary eye roll— did what it took to just get through school alive (and in Buffy's case, keep everyone alive). But Buffy and Daria aren't just role models for teenagers—they're important examples of girls finding the agency to decide who they are and how they fit into the world. And they inspire us to make those decisions too.
Buffy is a show that could have easily been about the stereotypical blonde cheerleader—the catch is she stopped focusing on being popular and started focusing on slaying. (Literally, she's a vampire slayer.) And instead of showing off or bragging about her exceptional vampire-hunting skills, Buffy learns about humility, self-motivation, and responsibility. It's impressive for any teenager, but also for today's audience. There's been an incredible upsurge in visible activism, and Buffy is a pop cultural example of fighting for what you believe in, questioning everything, and revolting against expectations. She accepts her role in society, but she makes it her own. Buffy might seem self-centered, but she's always working for a greater good. That's definitely something we can all aspire to.
Meanwhile, Daria has no special skills to help her through high school, and no higher purpose—in fact, she probably doesn't think there is a higher purpose. In the Daria-verse, the world is doomed because people are stupid. Her apathy is warranted (hello teen-me, you were right on all counts), and her sarcasm and deadpan retorts are hilarious. No, Daria isn't well-liked, but the thing is; she doesn't try to be. This kind of obstinate choice is impressively brave. It's a hard thing to shake the overwhelming need to be loved, to follow the beaten path, and to stay silent when your opinions are different than those around you—especially in high school.
Daria's feeling that she is living in a world without reason is very familiar right now. The aspirational suburban life she criticizes reminds us how important it is to break out of our bubble. Like Buffy, Daria might seem self-centered, but is actually the exact opposite.
Buffy and Daria are also a much-needed reminder that you don't have to be alone, even if you feel achingly isolated. Buffy has her Scooby squad (who literally risk their lives for each other), and Daria has Jane—her uber-cool artist BFF. These friendships are the kind everyone craves, a group of people who really get you. The kind of friendships that teach us an ongoing lesson about finding your people, and making your own family. In a world filled with terrors, this is how we survive.
Follow Marie Claire on Facebook for the latest celeb news, beauty tips, fascinating reads, livestream video, and more.
Celebrity news, beauty, fashion advice, and fascinating features, delivered straight to your inbox!