Meet Your New Podcast Obsession: A Broadway Musical Made Just for Your Earbuds
36 Questions—starring Frozen's Jonathan Groff and up-and-comer Jessie Shelton—is breaking the mold in more ways than one.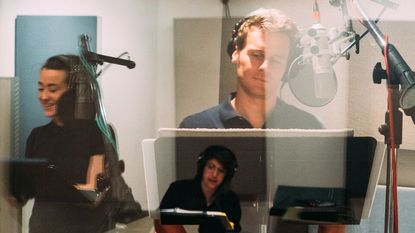 (Image credit: Photograph by Alison Grasso)
Marie Claire Newsletter
Celebrity news, beauty, fashion advice, and fascinating features, delivered straight to your inbox!
Thank you for signing up to Marie Claire. You will receive a verification email shortly.
There was a problem. Please refresh the page and try again.
I 'd hazard a guess that nearly every human on this planet knows the phenomenon that is Hamilton. You've probably listened to the soundtrack, which debuted at a historic high on the Billboard charts, and you've definitely heard of Lin-Manuel Miranda, the musical-theater visionary who has suddenly found himself a household name. But snagging tickets to see it live? Good luck.
That's where 36 Questions comes in, a new musical podcast from the creators of 2015's cult-favorite mystery series Limetown, Zack Akers and Skip Bronkie. Starring Jonathan Groff (of Glee and Frozen fame) and breakout talent Jessie Shelton, it's a first of its kind: a Broadway-caliber production made specifically for the podcast medium. Which means, of course, it's free.
The show centers on a young couple whose marriage is on the rocks—Judith (played by Shelton) has been lying to her husband Jase (Groff) about her identity, and wants to use "the 36 questions that lead to love" to save the relationship. It's charming, moving, and fresh—and the music is incredible (think Once for 2017).
"It's really exciting to get to share something with people that they don't have to go to," says co-writer/director/composer Ellen Winter, who—with Chris Littler, the other half of the creative equation—developed the show over the course of a year and a half. Edited by Serial's Kate Bilinski, it has all the addictiveness of the podcasts you're obsessed with plus all the allure of the musicals you love.
Here, the women of the show give you a peek behind the scenes.
On the importance of telling a story in which a woman has the agency
Ellen Winter: I personally and everyone on the team identifies as a feminist. Because the show is about a heterosexual relationship, we really didn't want to fall into stereotypical gender norms in how we were presenting it. That was a big part of how the narrative shifted and changed as we developed it—giving Judith more and more agency. The more decisions that we left Judith at the forefront of, where she was at the wheel driving the whole thing, the better the story felt and the more sense it made.
On working with Jonathan Groff
Jessie Shelton: I was intimidated but it wasn't crippling because I felt very supported. To be working opposite somebody like that in a two-person show…but he was so easy to work with. There was this current of comfort, the way we bounced off each other.
EW: He's just a being of pure light. Freaking out is definitely a term one could use to describe how I felt when we cast him—Spring Awakening [which Groff starred in on Broadway and for which he got a Tony nomination] is my favorite musical; I did it in college. He's just such a pro and such a champ—the day before we went into the studio to start recording, I had written a new song and didn't have sheet music for it, and Jonathan and I were at the piano and I'm staring into his eyes going, "This is this line, repeat after me." We would just sing the line over and over and over again until we got it, and he was like, "I'm in. You don't have sheet music? Amazing, let's learn it together."
On performing a love story without being in the same room as your co-star
JS: It's funny because for most of the recording process in the studio, it was literally just us barely being able to see the side of each other's faces.
Kate Bilinski: He [Groff] was largely in an isolated box so we could get clean takes. Unfortunately for them it does create the sort of situation where they're essentially in different rooms. They have to pretend to be right there next to each other, which is a feat.
On making a musical for the podcast medium
JS: This is the first podcast I've done—I've done some voiceovers but never anything like this. And as a predominately stage person, the intimacy this provides is really interesting. For one thing it's right in your ear, but for me too it was new. I'm so used to hitting a certain decibel level when you're live on stage, trying to project, but Ellen would say, "Make it smaller—bring it in really, really close." The things you can do vocally with a microphone right there are really amazing. And the emotional journey of things…it's like a whole other arsenal that I got to work with as an actor. It was a really exciting journey.
EW: Podcasts I've found are kind of like a meditation, right? It's a moment for you to hear a story, even if you're doing something, you can choose to actively listen or you can continue to go about your day and have this story in your head. I think if this musical can stop people—if they're listening to it while they're doing something and they stop—that's the mark of it being successful. We also hope this form of storytelling liberates other artists; we went balls to the wall on this production, but with podcasts, you really just need $150 dollars for the mic, $250 dollars for the software, and you can hit the ground running.
On queer representation in 2017
EW: It just made sense to us that Jase [Groff's character] would have two moms. We wanted to find a way to normalize queer aspects of life without drawing attention to it. It's mentioned, but it isn't hammered home. And maybe there's someone out there who for some reason isn't into the idea of two moms being co-parents who hears it and relates to these people and can change their mind a bit.
JS: Open some doors. I was married a year ago to a woman—I come from a fairly traditional Midwestern home and my parents are very open, but that's not the same as actually living with and around queer people. There are so many stories that aren't being told. I have a friend, a woman of color, who's starring in a Broadway show, and people have come up to her and said, "Thank you, I never thought someone like me could do that."
On where we might see '36 Questions' next
EW: I think at the end of the day it's a story that we all really love, and seeing how it could live in other iterations—either on stage or on film—would be a journey in and of itself. There would have to be heavy rewrites because it's so specific to the podcast medium, but that doesn't mean it's not possible or not something that we're excited about. We would love to see how it could live another way. Chris [Littler, her co-creator] and I are always like, "Oh a challenge? Let's take it!"
Listen to act 1 below, and subscribe here to get acts 2 and 3 as they roll out.
Follow Marie Claire on Facebook for the latest news, long reads, video, and more.
Celebrity news, beauty, fashion advice, and fascinating features, delivered straight to your inbox!
As the editor of Cosmopolitan, Jess oversees the editorial for all of Cosmo's efforts across print, digital, video, and emerging platforms. Previously she served as the digital director of Marie Claire, where she tripled the readership, and she's held print and hybrid posts at Glamour and Teen Vogue. In 2013 she launched an interactive e-commerce platform for a fashion-tech startup, and in a former life she was a ballet dancer and NYU film student. She lives in Manhattan with her scruffy dog George.