Could Your Pillow Talk Send You To Jail?
Pssst, Darling...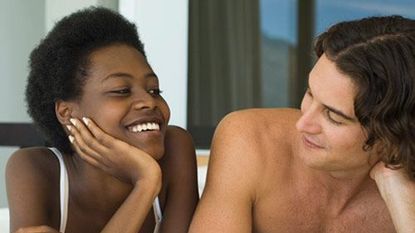 (Image credit: Jupiterimages)
On a winter morning in 2006, Sandra Fernandez, a pretty 35-year-old with a trendy blonde haircut, woke up, showered, and went to her office in the Brooklyn District Attorney's office, where she'd worked as a prosecutor for six years. Then she did what she'd done a number of times in the previous seven months: She requested confidential criminal-history checks on people she claimed she was investigating for an assault case. In truth, Fernandez acquired the files as a favor to her boyfriend (now husband), a defense attorney who then used the illegally accessed information to help win his cases. Eventually busted, Fernandez pleaded guilty, was sentenced in December to five years' probation, and was disbarred. Case closed.
What happens to a couple when their professional interests collide, when an evening kitchen-table conversation brings the risk of getting fired, probation, or even a prison sentence? As more women climb the ranks in banks and corporations, in politics and the media, at law firms and in medicine, marriage and its parameters are changing. The term "power couple" feels quaint now that the pairing up of high-earning equals is as commonplace as earplugs in an open-plan office. Meanwhile, for anyone with a cell phone or BlackBerry, it's never been easier to take secrets home. The line between our professional and private lives has gone from fine to invisible, and the temptation is greater than ever to cross it.

KISS & TELL GALLERY: Pillow Talkers in the Public Eye

It doesn't help that many of us meet our spouses in the line of duty—a move that lost any taboo when Republican operative Mary Matalin and Democratic attack dog James Carville fell in love in the heat of the Clinton/Bush election. "He is my dearly beloved," Matalin has said of her husband. "Just because he thinks wrongly doesn't mean he's not smart." Still, we held our breath when Hillary was being vetted for secretary of state last winter while her husband was busy hauling in cash and favors from world leaders for his philanthropic Clinton Global Initiative. As President Obama's go-to on foreign affairs, how would she be able to confront a human-rights abuser if she'd just learned over hot cocoa that he was slipping gold bricks to her hubby? The Obama administration was certainly concerned about it—even if Barack had tested the limits of pillow talk himself back in 1989, at the Chicago law firm where he tried to put the moves on his then-mentor, Michelle.
In some cases, walking the line is a question of appropriateness; in others, it's a question of legality. From 2004 to 2008, Matthew Devlin, a New York stockbroker, tipped off colleagues at Lehman Brothers about upcoming mergers he'd gleaned from his wife's travel schedule—she was a partner at an international public-relations firm and privy to such deal-making. Devlin's friends lavished him with gifts as they bought up the soon-to-merge firms' stock. They got very rich—until the SEC moved in and they got very busted. Devlin pleaded guilty to conspiracy and securities fraud and will be sentenced this month.
Then there's Carolyn Balkenhol, assistant to the CEO of Oracle, who told her husband about the company's secret mergers with several software companies. Christopher Balkenhol bought stock and, when the mergers happened, made almost $100,000—until he was arrested, struck a deal, and had to pay it all back with penalties. The SEC didn't charge Carolyn because it's not illegal to discuss your job with your spouse, only to profit from it. Carolyn claimed ignorance of her husband's intention to buy.
"This is a huge issue, and everyone worries about it," says Christopher Boehning, who, as a partner at the New York law firm Paul, Weiss, Rifkind, Wharton & Garrison LLP, advises financial firms on securities law. "If you visit your girlfriend's house on the way home from work and leave sensitive documents out, and her roommate sees them and acts on the information, then you've just opened yourself, your girlfriend, your client, and your employer to a potential investigation," he says. SEC spokesman John Nester offers this simple advice on avoiding insider-trading charges: "Keep confidential information that you learned through your job to yourself—whether you're at work or at home." Or, as Boehning puts it, "It's like a game of tennis, and you don't want to even come close to the line."
But there are plenty of folks who still do. When the White House leaked the identity of covert CIA operative Valerie Plame Wilson, it looked like retaliation: Her ex-ambassador husband Joe Wilson had mounted evidence on a mission in Niger that the nation was misled into war with Iraq. The White House countered by saying that Plame Wilson had recommended Wilson for the mission, tacitly suggesting that she may have influenced his findings. It was an accusation of highly classified pillow talk that caused the scandal that sent Scooter Libby, Dick Cheney's chief of staff, to jail. (And inspired a movie, out next year, starring Naomi Watts and Sean Penn as the Wilsons.)
Plame Wilson insists that she kept her worlds separate, drawing a heavy line between what her husband needed to know and what he didn't. "When you share something with someone, it becomes his burden as well, and you have to think about that. So all I would tell Joe was, 'I'm going to Vienna, here's my emergency phone number, and I'll be back in a week,'" she says, recalling her missions. "After my identity was revealed, there was an article on me in Time, and it said I was the best shot in my class with an AK-47. My husband said, 'You never told me that!' And I said, 'Well, you didn't need to know.'"
The media circus put a strain on their marriage. "Your spouse is called a traitor and you're called a liar," says Plame Wilson. "As we were being excoriated by the right wing and the Bush administration, we came to the decision that they would not take our marriage as well." A different kind of pillow talk had become their solace.
By definition, politicians, bankers, journalists, and anyone bound by a confidentiality agreement are most susceptible to slipups, having so much sensitive information at their disposal. Many bow out of obvious conflicts. "I had to take myself off the trial of [Oklahoma City bombing accomplice] Terry Nichols because by then I was dating the prosecutor," says David Gregory, host of NBC's Meet the Press, referring to his wife, Beth Wilkinson, now in private practice. "I wouldn't say we have a pact not to talk about work; it's just that she won't tell me anything." On the occasion of the Gregorys' first son's baby shower, attending was Wilkinson's former law partner, Michael Chertoff, who was by then secretary of Homeland Security. Gregory saw Chertoff having a poolside conversation regarding John Walker Lindh, the American on trial for fighting with the Taliban against U.S. forces in Afghanistan. "I think the final details of the case were negotiated at that baby shower," says Gregory. "I tried to listen, but I got nothing, absolutely nothing."
Campbell Brown, anchor of CNN's No Bias, No Bull, says she and her husband, Dan Senor, Bush's onetime deputy press secretary, can handle hearing about each other's work. "My husband is a partisan and a Republican, but I've never had to cover my ears and leave the room," says Brown. "I'm totally uninfluenced by his opinion." Still, her husband has passed on jobs due to potential conflicts of interest. "Given what I do, they just couldn't work," she says.
Perhaps the two-big-career lifestyle simply requires better compartmentalization skills so we can keep our secrets but still maintain a cozy marital codependence. "The intimate moments in life don't revolve around my wife's clients," says Gregory. "There are elements we are able to talk about, and we focus on those. It's just not a problem."
Until it is. Imagine the person with whom we share a bed has information that could jump-start our career or boost us into the next tax bracket. What do we do? We resist the urge to drop a roofie into his Stella and have a peek at his laptop, or take notes when he talks in his sleep about the merger he's working on. We fight any temptation to cajole, seduce, or otherwise exploit the unique benefits of matrimonial intimacy. Well, most of us do. Most of the time.