Love, Loss & the Oscars
After years of trying, Daniela Petrova and her husband, acclaimed journalist Sebastian Junger, finally conceived a baby, just after his documentary won an Oscar nod. But Hollywood was no match for the drama that awaited them.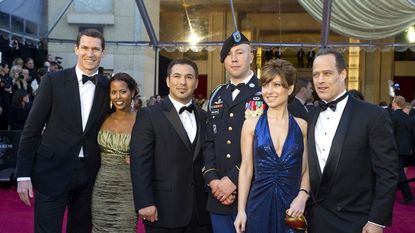 (Image credit: Courtesy of Author)
Marie Claire Newsletter
Celebrity news, beauty, fashion advice, and fascinating features, delivered straight to your inbox!
Thank you for signing up to Marie Claire. You will receive a verification email shortly.
There was a problem. Please refresh the page and try again.
The last thing I ever thought would happen to me is that I would go to the Oscars. And I certainly never thought it would save my husband's life.
I grew up in Communist Bulgaria, five of us in a one-bedroom apartment that had no hot water or central heating. The two state TV channels broadcast only at night, and if they showed a movie, it would be a Russian one. After the Berlin Wall fell and Bulgaria finally shook off communism, we got cable television with countless American and Western European channels. I was 18 when, wide-eyed, I watched my first Oscars. Because of the time difference, I had to wait till 3 in the morning for the ceremony to begin. That I should walk down that same red carpet one day seemed as unlikely as it would be to walk on the moon. But many years later, there I was, next to my husband, Sebastian, smiling for the cameras.
Sebastian had made a documentary with his good friend, the internationally acclaimed photojournalist Tim Hetherington, about American soldiers in Afghanistan. The film, Restrepo, won the jury prize at Sundance, and in January, we celebrated its nomination for an Academy Award. The four of us — Tim, his girlfriend, Sebastian, and I — flew out to Los Angeles for a week of parties and events that culminated with Oscar night at the Kodak Theater.
Restrepo didn't win an Oscar, but — little did we know — Sebastian and I were returning to New York with a far greater prize. Two weeks after we'd come back, I took a home pregnancy test and stared, stunned, at the two pink lines. I screamed, and Sebastian came running to the bathroom, worried that I had somehow hurt myself. We stood there incredulous before the little pee-stick — a testimony to the miracle that had taken place in L.A. And a miracle it was. We had battled infertility for the past six years, resorting to countless IUIs, six IVFs, and even a donor egg cycle — all unsuccessfully. And here we were, pregnant naturally.
We knew that miscarriages are common in the first trimester, and with our history, we didn't want to get too excited. At first, I didn't even want to know when my due date was. But how doyou live with such news, ignoring it, pretending that it isn't happening? How do you keep yourself from imagining the future? As the weeks went by and the pregnancy progressed normally, I allowed myself to believe that perhaps it was finally happening for us, too.
At seven weeks, we heard the heartbeat at our reproductive endocrinologist's office, and he released us into the care of an obstetrician. We sighed with relief. We were finally joining the club of normal people. Two of our closest friends were pregnant as well, and we began to imagine our babies growing and playing together. We even indulged in speculation about the gender of the baby. If it was a boy, we joked, we would have to name him Oscar.
The Academy Awards was the final event of a three-year-long project that had begun with Sebastian and Tim embedding with American soldiers in a remote outpost in Afghanistan. It was time to find a new assignment. The Arab Spring was in full swing, and they planned to go to Libya to cover the civil war. For me, that brought the old fears of my husband working in a war zone. But something was different this time. I was pregnant, and all I could think about was the life growing inside me, a millimeter each day, as the doctor told us. I felt so protective of it that I couldn't possibly excite myself putting up a fight, arguing that Libya was too dangerous.
Maybe because I didn't object this time, or maybe because Sebastian, too, was deeply affected by the prospect of finally becoming a father, he decided to stay. What if I had a miscarriage while he was away? What if I worried too much about him and the stress hormones hurt our child? When you've waited for a baby for as long as we had, you'd do anything to protect it. Morning sickness hit a couple of days after Sebastian was supposed to leave. I lay curled up on the couch with a bucket next to me, while he shopped and walked the dog and took care of our meals. There was no way, we realized, I could have done it on my own.
Tim had a satellite phone and called Sebastian regularly with updates. Every now and then, Sebastian would tell me proudly what Tim was up to in Libya. I could sense his regret that he wasn't there, that he was missing out on reporting on such a historic event, and I even felt guilty about it. One evening, he told me that Tim was going to the besieged city of Misrata. Muammar Qaddafi's forces had surrounded Misrata nearly two months earlier, leaving the sea as the only way in and out of the city. The artillery shelling and sniper fire, which had claimed the lives of hundreds of civilians and rebel fighters, had only intensified in the past week, causing most news networks to pull out their correspondents. And this was where Tim was going?
Incensed, I started yelling at my husband.
"Why am I getting in trouble for what Tim's doing?" Sebastian asked. Why indeed? I was worried about Tim, yes, but why was I upset with my husband? Maybe it was the hormones flooding through me. Or maybe it was because I sensed that if he could, he would be packing his gear right now to join Tim.
At our first appointment with the obstetrician, we talked about prenatal vitamins, hospital arrangements, and my due date before moving into the exam room. "Now is the moment of truth," the doctor said, inserting the magic wand that brings up to the screen a black-and-white image of the uterus. Sebastian held my hand. I was disoriented because the ultrasound machine was different from the one in our RE's office, and while trying to get used to the image, I didn't notice the doctor's grim face. He kept adjusting the wand, trying different angles, then said: "I'm not seeing the heartbeat." I stared at the screen, stunned. Sebastian was crushing my hand in his. It couldn't be. I kept staring at the little dark blob that was to be our baby in desperate hope that suddenly we'd see the flicker of a heart. But the image remained cruelly still.
It was the first sunny, really warm day of the year. We walked silently from York Avenue to Central Park, where we sat on a bench, gutted with grief. Around us children ran and birds sang and the forsythia bushes bloomed bright yellow. The heartless throb of spring.
The fertility gods had had their fun with us: After six years, they'd finally given us the hope of a baby only to take it away.
A week after our visit to the obstetrician, I had a D&C procedure to remove the dead fetus. We came back from the hospital, and I was preparing to take a nap, still groggy from the anesthesia, when the phone rang. Sebastian answered it and listened quietly before putting the receiver down. I looked up and saw him sitting with his head clutched in his hands. Tim had just been killed in Misrata.
I refused to believe it. Such things only happened to strangers, people you read about in the papers. I kept replaying in my mind the last time I saw Tim. He had come to our apartment the day before he left for Libya, and when I saw him off at the door, I hugged him and, as usual, told him to be careful. "Yeah, yeah," he said and flashed his big smile.
His funeral was in an old church in the heart of London. I cried inconsolably, maybe because along with Tim, I was burying — if not a child — the promise of one. Tim's mother stood up and in a shaky voice read Wordsworth's poem "Daffodils." She had taught it to Tim as a boy, and he had recited it to his girlfriend, Idil, a few weeks earlier at the sight of some daffodils in New York. I stared at Idil's stooped figure in front of me, her heaving shoulders. Guilt wrestled its way through the mountain of grief that was inside me. Guilt that I am next to my man, my hand sweating inside his, while Idil sits alone at the edge of the church pew. Maybe, I thought, if Sebastian had gone on the assignment, he would have talked Tim out of a trip to Misrata. But I knew better. If Sebastian had gone, he would have been in Misrata, too. He would have been on that same street, in the blast radius of that same mortar that killed Tim and another photojournalist, Chris Hondros. And that was a thought I had a hard time contemplating.
At the reception, in between the hugs, tears, and condolences, a friend of Tim's walked up to me and said: "Congratulations." I blinked through my tears. Was that some kind of a joke? He blushed and stuttered an apology and only then did I get it. Tim must have told him why Sebastian hadn't gone to Libya. "Not anymore," I said. "I lost it, just before Tim." A few more people at the funeral reception came to me similarly mistaken. But what most told me over and over again was: "You must be so relieved that Sebastian didn't go."
The thought that he had been so close to going troubled me deeply. What if I hadn't gotten pregnant when I did? What if Restrepo hadn't been nominated for an Oscar and Tim and Sebastian had gone to Libya before I realized I was pregnant? One way to think of life is that it is just a random series of events. But by definition, randomness lacks meaning, and in the wake of Tim's death, I found that meaning was what I craved. Eight weeks after the D&C, the doctor called me with the genetic report results: The miscarriage was due to a very rare chromosomal abnormality. The pregnancy had been doomed from the moment of conception. But the little life we had created in L.A. — our little miracle — lived long enough to save my husband's life.
Celebrity news, beauty, fashion advice, and fascinating features, delivered straight to your inbox!