Your Phone Is Starting to Care About Your Personal Safety
Smartphones can help, but they aren't always the solution.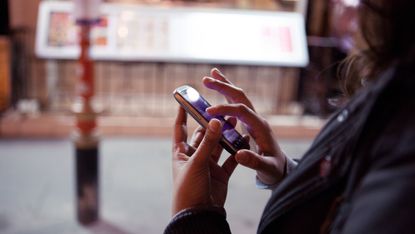 (Image credit: Getty Images)
In a world where your smartphone can pay for your coffee, locate a designer sale, and even land you a boyfriend, shouldn't it also keep you safe? That question has been raised by Kansas State Senator Greg Smith, whose mission to make carriers implement better safety measures is very personal. Just over a week after Smith's daughter Kelsey graduated from high school in 2007, she was abducted from a Target parking lot in Overland Park, Kan. Police searched for days, but without the location information from cell phone carriers, they were unable to find her. Once the cell phone company released that valuable information, police were able to find her body within 45 minutes.
There has been a slew of new personal safety apps, like Kitestring, which notifies your emergency contacts if you don't check in at your destination. Then there's bSafe, which allows your network of "guardians" to trace your route via GPS; if you press the app's alarm in an emergency, they'll get an alert with your exact location while bSafe records audio and video from your phone in case the police need it later. The Guardly app calls emergency personnel when you feel unsafe. And there's also Lifeline Response, which uses patent-protected technology to gauge human response to notify the authorities if you're in trouble.
Your cell phone is actually traceable, however, without these extra apps: Cell phone carriers can locate you with towers that constantly ping your phone to provide service. But why are cell phone companies so reluctant to release that information to law enforcement? To date, there hasn't been any legal action taken against carriers who decline to release location information related to missing-persons cases. But guidelines need to be put in place so these tracking abilities aren't used inappropriately.
So how can the police account for and act on the new flood of notices coming from these new apps? Sgt. Filbert P. Barrera IV of the University of Arizona Police Department says he finds the 911 system works well, as long as people are calling. That said, the friends and family we list as our emergency contacts on these apps need to be ones who can be trusted to take the right steps. "Whoever they list on there—are they going to be a reliable avenue for people to use?" Barrera says. "The apps are only good as the people who operate them. I think you just have to choose really carefully."
Ultimately, with colleges looking away from sexual assault cases and gun violence across the nation, these apps can certainly prevent more harm and are great if you tend to travel alone at night. But that doesn't mean a woman without them should be any less safe—there must be a good working relationship between authorities and cell phone providers who have access to important technology that could save lives.
A downside to these apps can include desensitizing friends to alerts. While it's better to be safe than sorry, Barrera worries contacts set up through an app could start underestimating the user's emergency situations if they receive multiple false alarms. In general, he advises to always let friends or family know where you're going, whether it's through a text or using social media. "Guys and girls, men and women—we all need to be responsible and let people know what we're doing," Barrera says. There's always the possibility of a phone losing service or battery, so it's best to be proactive and not just reactive.
Related:
College Professors Say They're Being Punished for Speaking Out Against Rape on Campus
The Fight Against Sexual Violence on College Campuses: One Student
The Ten Biggest Supporters of Women's Rights in U.S. Government
Photo Credit: Getty Images
Celebrity news, beauty, fashion advice, and fascinating features, delivered straight to your inbox!