How 'Polite Society' Subverted the Action Genre to Become the Girl-Power Movie of the Year
Star Priya Kansara and writer/director Nida Manzoor break down how the film came together.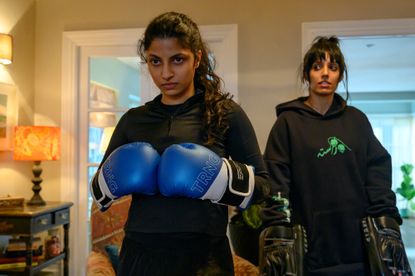 (Image credit: Focus Features)
Marie Claire Newsletter
Celebrity news, beauty, fashion advice, and fascinating features, delivered straight to your inbox!
Thank you for signing up to Marie Claire. You will receive a verification email shortly.
There was a problem. Please refresh the page and try again.
In Polite Society, it's Ria Khan's world and we're all just living in it.

Helmed by Nida Manzoor, the Focus Features film serves as a campy and delightful ode to the action flick with an unexpected hero at its center: a rambunctious and relentless teen—expertly played by newcomer Priya Kansara—hellbent on achieving her dreams of becoming a stuntwoman and of saving her sister from the trappings of marriage (to a particularly odious man and his overbearing mother, deliciously portrayed by Nimra Bucha).

On a cloudless day in LA just before the film's debut, Marie Claire sat down with Kansara and Manzoor to discuss the film's clever Kung Fu easter eggs, why action movies are the perfect vehicle for telling coming-of-ages stories, and how Hindi film icon Madhuri Dixit inspired a goosebumps-inducing on-set moment.

Polite Society is streaming now on Peacock.

On casting Kansara as Ria…

Priya Kansara: I auditioned for another part in the film. Jezah—she's Ria's friend who's crushing over Salim [at the soirée], who's played by the brilliant Tia Dutt. And I got an email back being like, 'Hey, actually, do you mind coming in to meet Nida and the production team?' And I was like, 'Whoa, OK.' We had an amazing audition. We just played with the scenes… And I got a call again that evening, and I went back in, and the next day after I had a chemistry read, I got the call to say I got the part. Honestly, it was the best feeling in the whole world. I remember crying for ages like, 'Oh my God, this is happening.'... The script when I got it was bonkers and crazy, and I had never read anything like this before. It just felt so original and fresh, and I think I really fell in love with the sister love story as well.

Nida Manzoor: We did an open call. We brought in actors, non-actors. I was desperate to find someone who could carry the film; who had enough of that star quality, really, to carry it but who also could do the sister angst, the teen angst, the vulnerability but also the comedy. And then have the physicality to do action and do physical comedy. And then there's a dance as well, so there was such a physical demand on the performer... I really was struggling [to cast it]. I thought, I don't have a film here. I've not seen anyone who I actually believe could do this. And I've lived with this character for 10 years in my head—it's quite an old script.
And then Priya came in and we all just were in awe. She lights up the camera in a way I can't quite... You know when people say 'movie stars' and I'm just like, 'I don't know what you're talking about.' But there is something in the way the camera films her. She's just so watchable. But also, she worked so hard…And after a couple of weeks of directing, she was driving. She knew where she was going; she was in such possession of the character. She's a new actor, but she is so mature in her way of working. I can't imagine the film without her.
On the inherent kinship between Kansara, Manzoor, and Ria…
PK: I think playing [Ria] allowed me to be a child again. So I allowed myself to open up a little bit and just be a little bit crazier because as you grow older, you kind of shut off and put up guards; you become more sensible. And I was like, 'Ria's not sensible.' I think naturally I am quite a playful person, and so perhaps I was able to bring that to her, but Nida so beautifully has written her and created her on the page. It was so easy to just lift her off there and be like, 'OK, she's just going off on one.' She's a totally wired kid.

NM: I think similarly to Priya, and I'm the same, we have both felt like we've been under this pressure to be the good girl. 'Don't upset the apple cart, don't push too far.' And Ria, for me, was extremely cathartic because this is a character who doesn't give a shit. Who does what she wants, who never feels she's wrong, who's just loud, bold, problematic sometimes, but she just really believes in herself in the way that I certainly felt I struggled with. And I know when Priya was approaching the character, we came from a similar place of we didn't have that inherently. And Ria was inspiring to Priya and to me in that sense. But Priya's goofiness is in there, her honest goofiness. Priya's lovability and goodness emanates through Ria. Because Ria's character on the page is kind of annoying… But because Priya, as a performer, has this very inherent purity and goodness, that is something that she's infused into Ria that wasn't necessarily there on the page.
On using the action genre to break cultural barriers, challenge gender norms, and tell a cathartic story…
PK: It feels like being able to physically show all of these real visceral feelings that we have as we grow up. And particularly, as women, we're shut down often [or told we] can't do this or you can't say this. 'You mustn't feel angry or sad.' Or you have to cater to other people's feelings and stuff like that a lot. And Ria doesn't live her life like that. And I kind of feel like I could channel so much of my own life and wanting to have been able to do those things through her.
NM: Action is the perfect way to externalize that very internal teenage violence and that experience of how big your feelings are at that age. So it was so exciting for me to get to bring in, not only my love of action, but use the genre in a way which it doesn't usually get used: to explore what it feels like to be a teenage girl. That was so exciting. But also being a young woman in my 20s, I felt like I had these dreams of being a film director, and I know my parents were worried. They're like, 'Maybe you should get married. Maybe you should settle down.' It sort of cuts at your self-worth when the closest people around you think, Actually, this isn't going to work for you, you should still marry someone and maybe do it as a cute hobby. And I remember having such anger around that…And so the film is really from a place of that rage, that anger, that desire to have someone believe in me.
As a teenage girl, I used to love doing martial arts, but then I lost the love because I went through puberty and I felt so alienated in my own body. Even now, I have all these insecurities that society, family, culture, just picked apart and almost separated me from my body at times… There's so much I wanted to work through with this film. But I think [there's] something about a woman in her body and in her power, which I think is really powerful because it's hard. Society's always making you judge yourself and critique yourself and just to have a character who's so full of self-belief; who always gets back up. [Ria] gets knocked down so much but is always getting back up. It's like sometimes as women sometimes we risk failure because failing is so scary. We risk trying because the fear of failing is so high, because we were always told to be so perfect…It's like, 'No, own your flaws. Be in your body. Be in yourself.' That's one of the things I just would love for any young woman to watch [the movie] and feel like, 'I want to do martial arts again,' and just be in their bodies and feel alive within your body because when it's taken away from you, it's alien. It makes life suck somehow.
On the Easter Eggs referenced in the storytelling…
PK: We referenced a lot of martial arts films, a lot of action films, things like The Matrix— literally within the "Maar Dala" sequence I do the Neo move. Things like that were so important to us because those truly were inspirations for this film, and we wanted people to really get the vibe of that we're paying homage to these classic action films, to an industry that actually is very male-dominated. We wanted to show that women can be a part of this, and enjoy it and love it, and there's a space for us there. So we referenced Jackie Chan in Rush Hour. Even Kill Bill—a lot of the sisters' fight was based off of that kind of a vibe. Directors like Edgar Wright, for example, are a huge inspiration. If you've ever watched films like Hot Fuzz or Scott Pilgrim, there's a very similar vibe to those films in this.
NM: My brain just explodes because I feel like I'm definitely the kind of filmmaker that I love to reference the films I love…I was inspired so much by Hong Kong Kung Fu, Wire Fu, the work of Wu Ping. The Matrix is a huge inspiration in the film. I wanted Ria to basically be our Neo. Jackie Chan for me is a huge inspiration. The way he infuses comedy into his action; the way he uses his environment was such an inspiration…And then I grew up loving teen comedies. So for me, a film like Slums of Beverly Hills was a huge inspiration—really respecting and honoring the teenage character, which often in British cinema we don't do as much or as well as you guys over here [in the U.S.]... Films like Igby Goes Down, Ghost World, these indie American teen movies that I really love [were inspiration as well].

On Ria's fighting style and learning the stunt choreography…

PK: Ria is such a fangirl of action and she wants to be those things [she sees in movies]. So of course she would've spent her life watching and re-watching those [action] scenes in order to kind of feel that she was the Bruce Lee or she's the Jackie Chan. So I did watch a lot of those scenes whilst we were filming and rehearsing. Also I remember watching Bruce Lee clips to figure out how this is going to look or what the move is and to kind of get a similar energy off of them. But what was really cool working with our stunt team is that Rob and Crispin really leaned into making sure that we were telling stories through the fights and that they were really character-driven fights. So I got to, not only figure out how much of those scenes I was mimicking, but also who is Ria and how does she come into her own in these fights? Even through the fight choreography, there are bits where she's mimicking her opponent because she wants to be like them. And then there are bits where she comes into her own and fights in her own style, and that's usually when she wins.
On re-creating the "Maar Dala" dance scene from Devdas…
PK: It was such a dream come true. I grew up watching Bollywood [movies], and I remember watching Devdas when I was little and being so mesmerized by Madhuri [Dixit]. So the fact that I got to do that [scene] but then got to put our own into it made it so special. I remember when I got the part I would listen to the song over and over again…I really hope [Madhuri] sees it. But I will lose my mind. I will be deceased [if she does].
NM: I do think it was because Bollywood cinema was my first real entry point into cinema, and I have such a love for it. I'd go every week with my mom to watch something [from Bollywood], and I wanted to honor it, and in honoring it, there needed to be a dance number… But [I thought] it'd be so fun to filter it through this character of Ria Khan who does it with her action movie flow, with her Marvel influences, with her just teenage angst, and it was so joyful too…It was one of my favorite, pinch me moments. All of us at the monitor [on set] were like, 'Wow.' And that's so much down to how Priya just owns it.
Celebrity news, beauty, fashion advice, and fascinating features, delivered straight to your inbox!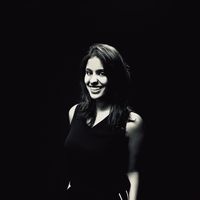 As Marie Claire's Entertainment Director, Neha oversees and executes strategy for all editorial talent bookings and culture coverage across the brand's print and digital entities, including covers, celebrity profiles and features, social takeovers, and video franchises as well as handles talent relations for MC's flagship summit, Power Trip. She's passionate about elevating diverse voices and stories, loves a hot-take, and generally hates reboots. She's worked in media for more than 10 years and her bylines about pop culture, film & tv, and fashion have appeared on Glamour, Vanity Fair, GQ, Allure, Teen Vogue, Brides, and Architectural Digest. She is a graduate of the Columbia School of Journalism.