11 Up-and-Coming Female Comedians You Need to Know Now
Plus the state of the whole "women in comedy" thing.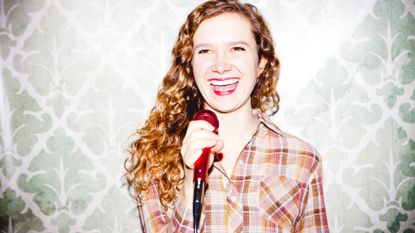 (Image credit: Getty Images)
Best way to spend a weekend? Laughing with some seriously funny, seriously badass women—which is what we did last weekend at the first-ever Bad Assery Women & Comedy Conference (opens in new tab) in Brooklyn. There were thought-provoking talks, calls to action (like, say, not using the word comedienne ever again), and the kind of laughing where your stomach/face ache and you nearly spit out your whiskey sour (hi).
We sat down with conference founders Shaina Stigler and Natalie Wall to talk sexism in comedy and the funny women whose names you should know right this second.
Marie Claire: Who are some of the funniest women we should know about?
Shaina Stigler: Kristin Dausch (opens in new tab)—I cannot scream her name enough. Ashley Skidmore and Lyle Friedman of #HotMessMoves (opens in new tab) are fucking brilliant. Katie Hartman and Leah Rudick do "Skinny Bitch Jesus Meeting (opens in new tab)"—have you ever seen them perform? Oh my God.
Natalie Wall: Judy Gold (opens in new tab) is great. Marina Franklin (opens in new tab), Keisha Zollar (opens in new tab), Sabrina Jalees (opens in new tab)—literally everyone here. Also us! I'm sorry, but we are great! I think you are an amazing person, I think I am an amazing person. I want people to really want to say that about themselves too. I like what I do; I like who I am. That's a big part of this too, the sooner you figure that out, the sooner you know you're a baby bird and the sooner you are fucking flying all over that place.
MC: You're emphasizing that this was a women and comedy conference—not women in comedy. Explain the difference.
NW: With in there is a qualifier and it just implies that we don't belong. We don't want it to seem that we are trying to go into a world where people tell women don't exist or don't belong, when in actuality we do exist and we do belong.
SS: The wording implies that we need to qualify or differentiate from the thing that is inherently male. It's the biggest sign that this world of comedy is a male dominated world. That we have to have women in comedy, gays in comedy, blacks in comedy to differentiate—white male does not define comedy and we have to be adamant about the fact that we are not only a part of the equation but a large part of this community. It's us as women using comedy to empower ourselves and empower the world and we are doing this together. We are not the thing that's in it.
MC: What do you think of the word comedienne?
In unison: Oh, fucking hate it. Hate it.
SS: It goes back to why we are so adamant about and versus I. It's a qualifier and we don't need a qualifier. We are not the thing that is different or weak or less than. We are very much an equal part of this community and the term needs to be done away with. The sad thing is, I have a lot of friends who are not comedians who don't understand the world and who are for all intents and purposes all about equality. The term is just so ingrained in us that it takes people a second when I explain it. We don't need our own word.
NW: Yeah, I actually posted something about that on Facebook and people were like, "Wait, I thought it was a compliment," and I was like get out of my face.
SS: And it shows you how deep the problem goes. The bottom has decayed, it starts at the root and we have to start addressing it there and not at the surface level. That is sort of what we are trying to do, dig out that tooth decay.
MC: What are some examples of sexism you've seen in comedy?
NW: I have this show called Awkward Sex and the City (opens in new tab). It's myself and five other girls that tell awkward sex stories. People fucking loved to talk about sex and hear about sex in awkward situations. After one show, we were outside in the bar talking to some of the people who came and this guy who was with his girlfriend slapped my ass and told me he thought it was okay because I just talked about sex. Go check yourself, you piece of shit.
SS: What! Oh my God!
NW: It's so inherent and so ingrained. When I moved to New York, I was very I don't want to be considered a female comedian. I wanted to be very bro-like and wanted to fit in that category. It just hurts you as a person because you don't realize how much you're not being true to yourself and hurting the community. The moment I realized what I was doing I just completely leaned in, full force to this feminist movement and everything just blew up. Everything is where it's supposed to be now.
You should also check out:
The 5 People Who Should *Really* Be Hosting Late Night (opens in new tab)
Amy Shumer Is One of the Best Comedians Out There, and This Is Set Proof (opens in new tab)
Women in Comedy: Why Were Your Favorite Female Comedians Snubbed by the Golden Globes? (opens in new tab)
As deputy editor, Jen oversees Cosmopolitan's daily digital editorial operations, editing and writing features, essays, news, and other content, in addition to editing the magazine's cover stories, astrology pages, and more. Previously, Jen was a senior editor at Marie Claire. Before that, she worked at GQ.