30 Activewear Items That Have Me Going to and From the Gym in Style This Fall
I can't stop wearing these leggings.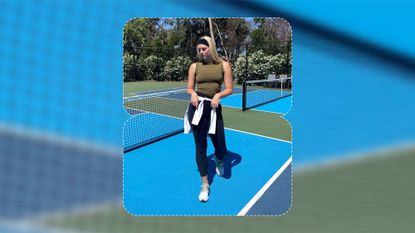 (Image credit: Original Illustration by Mira Thekdi)
Most Coveted is a new shopping series sharing our editors' curation of the must-know items they can't stop thinking about.
You see that cute outfit above? I haven't been able to stop wearing it. (Don't worry—it's made a trip to the washing machine as many times as it's seen my yoga mat.) I've been living as if my other activewear pieces have vanished into thin air, but let me explain why. To me, the perfect workout set has to be comfortable, supportive, practical, and stylish, which is exactly what Athleta delivers. The brand's black leggings aren't just black leggings—they come in an array of compression levels so you can choose which pair you need based on your workout. I'm partial to the Elation Tights that feel lightweight but still provide support in hot yoga. But as we transition between seasons, I'll be testing out the Rainier collection made for cold-weather workouts. These classic leggings, plus a treasure trove of additional prints and styles, have me looking more stylish than ever when I'm heading to and from the gym. Athleta is filled to the brim with the autumnal tones you'll want to wear all season long, so keep scrolling to shop my top picks for the season ahead.