Skincare Obsession: Micellar Waters
Once available only in France, micellar waters have arrived in the US. Beauty blogger Siobhan Bentley is in love.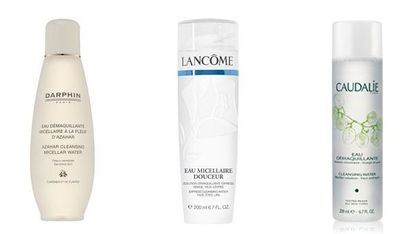 (Image credit: Archives)
For years, micellar water has been a cult staple among makeup artists, beauty experts and models. However, until recently, these miracle cleansers were sold almost exclusively in France. Lucky for us, more skincare brands are now carrying their own versions, and we can finally get our hands on this highly-coveted product.
But, what exactly is a micellar solution? A micelle is a tiny oil molecule that is suspended in soft water. Its special feature is that instead of smearing your makeup around your face like most makeup removers do, the micelle molecules effectively eat up and absorb dirt and makeup. The solutions feel just like water, and are kind to and soft on skin.
Bioderma makes the most popular micellar solution, but it is not available outside of France. Lancome has Eau Micellaire Douceur ($34), and Caudalie sells Cleansing Water ($14). However, my far-and-away favorite is by Darphin. Its Azahar Cleansing Micellar Water ($40) is a little pricey, but is well worth it. For people that have sensitive eyes like I do, the cleansing water is a dream at taking off eye-makeup and waterproof mascara. Gone are the days of having to rub away your makeup. Simply pop some onto a cotton wool pad, hold over you eyes for a few seconds, and wipe away. Job done!
Siobhan Bentley is a 24-year-old Londoner, self-proclaimed beauty addict, and the voice behind A Girl and a Beauty Blog.