Editors handpick every product that we feature. We may earn commission from the links on this page.
The 15 Best Cleansing Balms That Hydrate and Soothe
Make removing makeup fun.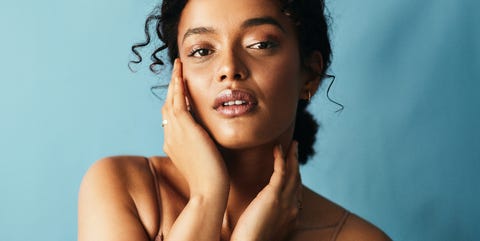 Delmaine Donson
Getty Images
If you see me out and about without makeup on, there's a reason for it. In the morning, I often decide that I don't really want to wash my face in the evening, so I just forgo any products. In short, I really, really hate taking off my makeup at night. Makeup removal wipes and micellar waters are effective at taking off makeup, but I'm not a fan of a) having to toss out dirty wipes, and b) having to trek to CVS to buy cotton pads to use with micellar water. If your solution to this dilemma is: "Just to go to bed with makeup on!" then you and I will have a problem. But in the winter, when the cold air makes little dry flakes appear between my eyebrows, I need something that not only makes makeup removal easy but also gives my skin a boost of hydration. That's where cleansing balms come in. They're like oil cleansers' grown-up sister who has a job and health insurance. They look like solid blocks, but when they come in contact with your dry face, they turn into oils that melt your products off and don't ever feel stripping. Whether you're trying to remove makeup, or are just looking for a daily cleanser that doesn't dry out for face, you need to get into cleansing balm game.
1
The Magic Formula
Take the Day Off Cleansing Balm
Clinique
nordstrom.com
$31.00
This cleansing balm made waves when it hit the market, for good reason. It's so effective that even un-smudgable eye makeup doesn't stand a chance. Simply massage it into your dry skin, rinse off, and marvel at how you're suddenly makeup-free.
2
For Skin-Pumping Effects
Pro-Collagen Cleansing Balm
This beautifully scented balm not only removes makeup, but pollution and everyday gunk that lives in our pores that can cause breakouts. Collagen, which is an anti-aging ingredient, helps plump the skin for a line-reducing, youthful glow.
3
For Sensitive Skin
Makeup Remover Cleansing Balm
Not only does this balm melt off cosmetics and skincare products at the end of the day, but after rinsing it off, you'll be left with enviably silky skin. Once your skin is clean, your skincare products will work even better.
4
For Congested Skin
The Cleansing Balm
Augustinus Bader
augustinusbader.com
$70.00
Not only does this balm remove makeup quickly, but it's great for cleaning out pores that have been clogged by products and pollution. As an added bonus, this balm comes with a wash towel that you can use to give your skin some gentle exfoliation.
5
For Smoothing Skin
Papaya Sorbet Smoothing Enzyme Cleansing Balm
Glow Recipe
sephora.com
$32.00
This cleansing balm uses papaya enzymes, papaya seed oil, and blueberry extract to cleanse and brighten the skin. All these ingredients help make the skin smoother and brighter, not to mention makeup-free.
6
For Dehydrated Skin
Universal Cleansing Balm
For anyone who's locked in a torrid love affair with clean skincare, you need to check out this cleanser. With rosehip oil, camellia oil, cocoa butter, and shea butter, this product is perfect for anyone with intensely dry skin.
7
For Irritated Skin
Cleanser
EVE LOM
nordstrom.com
$80.00
It's widely believed that this was the first-ever cleansing balm on the market. After 25 years, this product still holds weight. Formulated with calming chamomile, this cleanser removes makeup, skincare, and pollutants, all while making sure your skin stays hydrated and soothed.
8
For Waterproof Makeup
Slaai™ Makeup-Melting Butter Cleanser
Drunk Elephant
sephora.com
$45.00
This cleansing balm is intense. It can take care of even the most stubborn forms of waterproof mascara, which makes removing traces of sunscreen and other products a breeze. With a combination of fruit extracts and hydrating oils, this fragrance-free cleanser can take care of anything you've got.
9
For Purifying Skin
Moringa Cleansing Balm
Emma Hardie
dermstore.com
$60.00
With moringa seed oil, vitamin E, and sea fennel, this cleanser easily takes care of washing the face, while also balancing the skin. These healthy ingredients protect the skin from environmental aggressors and never leave your face feeling dry.
10
For Total Makeup Removal
Triple-Oil Balm Makeup Remover & Cleanser
Sisley Paris
nordstrom.com
$126.00
This cleansing balm will not only make removing eye makeup a simple task, but it also takes care of removing foundation and face products, which often clog pores. When this balm is in contact with water, it becomes a milky cleanser that makes cleaning your face a fun part of your routine.
11
For Dull Complexions
Green Clean Makeup Meltaway Cleansing Balm
Farmacy
amazon.com
$34.00
Skin that hasn't been cleansed properly is prone to looking dull and lackluster. This makeup removing balm uses only natural ingredients to gentle melt makeup and boost your skin's radiance.
12
For 3-in1 Benefits
Multi-Miracle Glow Cleansing Balm
Charlotte Tilbury
nordstrom.com
$60.00
This balm is the definition of a triple threat: It's a cleanser, a face mask, and a moisturizer. Either wash it off, leave on for masking benefits, or apply wherever needed as a healing balm. The end result is ultra-soft skin that is incredibly touchable.
13
For Reducing Redness
Blue Moon Clean-Rinse Cleansing Balm
Sunday Riley
dermstore.com
$50.00
This blue cleanser doubles as a face mask for those who are so inclined. It has hydrating moringa and cocoa butter, as well as blue tansy and chamomile to calm inflamed skin. Either wash it off to remove makeup and impurities or leave it on to get even more benefits.
14
For Extremely Dry Skin
Aqua Bomb Cleansing Balm
This clean product not only removes all traces of makeup, but it also gives dehydrated skin a boost of moisture. The best part? It doesn't leave a greasy residue on your skin.
15
For Healthy Skin
Manuka Honey Cleansing Balm
Naturopathica
amazon.com
$64.00
Manuka honey is well-known for its inflammation-reducing and anti-bacterial properties. Alongside probiotics, this cleanser promotes the skin's health, by clarifying the skin without stripping it of its natural oils.
This content is created and maintained by a third party, and imported onto this page to help users provide their email addresses. You may be able to find more information about this and similar content at piano.io