What I Love About Me: Christina Mallon
After developing a motor neuron disease that paralyzed her arms, Christina Mallon decided to make the fashion industry work for her. Here, she talks inclusivity, setting boundaries, and staying stylish on the go.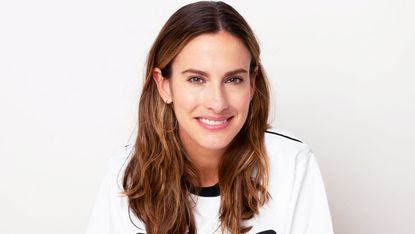 (Image credit: oyediran bamigboye)
Almost 10 years ago, I started to lose the ability to move a finger. About every year following, I would lose motion in another finger. Or a shoulder. Or an elbow. I was definitely upset about it, but what hurt me the most was other people's preconceived notions that my life was over: No one would love me, I wouldn't be able to work, I'd become a burden. Maybe they didn't say this outright, but I knew it was how they felt. That was when I realized that disability had an image problem. I thought, How can I change that narrative?
I realized I could do it through fashion. Style allows for self-expression, and, from a functional standpoint, having an outfit I can put on by myself changes everything. I'm extra sensitive about someone reading press about me and automatically thinking, She's sick, and expecting me to dress very frumpily. Previously, my style might've included tighter jeans and maybe something a bit sexier, but those things became very dicult to put on. I wanted to show that you can have a disease and dress the way you want, and that's where adaptive clothing comes in. Constraints create innovation.
It's why I became involved with Open Style Lab, a nonprofit that cocreates dressing solutions for people with disabilities. I helped build the brand and—as the only board member with a disability—ensure it was authentic. As chief brand officer, I crafted the messaging and marketing strategy while learning a lot about product design from my cofounders. With that, I went on to head up inclusive design and accessibility at global creative agency Wunderman Thompson and helped craft the communications for the Tommy Hilfiger Adaptive clothing line for people with disabilities.
Pre-COVID, I was meeting with senior executives of various billion-dollar companies nearly every week to talk about how they can make their products and marketing more accessible. I value travel, and it's a huge part of my job, so I always made sure that no matter where I was, I could use the elements of the room to help me get ready. I use a lot of loops in my clothing that I slip over doorknobs to help pull things on. A lot of people with disabilities travel with someone, but because my husband's schedule is also extremely demanding, it pushed me to figure out how to do it myself.
Same thing with beauty: I've been obsessed with beauty products ever since I was little, as they are a vehicle for self-expression. That did not change when my arms became paralyzed, so I spent a lot of time finding products or tools that I could manipulate with my feet. I can't wash my hair very well, so in between salon blowouts I use Bumble and Bumble's dry shampoo. The packaging is designed so that it dispenses just enough powder with each squeeze. And I've been using a two-in-one hair dryer/volumizing brush from Revlon for years to achieve a salon-like blowout; it's hard for most women to be able to hold a brush and a blow dryer at the same time, but especially for women with dexterity issues like me.
These things can be frustrating. When I first became disabled, I was subconsciously taking a lot of my frustration out on the people I'm closest to, like my husband and my best friends. And I've checked in with them to say, "If you see this behavior, please let me know because this is not who I want to be." It's something that I've done to really take care of my mental health, even if it was learned the hard way. When I first developed this disability, I felt like I was losing part of myself. But I didn't feel depressed; I felt like I still had something to give. I still do.
This story appears in the Fall 2020 issue of Marie Claire.
MORE WOMEN WE LOVE
Celebrity news, beauty, fashion advice, and fascinating features, delivered straight to your inbox!
Taylore Glynn is the Beauty and Health Editor at Marie Claire, covering skincare, makeup, fragrance, wellness, and more. If you need her, she's probably roasting a chicken, flying solo at the movies, or drinking a bad Negroni at JFK.