What I Love About Me: Shirley Raines
The Beauty2theStreetz founder, 52, provides essentials and self-care services to L.A.'s homeless population. Here, she talks mental health and staying positive amid a pandemic.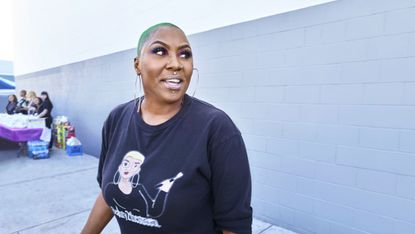 (Image credit: Stefan Simchowitz)
My nonprofit was started during a dark time. I lost a child several years ago and went through a period of questioning what I was supposed to do with this life. I was looking for a way to give back and make some sense out of my situation when a friend invited me to serve the homeless with him. It was the missing piece of my puzzle. Oh my God, this is where all the broken people are, I thought that day.
They ended up being more interested in my hair and my makeup than the food and clothes we were passing out. I hadn't intended to start a nonprofit, but I decided then and there that I would go back, and soon I started doing my own thing by providing haircuts, showers, makeovers, and everything that the homeless community of Los Angeles needs to feel good about themselves. Now, Beauty2theStreetz has about 30 volunteers serving 500 to 800 people weekly. It's a glorious distraction; they just want to look in the mirror and see something beautiful. Who doesn't?
With the coronavirus pandemic, we're also helping educate. At Skid Row, where we do our work, they're panicking because they don't have access to information. They don't have TVs or news on smartphones to inform them about how the virus is spread. They can't wash their hands, and many of them are HIV positive or immunocompromised. We're trying to be proactive while also distancing, providing them with hand sanitizer donated by Bite, a toothpaste company. I normally cook; instead I'm buying McDonald's for them because grocery stores are out of stock with people hoarding staples.
The homeless community has been invisible for so long. But I'm telling you, if this virus impacts them, everybody in the world will see them. It will mean 60,000 people flooding L.A. County hospitals. They will not be invisible anymore.
I'm very much an advocate for mental health, especially in the black community. I prioritize my own too. Taking all of these stories, all of the losses and heartbreak, home with me from the streets is overwhelming. And when I hit 50, I couldn't handle the things I was previously able to overcome mentally with eating right, exercise, and diet alone; something just broke. For whatever reason, as I get older, my body needs some help to stay stable. We're told to pray, but prayer has to be assisted by something else. You pray and go to therapy. You pray and take your medication. Now, I take an antidepressant every morning; that's my version of self-care.
These are hard times, but I see my nonprofit like a marriage: We made a vow, through sickness and health, till death do us part. When the bad times come, we take it in stride, knowing that this is a moment. Good days will come again when we can wash their hair, do their nails, give them hugs. This is when the rubber meets the road, when you've got to push forward.
Go to beauty2thestreetz.org to support Raines's efforts.
This article originally appeared in the Summer 2020 issue of Marie Claire.
RELATED STORIES
Celebrity news, beauty, fashion advice, and fascinating features, delivered straight to your inbox!
Taylore Glynn is the Beauty and Health Editor at Marie Claire, covering skincare, makeup, fragrance, wellness, and more. If you need her, she's probably roasting a chicken, flying solo at the movies, or drinking a bad Negroni at JFK.