Small Business Spotlight: Pura Utz
The brand, founded by Anna Waller Andrés and Bernabela Sapalú, empowers Mayan women to share their crafts and fund their futures.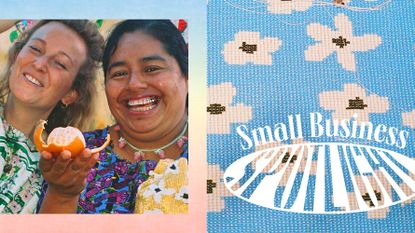 (Image credit: Design by Hanna Varady)
Women running their own companies? We love to see it. In our monthly series Small Business Spotlight, we chat with independent fashion entrepreneurs about their journey to be-your-own-boss status. Here, tips for raising funds, developing a marketing strategy, navigating social media, and more—straight from women who have done it themselves.

---
For her entire life, Anna Waller Andrés, a trained nurse, has had a passion for giving back. When she wasn't caring for people at her job, she spent her downtime, well, caring for other people: For years, she traveled back and forth from Denmark (where she lives) to Guatemala, volunteering with various NGOs and co-ops focused on helping local artisan women make a livable wage.

It was on one of those trips that she met Bernabela Sapalú a founding partner of Sharing the Dream, an organization that promotes sustainable, fair trade, and handmade items including jewelry, painting, bags, scarves, coffee, and more. Sapalú grew up Santiago Atítlan, where her skill at bead work, weaving, and embroidery allowed her to support her family and put her daughter, Elisa, through university. Sapalú and Waller Andrés quickly became best friends. "We realized that we have the exact same feelings, emotions, and mindset about what we do, and we share a passion for helping women create a better living for themselves," says Waller Andrés.
In 2013, the friends turned into business partners, launching Pura Utz, a whimsical fashion brand that employs Mayan women to handcraft every piece, including beaded banana earrings and a smiley print phone bag. Initially, Waller Andrés struggled with the idea of starting a for-profit business instead of a nonprofit organization, but ultimately decided the former would help put more money directly in the pockets of Mayan women while empowering them to use their skill to provide for themselves and their families. "I wanted us to be a business because I didn't want the limitations of what the women can earn as a salary and what we can create with the surplus that we make," she says. "I want people to value and want the product just as much as any other quality product–not to charity-buy anything from us–because these women do not need charity. They are all entrepreneurs in their own lives trying to make ends meet." Bernabela explains how many marginalized women in Guatemala know a trade such as embroidery, bead work, and weaving, but need a platform to sell their work, something Pura Utz provides.

With team members based in both Santiago Atítlan and Copenhagen, Pura Utz is connecting worlds through craftsmanship and positive impact. Sapalú, along with her daughter Elisa, oversees production in Guatemala, training all of the women Pura Utz employs (their ages range from late teens to middle aged).
Every Pura Utz piece is handmade with great care: For example, the Peach Flower Dream bag is made up of 55,500 tiny glass beads that takes three women four days to make. The brand also believes in transparency and fair-trade; Pura Utz pays their team four times the market standard in Guatemala.
Here, the pair shares how they turned their dream into a reality.
On Finding Funds
"The bank wouldn't loan us anything, so we did it ourselves. When I first started Pura Utz, I was working as a nurse and lost a lot of money because I was too idealistic. I saved up so much money to start the business and lost it all within the first year and a half, putting me in debt. A lot of my time and money was spent sourcing things such as amazing quality beads and zippers. It also took a while to get the product down so I made sure to pay the artisans even if we were not making money. I had to continue nursing part-time for 4 years after that, and I didn't take a proper paycheck from Pura Utz until 2019. Having to cope with that was a lot, but it also taught me a lesson on how to be cautious about time and investing money." —Anna Waller Andrés
On Authenticity
"We are 100 percent social media-based; we have no advertising budget. If it wasn't for social media, we wouldn't be a brand. But I have a love-hate relationship with [Instagram]. Our main goal is to be authentic and to show our customers who we really are. Elisa runs our Instagram account from Guatemala, and we do everything ourselves, from shooting the images to styling the pieces. It has been a constant journey to find the balance between catering to an aesthetic world where people want to see beautiful earrings and necklaces to showing the real behind-the-scenes work of the brand." —AWA & Bernabela Sapalú
On Building Trust
"Our business wouldn't be possible without the family environment we have. It's all about the trust and love we have for one another. We like to say we live where we work; we installed an office and built extra storage in Bernabela's house and some of the girls stay there. We have a team of around 15 women who make all of our pieces by hand, some pieces require multiple team members to complete. The most important part is dividing up the workload evenly, giving everyone an opportunity to earn the same amount of money. " —AWA & BS
On Looking Ahead
"Our main goal is to buy a piece of land and turn it into a retreat. This would allow our team to be self-sustainable. Our dream for the retreat is to launch a restaurant, practice yoga, and teach our craft. Above all we want this place to be for the girls we work with. We really want to make a difference in the village. Our goal is to employ more than 50 women."
—AWA & BS
On the Secret to Success
"The secret to success is not being afraid to lose. If the product design or quality doesn't turn out right, keep trying. We have spent a lot of money and time on things that haven't turned out great. We never give up and will continue to invest money into the process, the girls' talent, and developing our product. Make sure you do something you really love and take that risk. " —AWA & BS
Shop our Pura Utz picks
A version of this story appears in the April 2021 issue of Marie Claire.
Shelby Comroe is the Credits Editor and Fashion Assistant at Marie Claire covering all things fashion and giving credit where credit is due. Check her out @shelbycomroe on Instagram if buying designer handbags is your idea of a retirement plan!