Modcloth Cofounder Susan Gregg Koger on Taking Risks: 'What's the Worst That Could Happen?'
The blooming website that we all love started from a small idea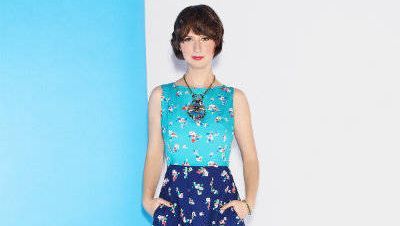 (Image credit: David Cortes)
Back in the summer of 2002, Susan Gregg Koger was a South Florida teenager about to start college at Carnegie Mellon in Pittsburgh and in dire need of a winter wardrobe. Her only option: forage secondhand stores for the vintage castoffs of Florida's aging snowbirds. "It was a treasure trove," Gregg Koger, 29, recalls. "I remember buying this great orange wool coat from the '60s for $7. I couldn't stop buying things, even if i knew they wouldn't fit."
It was during this mad dash that the idea for Modcloth, now a $100-million-a-year-and-growing online fashion empire, was born. Gregg Koger's high school sweetheart Eric, who had recently begun creating websites for local businesses, suggested she sell her finds online and offered to build the site. They dubbed their fledgling venture Modcloth. "We very much bootstrapped it," Gregg Koger says, "but we had an order on our very first day."
After graduation, Gregg Koger decided to devote herself full-time to Modcloth, financing the expansion of the site using credit cards and personal student loans. "I asked myself, 'What's the worst that could happen?' I'd go bankrupt, which would remain on my credit report for 10 years. I was in my early 20s, so it didn't seem so bad. Once I thought it through, it still seemed like a risk worth taking."
In order to grow, she needed to stock Modcloth with more than just thrift-store finds. So she reached out to indie designers specializing in the twee pieces she favored. Manufacturers, though, balked at Gregg Koger's small orders. "I would say, 'I really love this dress. I want to order 60 of them,'" Gregg Koger recalls. "And they'd say, 'You have to order 400.' But there was no way I could risk 300 dresses not selling."
So Gregg Koger came up with an ingenious solution: She went directly to her customers, asking, "Would you buy this?" "Almost immediately, responses came in. Not only was it an incredibly effective way to gauge order numbers, it was also a powerful tool for engagement." To date, shoppers have cast more than 20 million votes for some 700 indie designers. other interactive features followed, including the Make the Cut Contest, in which users vote for an up-and-coming designer for Modcloth to carry, and the Style Gallery, where shoppers upload pictures of themselves outfitted in the company's frocks. "We're obsessed with our customer," Gregg Koger says. "The traditional fashion industry talks at you. We ask our customers what they want and try to provide it."
"When it began, Modcloth was all my taste and point of view," Gregg Koger says. "As the company has grown, though, it's become more about empowering the community. The truth is, I still can't quite believe i'm lucky enough to do something this cool every day."
Celebrity news, beauty, fashion advice, and fascinating features, delivered straight to your inbox!