The 13 Best Shoulder Bags, According to Marie Claire Editors
Practical and cute—what more could you want?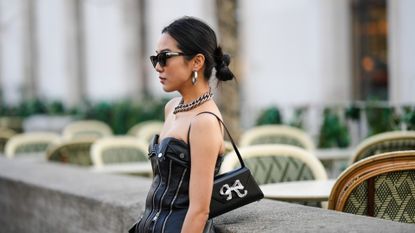 (Image credit: Edward Berthelot/Getty Images))
Maybe it's because the Y2K fashion revival continues to rear its head, but I've been thinking about investing in a shoulder bag of late. Memories of It-girls like Paris Hilton and Lindsy Lohan walking around Los Angeles and New York wearing their smallest baguette-style bags have been all over my Pinterest boards—but, because I am most definitely not an early-aughts socialite, I've been considering what the best shoulder bag might be like for 2023. My conclusion: Shoulder bags that are a little more practical for everyday use than their Y2K counterparts, but have that vintage appeal.
Like a work bag or laptop bag, a great shoulder bag is only great if it's versatile to style and easy to use. The term itself implies that the bag is hands-free, and will hold all of your essentials securely under your arm. But there's one big decision you have to make when shopping for a shoulder bag: Do you want one that's better suited to hold only your credit cards, keys, and phone on a night out, or do you want one that's great for holding your daily essentials for your next errands run?
"The more neutral and minimal styles can become a closet staple that works with everything, while the louder more colorful options live more in the trend category," says Ariel Tunnell, a celebrity stylist who has worked with Melissa Fumero and Stephanie Beatriz. "There are so many options for every price point, so they are accessible without being a major investment. "
So, consider the following before you buy: the function you want the bag to play in your life; your desired aesthetic; and which brands are going to get you the best value for money in the long term. If you're thinking about investing an entire paycheck in a shoulder bag this season, consider options from retailers like JW Pei, Coach, or Madewell, all of which make editor-approved shoulder bags that retail for less than $500. I also spoke to an expert from Rebag, a site specializing in the buying, selling, and trading of designer accessories, about which retro silhouettes are trending this season, and the brands you should consider.
The Best Shoulder Bags
The Best Designer Shoulder Bag Brands
Brands like Prada and Hermés hit the best of all three categories, at least according to Rebag's 2022 Clair—or Comprehensive Luxury Appraisal Index for Resale—Report, which uses millions of data points across pricing, demand, and trends to provide users with a definitive list of the best bags and brands to invest in now. So, it makes sense that shopping an iconic bag from either brand is a good idea. "If you envision yourself reaching for an easy, everyday style, opt for a fuss-free Prada Re-Edition 2005 Re-Nylon bag that comes with a detachable pouch to store keys and credit cards," says Elizabeth Layne, the Chief Marketing Officer of Rebag. The Re-Nylon bag specifically is marked as the best bag to buy from the brand because it holds between 99 percent and 112% percent of its value on the secondary market.
Or, "should you prefer a design that is as well-suited for the office as it is for Sunday brunch, the ever-popular Hermés Constance is as versatile as they come," she continues. The Clair report found that Hermés bags tend to retain 103% of their original value, meaning that they're even more valuable on the secondary market.
Meet The Expert