"Coastal Grandma" Style, Explained
Grab something striped, a straw hat, and a ridiculously soft sweater.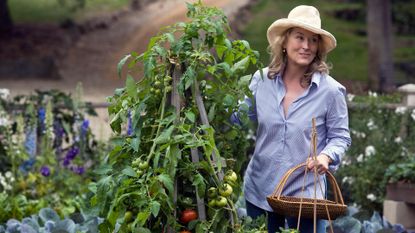 (Image credit: Alamy)
This week, "coastal grandma" may have suddenly slipped into your vocabulary. The preppy new trend on everyone's lips is a world away from the micro-minis of yestermonth.
What Is a Coastal Grandma?
Think shingled beach homes, light and airy chambray button-downs, linen everything, bountiful backyard gardens filled with various lettuce varieties, and a meticulously maintained chicken coup with more square footage than a Manhattan apartment. That's coastal grandma.
When coastal grandmas tire from pruning their hydrangea bushes, they grab a nice crisp, chilled glass of Sauvignon Blanc and that juicy mystery novel from the weekly book club. Bonus points for real estate overlooking the ocean!
Adjacencies to the Coastal Grandma Lifestyle Include:
Any main character that screenwriter Nancy Meyers has created.
Any excellent olive oil that Ina Garten would use.
Oprah at peak heirloom season.
Where Did the Coastal Grandma Trend Come From?
While some say that the coastal grandma mascot is Diane Keaton in the 2003 movie As Good As It Gets, we must credit the originator, Lex Nicoleta, who popularized the term on TikTok this March. Since then, Anne Hathaway further solidified the aesthetic on Instagram, stating she's "been ready for #coastalgrandmother chic since before TikTok was born."
How Can I Also Become a Coastal Grandma?
Semantics aside, you neither have to be a grandmother nor live on the coast to achieve coastal grandma nirvana. Cosplaying a moneyed middle-aged New Englander will do. For that, you'll need the following:
Stock Your Closet With Coastal Grandma Fashions:
When it comes to the products Marie Claire recommends, we take your faith in us seriously. Every product that we feature comes recommended by a MC writer or editor, or by an expert we've spoken to. Learn more about how we review products.
Sara Holzman is the Style Director at Marie Claire, covering runway trends and tracking down the latest finds to buy and wear. When she's not writing about fashion, she pens about the best places to jet-off to. Over her six years with Marie Claire, Sara has reported on the ever-evolving world of fashion— covering both established and emerging designers within the industry. Sara has held fashion positions at Lucky and SELF Magazine and was a regular contributor to Equinox's Furthermore website, where she wrote across their style, wellness, and travel verticals. She holds a degree in Journalism from the University of Missouri, Columbia, and currently resides in Manhattan. Follow her along at @sarajonewyork.