The 9 Best Denim Shorts in Every Style and Silhouette
Make summer 2023 the season you say yes to the jort.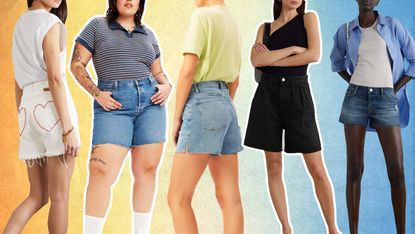 (Image credit: Future)
Marie Claire Newsletter
Celebrity news, beauty, fashion advice, and fascinating features, delivered straight to your inbox!
Thank you for signing up to Marie Claire. You will receive a verification email shortly.
There was a problem. Please refresh the page and try again.
Like a breezy sundress or comfortable sandals, denim shorts are a summer essential. We're not talking about Daisy Dukes, also known as the booty-skimming jean shorts you wore for every summer activity in the mid-'00s. The best denim shorts of 2023 are all grown up and—yes—can even be worn in a summer work outfit if you know how to style a high-waisted pair of shorts. (Though if you're looking for itty-bitty options to throw into your carry-on for a day at the beach, those styles have only improved with time, too.) In short (get it?), there are no downsides to them: You can dress jeans shorts up or down, and they seem to get comfier with each and every wear.
Still, as with jeans, there are a lot of options available. Some denim shorts are super-short and flirty, some hit mid-thigh and are surprisingly work-appropriate, and others range from mom jeans-esque to distressed black denim. You can pick from low-rise or high-waisted styles, and there are endless washes, styles, and lengths to peruse. We know finding the perfect jean shorts that look and feel good can be a pain, so we tapped a denim expert for her insight.
What to Look For in Denim Shorts
"The perfect pair of denim shorts should look good, but more importantly, they should make you feel good," explains Sarah Ahmed, the CEO and co-founder of sustainable denim brands DL1961 and Warp + Weft. "Comfort is key, so fabric and inseam length are top factors," she shares, directing you to consider "longer inseams, which are trending now and [make] for a sleeker look and all-day wearability."
High-Quality Fabrications
"Also, fabric choice is key for finding shorts to wear for hot summers, and breathability is a must-have," Ahmed shares. She encourages you to look for
"high-quality, botanic fibers that are durable, breathable, and ultra-soft," as "it's important that your shorts move with you throughout the day."
Ahmed encourages you to consult the denim trends of 2023 when shopping for jean shorts. "Longer-length shorts—mom and dad-fitting shorts—have been trending for the past few summers, for instance. Those styles are flattering and, most importantly, comfortable for any body type," describes the denim expert. "Classic washes will always be a timeless wardrobe staple for the summer, but styling the trending primary and pastel colors to an outfit is always a fun way to switch up your wardrobe."
The Best Denim Shorts
Best Overall Denim Shorts
J. Crew Relaxed Denim Short
This classic, no-nonsense pair of shorts from J. Crew is Marie Claire's top overall pick. They sit right above your hips and boast slight distressing on the cut-offs, giving them an easy, relaxed look and feel. The denim is made from 100 percent cotton, giving the shorts a subtle weight and rigidity, which means, yes, you'll have to break them in. But once you do, you'll discover that they're your new favorite jean shorts—ever. Take it from this one happy J. Crew shopper: "Being 45 and wanting a pair of denim shorts that are appropriate has been like finding a needle in a haystack. Well, I found the needle!"
Best High-Wasited
Everlane The Relaxed '90s Short
We're huge fans of Everlane not only for its gorgeous pieces but for its transparent, ethical sourcing. Check out this cozy, universally flattering pair of shorts from them for a fashionable and functional option. "I have such a hard time finding shorts that aren't too long and that has enough room in the bottom area, but these did it for me," writes one Everlane shopper. "They fit great around the waist and don't drag down at the end of the day because the denim is sturdy." Other reviewers point out, though, that this style runs a little large and can gap around the waist.
Best Distressed
Here, vintage-inspired denim brand Rolla's masters the art of a subtly-distressed look with strategically shredded holes and frays. This pair of cut-offs is crafted from a non-stretch, sturdy white denim, making it another style you'll have to break in, but it will be well worth it when you do. They have a baggier silhouette, too, which reviewers adore: "These shorts fit right at my belly button, don't gape in the back, and still have a little loose room around my legs. I love them! Great white color and an awesome fit. Just F.Y.I.: the hole on the back does show a tiny bit of cheek, though."
Best Levi's Denim Shorts
Levi's 501 High Rise Denim Shorts
And, of course, you can always reliably turn to Levi's when you're hunting for denim. We particularly love the iconic denim brand's 501 High Rise cut-offs, with its waist-cinched silhouette, worn-in, vintage-inspired fit, and the perfect amount of distressing. Put simply; they are just like your favorite Levi's jeans, only they'll hit your upper thigh. And, as this reviewer details, the 100-percent cotton denim offers surprising comfort: "I bought these a few weeks ago. So comfortable on the first try and, surprisingly, not overly short."
Best Long
Jen7 High Waist Released Hem Denim Bermuda Shorts
Not into Daisy Dukes? No problem: you can easily steer clear of those. But what if you don't gravitate toward mid-thigh types of shorts either, which are all over the market? In that case, you turn to Jen7's Bermuda short. Coming in at just above the knee, they are the perfect length—which is no easy feat with longer styles. And since they're made of a cotton and spandex blend, they boast plenty of stretch. One Nordstrom reviewer dubs them the "perfect" shorts. "They are a slim fit, high-waisted, and fit true to size," the shopper continues. "The style is so darn cute [and I] love the contrasting rough cut hem."
Best White Denim Shorts
DL1961 Zoie Short Relaxed Vintage 3.25"
Are you on the market for a crisp and clean-looking white denim short? Your search is over with DL1961's bright white Zoie Short. The pair masters the balance between lived-in and fresh-off-the-rack with its raw hem, outseam slit, and stark look. It's crafted from a sustainably-made denim and lycra blend, offering a slight stretch that ensures comfort. It's an unfussy option you'll continually reach for and wear after wear—as long as you're careful around red wine and all other stain-prone liquids.
Best Plus-Size
Good American Good Curve Short
We love Good American because of its high-quality yet affordable denim, of course, and its mindful approach to size inclusivity. Take, for instance, the Good Curve Short, which was designed to intentionally support and shape—but never hide or slim!—your body's natural shape. "These are the first pair of shorts I've had in years that work for my curves," gushes one thrilled shopper. "They comfortably fit my thicker thighs and butt without leaving extra inches of material around my waist like so many others. Actually, a gap-proof waistband for this fit!"
Best Colored
FRAME Le Super High Waist Denim Shorts
Sitting super high on the waist for a nipped-in look, this style by FRAME will quickly become the unsung hero in your denim rotation. They boast an easy-going, relaxed fit (notice the slight, flared-out silhouette at the thighs) and a washed olive green color, flawlessly executing a lived-in, classically vintage look. "These denim shorts are the perfect length (not too short, but not too long)," writes a Nordstrom shopper. "[They're] very comfortable, and I love, love the color. I've worn them out once and already received multiple compliments."
Best Splurge
Stella McCartney Embroidered Distressed Organic Denim Shorts
With just one look at the adorable red heart stitching on the back pockets, we know you're already sold on the look of these Stella McCartney shorts. It's the price tag that's giving you pause—and understandably so. But they are made of 100-percent organic cotton and were thoughtfully picked to be a part of Net-a-Porter's circular and sustainable initiative, NET SUSTAIN, so it's a purchase you can make with a good conscious. And because of its careful fabrications and materials, this style will last you for ample seasons, undeniably longer than a haphazardly constructed fast fashion pair.
Meet the Expert
Sarah Ahmed is the CEO and Co-Founder of sustainable denim brands DL1961 and Warp + Weft, the only two vertically integrated denim brands in the world-from fiber to finished garments.
Celebrity news, beauty, fashion advice, and fascinating features, delivered straight to your inbox!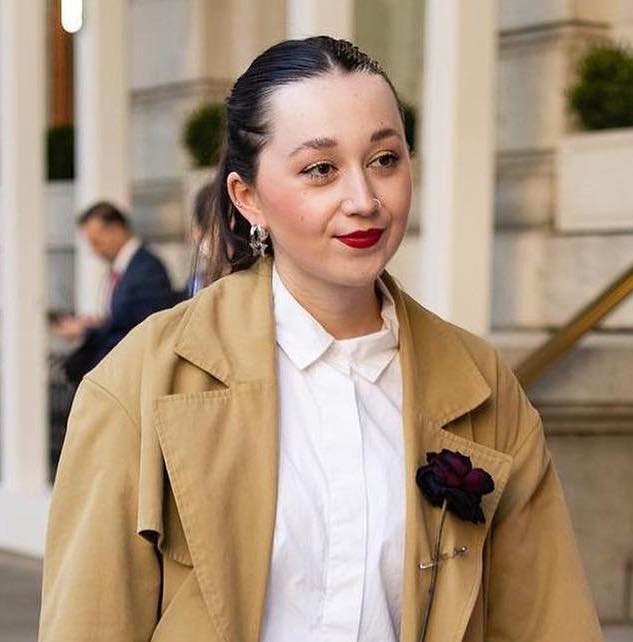 Emma Childs is the Style Editor at Marie Claire, where she researches up-and-coming trends, curates shopping guides, and gushes about the must-buy items she can't stop thinking about. She previously wrote for TZR, Editorialist, Elite Daily, and Mission Magazine and studied Fashion Studies and New Media at Fordham University. When she's not writing up fashion deep-dives or finding the season's best pieces, you'll find her fiddling around in Photoshop and perusing HBO Max for the next show to base her personality on (currently, it's "Succession").