Types of Jeans for Women: Your Ultimate Guide
For the denim die-hards.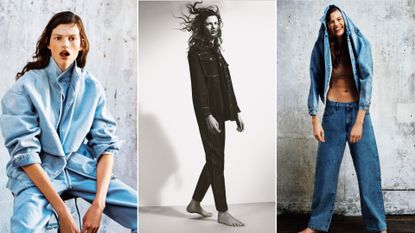 (Image credit: Marie Claire)
Marie Claire Newsletter
Celebrity news, beauty, fashion advice, and fascinating features, delivered straight to your inbox!
Thank you for signing up to Marie Claire. You will receive a verification email shortly.
There was a problem. Please refresh the page and try again.
If you're like me, you've probably lost count of the number of pairs of jeans you have in your closet. Frankly, I'm obsessed with denim, to the point that people's first impressions of me usually involve statement overalls or even denim bodysuits from one of my all-time favorite denim brands (especially those focused on making the denim industry more sustainable). However, when shopping for jeans, it can be easy to feel overwhelmed by the many cuts and styles of jeans out there, from straight leg to boot cut to high-waisted to flare.
To clear up this confusion, I asked celebrity stylist Sarah Nearis to unpack the difference between every jeans type once and for all. Plus, she, along with our seasoned team of denim-wearers at Marie Claire, added recommendations for each and every style.
Bell Bottom Jeans
A '70s staple (and one of my personal favorites), bell bottom jeans are an attention-grabbing cut that easily turn a simple outfit, like the classic jeans-and-a-white-tee look, into a fashion statement. "Bell bottom jeans have a flare at the bottom that begins at the knee," explains Nearis. "[They] tend to be very fitted and snug at the waist and hips with a dramatic flare on the bottom." In terms of styling, Nearis says this cut looks excellent with both heels and flats. Personally, I love a sky-high heel or a chunky platform to complete the nostalgic look.
Paige Laurel Canyon High-Rise Flare Jeans
Paige is one of my all-time favorite brands, especially when it comes to jeans. Their denim is soft yet durable, flattering, and has just the right amount of stretch—after all, it's made out of 93 percent cotton. These jeans in particular have both an elevated, flattering silhouette and laid-back fringe detailing along the cuffs that hearkens back to the brand's California origins. Plus, this pair boasts inclusive sizing, with a number of petite, standard, and plus sizes available to buy.
Customer Review: "Paige jeans are just so good—lengthening and slimming. Love these!" -Anthropologie
Alice and Olivia Jane High Rise Flare Jeans
I'm not exaggerating in the slightest when I tell you that I wear my red flare jeans all the time. These dynamic jeans turn any outfit (and any boring white button-down or black tee) into a fashion statement, and they look killer with a red lip and sky-high heels. These jeans have quickly become a wardrobe staple for me. Plus, woman-founded brand Alice and Olivia is known for crafting luxurious pieces made to last a lifetime—so you won't have to worry about the longevity of this stylish investment.
Customer Review: "I love these pants/jeans. They are really cute and fit like a glove. I am 5'7" and wear a pair of platform sandals with them. No hemming was needed. " -Bloomingdales
Wide Leg Jeans
According to Nearis, wide leg jeans "gradually widen out to the bottom starting at the mid-thigh"—something that distinguishes them from bell bottoms. However, this distinctive silhouette doesn't mean that all wide leg jeans look alike. "Wide leg jeans can be made fitted at the top, or looser and oversized with a consistent wide and looser silhouette down to the bottom," explains Nearis. For ultra-wide leg jeans, I like wearing a form-fitting bodysuit, a taut hairdo, and heels. On the latter detail, Nearis agrees, commenting, "I think wide leg jeans look best with a heel and some height."
I love Mavi for its comfortable, versatile denim pieces, which always feel incredibly soft and stretchy to accommodate me even on my most bloated days. This pair is one of my favorites—especially their stylish, spacious sailor pockets in the front and their distressed, ankle-grazing hems. Mavi also makes its jeans using recycled and organic fibers in addition to elastane, which adds that ultra-comfortable element of stretch that makes them perfect for everyday wear. The classic look and texture of denim without any of the stiffness or waste? Don't mind if we do.
Nili Loran Flora Trouser Jean
These classic wash blue jeans come highly recommended by Nearis. She raves, "Nili Lotan makes a great wide leg jean that feels like butter and looks effortlessly chic." And it's no wonder this pair feels so soft—it's made from 98 percent cotton! The mid-rise fit of these pants is also sure to flatter any and every body, and the pleated detailing at the waist makes for an elegant, dress-like silhouette. Style with form-fitting top to offset the jeans' bagginess, or with a button-down or sweater for an all-over slouchy look.
Skinny Jeans
Like many of us, Nearis says that the skinny jeans craze was a trend that she "was not sad to see go." This jean, she says, has "a tighter, slim silhouette and is snug throughout the entire fit." (These are not to be confused with jeggings, which Nearis explains "are leggings that give the appearance of skinny jeans but the comfort of yoga pants.")
She attributes the popularity of this jean to the (rather toxic) desire to "look slimmer or longer," but points out that because this cut is so tight, it often has the opposite effect. "Jean styles are not a one size fits all," she reminds us, suggesting that those who want a form-fitting look but are uncomfortable in skinny jeans opt instead for straight leg jeans, or for investing in some tailoring at the hem or width.
And for those of us who are unsure of what to do with all the skinny jeans we accumulated over the last decade? Personally, I find my skinny jeans handy in the winter when I want to pull knee- or thigh-high boots over my jeans, or for wearing under long sweaters.
DL1961 Farrow Skinny High Rise Instasculpt Ankle Jeans
DL1961 is another brand I swear by—their jeans are comfortable, long-lasting, and never fail to yield compliments when I wear them out. This pair is incredibly versatile, particularly since its black coloring makes it easy to pass for a pair of dress pants. Best of all, DL1961 is committed to sustainability and makes their pieces by shredding discarded denim and post-consumer waste. Then, they fashion the result into their stretchy, durable yarn. Plus, their production process takes less than 10 gallons of water per pair, whereas most retailers use around 1,500 gallons per pair.
Customer Review: "Was looking for a great pair of black skinny jeans that I could dress up or dress down. I've already worn these to work and out to dinner. Love them!" -Bloomingdale's
Warp + Weft JFK Skinny 28'' - Calabasas
This light-wash pair from popular brand Warp+Weft is named after New York City's bustling international airport, and they're well-suited for wearing while traveling near and far. The pair is made from a super light, stretchable fabric blend comprised mostly of cotton. And if you're not a fan of light-colored jeans, check out one of the nine other colorways. Warp + Weft also utilizes production methods that minimize both water and energy usage.
Mom Jeans
For the nostalgic among us, mom jeans are among the most coveted finds at thrift stores. Nearis explains that this relaxed style is "named after the jeans mothers wore in the '80s and '90s," hearkening back to the decades when most Millennials were growing up. More specifically, Nearis says that mom jeans "are high waisted, with a fitted waist, looser fit in the thigh, and tapered leg down to the bottom." She does note that this style enhances curves rather than slimming them—perfect for crafting that ultimate 80s and 90s power silhouette.
Everlane The Original Cheeky Jean
Everlane is one of my favorite ethical and size-inclusive brands. It's long prided itself on having robust sustainability standards, such as reduced water usage and the banning of harmful chemicals during production. In addition, they pay their employees fair wages, offer them benefits, and adhere to health and safety standards. All of this culminates in well-made, high-quality pieces like this pair of flattering jeans, which is made from buttery soft cotton. It also comes in both standard and curvy fits, a variety of sizes and inseams, and five classic colorways.
Topshop Comfort Stretch Mom Jean in Bleach
This pair of jeans from popular brand Topshop channels the classic mom jean fit and style, but adds a contemporary twist. This flattering silhouette, which is most slim-fitting than the mom jeans of decades past, reaches down to the ankle and features five (spacious!) pockets and a zip fly. They also come in black, white, and this edgy gray colorway. Pair with a band tee shirt for a punk-inspired look, or with a blouse and heels for an elevated, neutral look.
Straight Leg Jeans
Nearis calls these her "most recent style favorite," explaining that "straight leg jeans are just as they sound: jeans where the silhouette goes straight down without any flare or tapering." And while one might fear that such a straight cut might obscure curves, Nearis says that the opposite is true.
"I personally find these to be very flattering," she argues, "because they fit nicely at the waist and behind, really elongate your legs, and create a nice clean line." I, too, have been opting for the straight leg jean more and more recently. They're a breeze to match with nearly any top, whether it's long, cropped, form-fitting, or oversized.
MOTHER The Straight Up Rambler Cargo Jeans
"Mother is my be all end all—they're the only jeans that fit my body," Beauty Editor Samantha Holender raves. "They don't suffocate or strangle my waist (I need to breathe!), but still fit slim enough so that I don't look like I'm swimming in a sea of light wash denim. I've worn every pair I own to death, and it was time for a seasonal refresh. Enter: the Mother Straight Up Rambler Cargo Jeans, which I plan on wearing on repeat. The cargo pocket detail is perfectly on trend, the light wash goes with every color under the sun, and can be dressed up or down. They zipper closure is extremely flattering and the waistband has just enough give to make these the most comfortable pair of pants in my closet."
AGOLDE Pinch Waist High Rise Kick in Riptide
"Say hello to the only jeans I wear," says E-Commerce Editor Julia Marzovilla. "If you see me in a pair of light-wash jeans, it's 99 percent likely that I'm in these from AGOLDE. I'm 5'3 so I had to get these hemmed—but only a little bit!—so they sit comfortably at ny ankles, but that's where they're designed to fit if you're just a bit taller than me. The waist is designed not to gap (hence the "pinch waist" name!) so they're effortlessly cool for everyday or dressing up to go into the office. Plus, the fabric doesn't sag if you wear them multiple times between washes."
Customer Review: "The perfect pair! I feel like I've been searching for so long, they fit so well. Structured fit but still really comfortable. Definitely size down, I'm usually a 29 but the 27 fits me the best." -Revolve
Boyfriend Jeans
I love wearing a pair of comfortable, baggy jeans for the same reason I love wearing sweats: Some days, the less effort it takes to move around in my outfit, the better. Thus, my closet is filled with boyfriend jeans—some of which are men's jeans that I thrifted and took in at the waist.
"Boyfriend jeans sit along the mid-low hip line and are generally oversized all over," Nearis says of this trendy fit. And when it comes to how to style them, she suggests, "Generally with a baggier, looser bottom, you want to do the opposite on top or create more structure on top. For example, I would style them with a bodysuit or crop top, a blazer, and heels to elevate the look."
Levi's Baggy Dad Women's Jeans
"I call these the boyfriend jeans for people who don't want an overly-baggy pair," E-Commerce Editor Julia Marzovilla attests. "They sit right at my hips and are loose through the waist and thigh, giving them an I-just-pulled-these-on type of vibe. They run true-to-size and come in eight washes that cover the entire denim spectrum. I currently have a light blue, slightly distressed pair, but I'm thinking about buying them in every single wash. The denim is also *so* soft but, like the AGOLDE jeans, doesn't sag or change shape when I wear them between washes. The leg is also a touch wider than your traditional straight-leg jean, so they look cool with sneakers or with boots."
Customer Review: "I bought these yesterday and they're super cute. I have a short torso so these hit right at my waist. I have very thick thighs and a booty so they were a little tight in that area, but they've loosened up a bit with one wear." -Levi's
Closed A Better Blue Roye
I can't even begin to tell you how obsessed I am with the denim from Closed. Made from 100 percent cotton—71 percent of which is recycled—their jeans are unbelievably comfortable and flattering. Plus, every one of their designs is unique, so when you purchase, you can feel confident that you're investing in a high-quality, one-of-a-kind piece that you can't get anywhere else. The brand has a number of loose-fitting styles, including a flared pair that I adore, but these spacious pants, with their oversized pockets and light wash, might be one of the best pairs of boyfriend jeans I've ever experienced.
Boot Cut Jeans
Whenever winter rolls around and my shoes become larger and clunkier, there's one type of jeans that I positively live in: The boot cut. Nearis agrees, "Boot cut jeans are a very popular style of jean that have a slim fit at the waist and, as opposed to bell bottom jeans, they have a mild flare starting at the knee down." This modest flare makes way for, you guessed it, boots, along with any other footwear you're keen on showing off.
"I like styling my clients in this style if they are wearing an ankle boot for a performance," says Nearis, who's styled musicians, "because they are flattening and elongate the legs without any dramatic flare or oversized silhouette."
MOTHER The Hustler Roller Heel High Rise Wide Leg Jeans
Much like Holender, Nearis is a huge MOTHER Denim fan. "MOTHER Denim is my personal favorite denim brand and I live in a variety of their styles," she says, "but one of my favorites is the Hustler Roller Heel. It's fitted, flattering and has the perfect amount of flare to wear with a heeled boot or a shorter heel sandal. Mother Denim also has the perfect hint of stretch. Many of my celebrity clients live in MOTHER as well."
MOTHER The Hustler Ankle Fray
"One jean that I have been wearing for years and don't see myself ever parting with is a cropped boot cut jean," Nearis says of this style, whose hem stops just above the ankle. "My favorite pair is the MOTHER Denim Hustler Ankle Fray jean. I have the black and the darker blue denim wash and they go with everything. They are my go-to jean when I am on set, and I usually style them with a tee, blazer and sneaker. And for a night out, I'll wear the dark wash with a silk blouse and heel. They are so flattering on many body types and I think they just have an effortlessly cool aesthetic to them."
Overalls and Bodysuits
I love overalls. They're a great piece to have in your closet for mornings when you're in a rush and need to get dressed quickly, and they always stand out—especially if you get funky with a colorful or embroidered pair. Overalls and bodysuits are also handy for days when you're feeling bloated or otherwise unwell and want to avoid a waistband pressing sharply into your stomach.
Bodysuits, like dresses, make your morning routine especially easy because they can be worn on their own. Meanwhile, you can pair your overalls with turtlenecks, basic cotton tees, or crop tops; dress up with heels or sandals; or dress down with combat boots or sneakers.
Nearis particularly loves the latter, explaining, "Overalls definitely give off a simple, casual vibe so I recommend styling them the same way. I think they look chicest when they are paired with a t-shirt and sneakers, maybe a sweater thrown over the shoulders if it's cool enough. For more of a rock and roll vibe, a darker wash or black denim I would style with a crop top tee and combat boots."
Canadian Tuxedos
In case you haven't heard, the Canadian tuxedo of early 2000s fame (I'm looking at you, Britney Spears and Justin Timberlake) is back and here to stay—just ask Victoria Beckham. But even before the pop legend and fashion powerhouse donned this iconic look, I, too noticed an increase in double-denim looks in ads, at fashion weeks around the world, and even in my day to day life.
For those who aren't familiar with the term, a Canadian tuxedo is a denim-on-denim look that's usually comprised of a pair of jeans with a matching denim jacket. Like all matching sets, this look is fun, striking, and easy to throw together. Wear as a set, of course, or as separates—it's three outfits in one, really.
This Canadian tuxedo is among my favorite ensembles in all my (extensive) wardrobe. Ksubi's jeans always fit like a dream, with a laid-back, straight leg fit that somehow still matters to flatter my curves and hug my hips just right. Meanwhile, the jacket is surprisingly warm, and is the absolute icing on the cake to this eye-catching set. The diagonal bleached pattern provides the perfect amount of edginess that's a breeze to transition from day to night. Every time I wear this outfit, I receive endless compliments—no matter how I style it.
DL1961 Hepburn Wide Leg High Rise Vintage 31" - Limeade
Looking for that denim on denim look in the summer, when it's too hot to wear a jacket? Look no further than this matching set from DL1961, which features a pair of straight leg jeans and a matching one-shoulder denim top. Both are made sustainably using eco-friendly fabric (made from 99 percent cotton) and using the brand's water-reducing production methods. I can't wait for summer to roll back around so I can wear this as often as possible. Plus, as with all Canadian tuxedos, both pieces look fantastic as separates.
Meet the Expert
Sarah Nearis is a fashion stylist and creative director. She is based in Los Angeles and Nashville.
Celebrity news, beauty, fashion advice, and fascinating features, delivered straight to your inbox!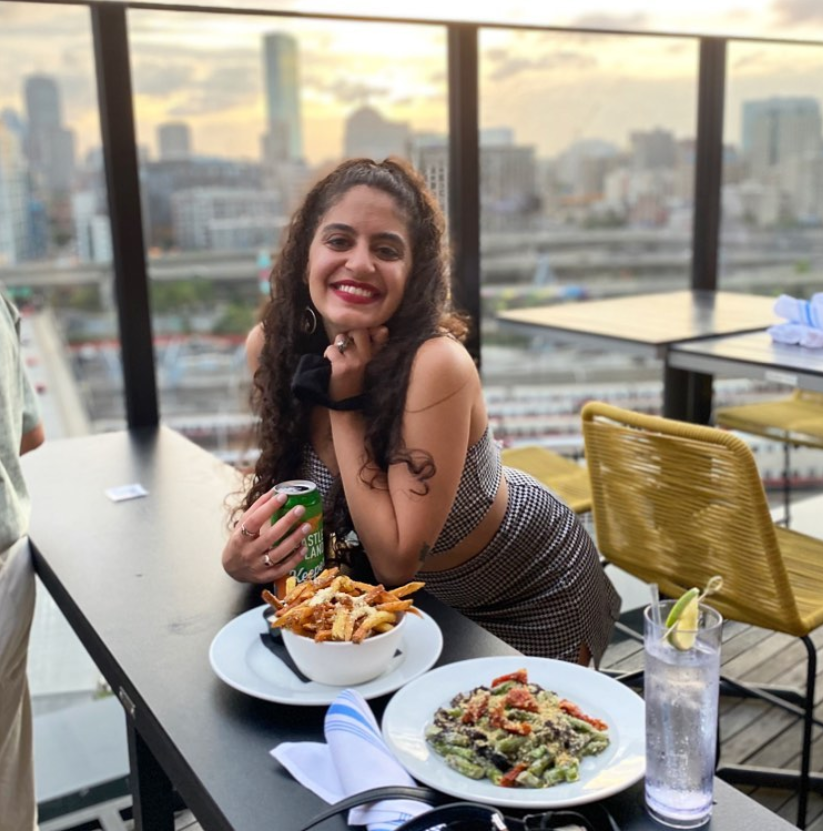 Gabrielle Ulubay is an E-Commerce Writer at Marie Claire and writes about all things beauty, sexual wellness, and fashion. She's also written about sex, gender, and politics for publications like The New York Times, Bustle, and HuffPost Personal since 2018. She has worked extensively in the e-commerce and sales spaces since 2020, including two years at Drizly, where she developed an expertise in finding the best, highest quality goods and experiences money can buy. As a film school graduate, she loves all things media and can be found making art when she's not busy writing.