The 25 Best Black Jeans to Build Your Outfit Around
Why, yes, I do need another pair!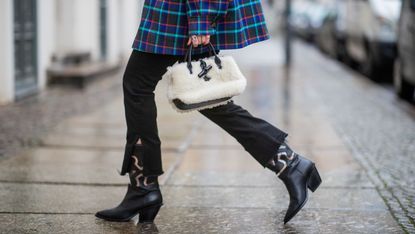 (Image credit: Christian Vierig)
At the beginning of each season, I sort through my wardrobe to determine the pieces that need replacing. When it comes to my denim collection, I feel like I've got the blue jeans category covered; I also have a beloved pair of white jeans that I wear constantly. But my black jean selection is...a different story. Luckily, the search for new black jeans isn't difficult. Whether you gravitate toward black jeans that are skinny, high-waisted, cropped, or a combination of styles, a good pair of black jeans go with everything and will be a mainstay in your wardrobe for years to come.
You might assume that black jeans are only a fall or winter favorite, but allow me to prove you wrong—many of these pairs work beautifully for spring and summer as well. Below, meet your new favorite year-round staple (and once you've found your new favorite pair of black jeans, here's how to style them).
1/25
Everlane The '90s Cheeky Jean
'90s Jeans
Everlane's washed black are the coolest way to rock a '90s-inspired fit. Cut from rigid cotton, the straight legs are perfect for tucking ankle boots into.
2/25
Good American Good Waist Crop Side Slit Jeans
Cropped Jeans
If you're on the shorter side, these jeans were basically made with you in mind. They have a shorter inseam that won't leave you looking like you're drowning in fabric.
3/25
Levi's Ribcage Straight Ankle Jeans
Ultra-High-Rise Jeans
Levi's has been making top-quality jeans for almost 200 years (!), so it's safe to say that they know how to make a killer pair that you will own forever. While the classic 501 style is forever, mix it up with the label's ribcage silhouette, boasting a soaring 12-inch rise.
4/25
Warp & Weft MXP Plus High Rise
Sustainable Jeans
Warp & Weft is committed to sustainability at every step of the design process. Their jeans save an average of 1,400 gallons of water during production, and their fabric is made from 20 percent recycled denim, plastic, and cotton. Bonus: They look and feel really, really good.
5/25
Citizens of Humanity Calista Curve
Parachute Jeans
Unabashed by volume? Look no further than Citizen of Humanity's best-selling parachute leg jeans.
6/25
Zara Z1975 Mom Fit Jeans
Mom Jeans
Yes, you can find a great pair of jeans for under $50. Zara's jeans are affordable, look great, and to prove it, they sell like hotcakes.
7/25
AG Jeans Alexxis High-Rise Vintage Slim Straight Jeans
Slim-Straight Jeans
The ultimate black jeans to pair with chunky loafers this season? Unquestionably AG's high-rise vintage slim-fit.
8/25
Madewell High-Rise Skinny Jeans
Long-Inseam Jeans
Madewell makes many of their jeans in four lengths: petite, standard, tall, and taller—but this pair has been reimagined to fit those with a curvier shape. They now feature a narrower waist with a contoured band and a longer inseam for a better fit all around.
9/25
COS Relaxed Barrel-Leg Jeans
Barrel-Leg Jeans
Get the feel of cropped wide-leg by opting for a modern barrel cut leg. Offset the bagginess by styling yours with a pair of dainty flats or kitten heels.
10/25
Reformation Liza Ultra High Rise Straight Jeans
Super-High-Rise Jeans
There are high rise-jeans, and then there are ultra high-rise jeans. You know—the ones that sit comfortably above your belly button. These jeans from Reformation are definitely in the latter category.
11/25
Agolde '90s Jeans Mid Rise Loose
Wide-Leg Jeans
Wide-leg jeans are super on-trend right now, and this pair from Agolde fits the bill to a T. The cropped hem and mid-rise fit complete the look. Plus, they come lightly distressed and faded, so you'll get cool points.
12/25
Pilcro The Split Straight Jeans
Split-Hem Jeans
Anthropologie's exclusive label Pilcro is made from planet-friendly fabrics and is size-inclusive, to boot. Speaking of boot, the subtly flared split-hem is totally back in style.
13/25
Mango Flared Jeans With Pocket
Flared Jeans
Flared jeans are back in a big way. Mango's affordable design has a ton of stretch with two front pockets for a retro look.
14/25
We The Free Crvy High-Rise Lace-Up Skinny Jeans
Lace-Up Jeans
If pure black denim feels too harsh in warm weather, try a pair that are made to look like they've been washed dozens of times. These retro-feeling jeans by We The Free come with a lace-up detail at the front that adds a rocker-girl vibe.
15/25
Ksubi Playback High-Rise Straight-Leg Jeans
Slouchy Jeans
Boyfriend-style jeans aren't exactly wide-leg, but they do feature roominess throughout. Ksubi's are some of the best on the market, whether you style them straight or rolled at the hems.
16/25
G-Star Raw Arc 3D Low Rise Boyfriend Fit Jeans
Low-Rise Jeans
Low-rise jeans? They're back, baby. Get into the resurgence with G-Star's slouchy black boyfriend silhouette.
17/25
DL1961 Patti Maternity Jeans
Maternity Jeans
Denim might not seem ideal when pregnant. But trust, DL1961's black maternity jeans are as comfortable as they are fresh-looking.
18/25
Tu Es Mon Tresor The Diamond High-Rise Straight-Leg Jeans
Retro-Inspired Jeans
For a retro-inspired look with a sustainable twist, look to Tu es Mon Tresor's faded straight-leg pair. They take inspiration from the '40s and are woven on a vintage loom.
19/25
L'Agence Oriana High-Rise Straight-Leg Coated Jeans
Coated Jeans
Coated jeans like these work for either day or night—it all comes down to the styling. Wear them with sneakers and oversized button-downs for a more casual look, and pair them with a crop top and heels for a going-out look.
20/25