Marie Claire Editors on Their Cringiest Fashion Choices From the Aughts
That's hot.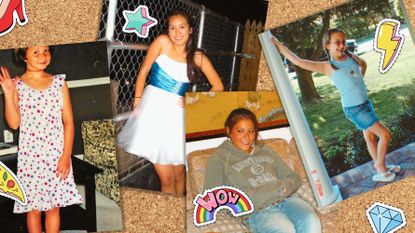 (Image credit: Design By Morgan McMullen and Wanyi Jiang)
Marie Claire Newsletter
Celebrity news, beauty, fashion advice, and fascinating features, delivered straight to your inbox!
Thank you for signing up to Marie Claire. You will receive a verification email shortly.
There was a problem. Please refresh the page and try again.
I've officially been living in my childhood bedroom again for six weeks. Staying safe and staying at home means I'm back with my old roomies (hi, mom and dad!) and to be honest I feel like it's 2006. I'm re-watching Entourage from the beginning, I made a DIY beaded choker, and High School Musical reunited on my television screen (still bitter that Zac Efron didn't sing with the cast but let's not dwell). All of this time spent in my childhood home has me reminiscing about the good ol' days. The early 2000s—better known as the aughts—were a wild time for music, entertainment, and, most importantly, fashion. Let's celebrate the decade that gifted us the "Famewhore Uniform": Juicy Couture tracksuits, fur-lined Ugg boots, and a venti latte from Starbucks. It might not be one of fashion's finest eras, but it sure was entertaining.
Sported by It girls such as Paris Hilton, Nicole Richie, and Lindsay Lohan, the trends of the aughts were as varied as they were (retrospectively) terrible. There was the "going out top," low-rise denim, and trucker hats. We saw dresses over pants, ponchos, and asymmetrical skirts. Don't forget platform flip-flips, mini everything (skirts, bags, dogs), oddly placed belts, and lots and lots of bedazzling. Whew. That was a ride and I left some stuff out.
When one reflects, one might say, "it was a simpler time." Well the beginning of this millennium was not a simpler time; it was a time to be ALIVE. To take you back to those days, I enlisted the help of my fellow MC editors, who have graciously shared their own cringeworthy outfit pics from the aughts. From Myspace to MarieClaire.com, laugh along as we dissect our worst (best?) early 2000s looks. As the Aughts Queen herself once said, "That's Hot."
1/8
Shelby Comroe, Contributing Credits Editor
An ode to the iPod mini: When Apple released the iPod mini it was all the rage, so much so that owning one wasn't enough. I also rocked a tank that featured a bedazzled iPod mini. Of course my outfit would not be complete without my low rise denim mini skirt, which I purchased at my favorite store Limited Too. (RIP.) (Not pictured: My Juicy Couture charm bracelet that was so heavy it practically caused Carpal Tunnel...but SO worth it.)
This look in particular was inspired by a family trip to Los Angeles. I idolized aughts starlets, so L.A. was my mecca. The L.A. girls stomped around Melrose in platform flip-flops, so I had to have platform flip-flops. Except I wasn't a Beverly Hills It girl headed to Kitson, I was a 6th grader going to the Walt Whitman Mall on Long Island. But hey you know what the say, the higher the platform, the closer to heaven right?
2/8
Julia Gall, Accessories Director
This was at my friend Taylor's Sweet 16th Birthday. Judging by the color of my hair I approximate this to be my junior year of high school, circa 2004. This is a lemon yellow Juicy Couture terry dress I got from Smith Bros., a Philadelphia-based clothing store with several outposts near where I grew up in New Jersey. I wore it over a pair of shredded Miss Sixty Jeans that I bought from a random store on Philadelphia's South Street. This was the first and only time I wore a dress over jeans.
I'm holding a mocktail, what I imagine to be a faux Cosmopolitan a la Sex and the City with a wrist full of bracelets: a Tiffany "Return to Tiffany" charm bracelet, a fab Marc by Marc Jacobs charm bracelet, and a Nomination bracelet. I cropped out the rest of the group but we are in a rainbow of Juicy Couture. What a time!! I think this dress still lives at my parents house, perhaps I'll break it out for the summer. It's still cute.
3/8
Wanyi Jiang, Design Director
This look was for a story for "Summer Outfit Ideas" when I was working at Glamour mag. I'm sorry, was I a horse?! Those are fringe SUEDE ankle boots in 70º weather! I'm wearing LEATHER SHORTS. A purple zebra scarf? I thought I was emulating Kate Moss, but really I'm much more a Kate Mess. Bye.
4/8
Sara Holzman, Fashion Features Associate
If I wasn't sporting a Michael Stars tee or a Juicy Couture zip-up, I was wearing low slung jeans and an Abercrombie & Fitch top or sweatshirt, including the cringe-worthy popped-collar polos the company convinced us all to layer in pairs. It was the early 2000s, which unfortunately means that butterfly clips, trucker hats, and North Face puffy vests were also mainstays in my closet.
5/8
Marina Liao, Fashion News Editor
Here i am in my high school prom dress circa 2009. I remember it being really difficult to find a dress from Macy's juniors section that flattered my small chest and didn't require shortening the hemline. (This was before I discovered online shopping and believed Macy's to be the only place to buy a fancy dress!) Hence, I walked away with this poufy white tulle mini dress with blue ruching. I don't remember the brand and I definitely wasn't in love with the dress, but figured it was the best I could do.
When prom night finally came, I found out one of my best friends wore an equally poufy minidress that was yellow and black. As we were taking photos, one of our classmates said to us, and I will never forget this, "You guys look like the sugar plum fairies!" I wasn't sure whether to take that as a compliment or not. Every time I look back at this dress, I cringe at the extra-ness of it all.
6/8
Danielle McNally, Deputy Editor
Judging from my poorly executed sweepy side bangs, this photo must be circa 2005, a dark time for my wardrobe. Of course, at the time I thought I looked great. This is actually a dress, and the skirt portion of it was all the rage: low on the hips and flouncy. I owned several skirts in this style. Since the top is fitted (it was some sort of stretchy cotton, if I recall), I'm not sure how—with my celery-shaped figure—it was supposed to be flattering. As I've matured, I've realized that I need clothing that gives me a waist. Anyway, naturally, I paired this dress with a cropped sweater (another early-00s staple), despite the fact that this picture was definitely taken in the summer in Florida. (I guess that's why I didn't need longer sleeves?) And to complete the look, a pair of kitten-heeled thong sandals. My hometown bestie and I are seen here doing "The Elaine" from Seinfeld, and I have to say, our dance moves might actually be better than this outfit.
7/8
Bianca Rodriguez, Editorial Fellow
The year was 2011, and I just had an awakening watching Aaron-Taylor Johnson in Angus, Thongs and Perfect Snogging, hence the T-Shirt. I 100-percent wore this outfit to school that day and probably thought I was hot shit "matching it" with the TOMS I scored from Whole Foods. This outfit definitely contributed to my campaign for not winning best dressed, I'm sure of it.
8/8
Taylor Ayers, Fashion Assistant
This was my favorite dress of all time. I literally wore it everywhere. To every event possible. Another thing to note here was my obsessions with tattoo chokers, I had them in a million different colors and wore them with every outfit.
•••
For more stories like this, including celebrity news, beauty and fashion advice, savvy political commentary, and fascinating features, sign up for the Marie Claire newsletter.
Celebrity news, beauty, fashion advice, and fascinating features, delivered straight to your inbox!
Shelby Comroe is the Credits Editor and Fashion Assistant at Marie Claire covering all things fashion and giving credit where credit is due. Check her out @shelbycomroe on Instagram if buying designer handbags is your idea of a retirement plan!