Monique Lhuillier Makes Every Day Magical for Moms
The Creative Director and mother of two behind the iconic brand finds inspiration from life's most special moments.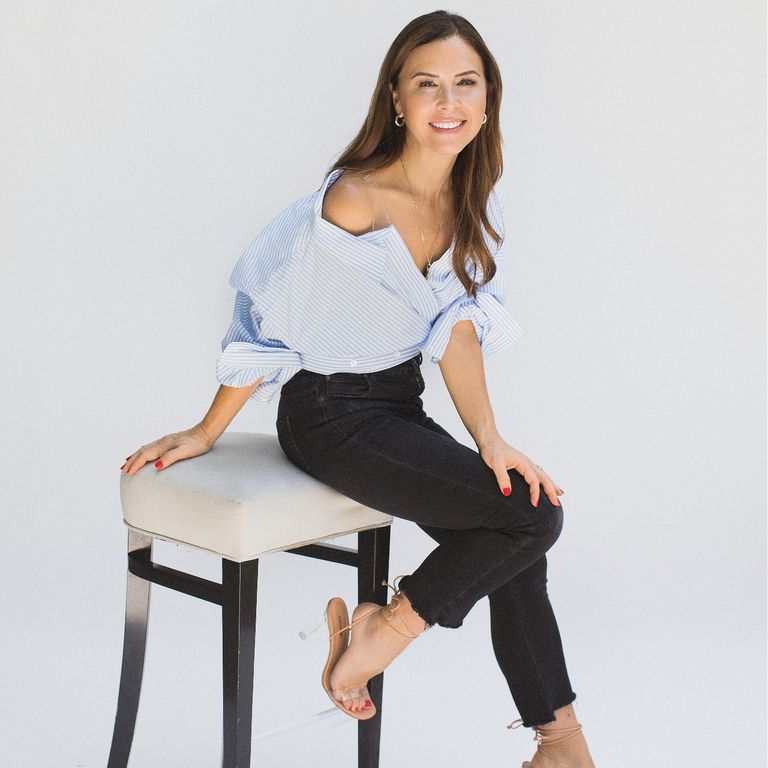 (Image credit: Courtesy)
There are certain things that just feel sophisticated. Think: Gorgeous dresses, chic footwear, crisp linens, classic table settings, fresh floral scents, elegant jewelry—items that are effortlessly beautiful. That's the feeling Monique Lhuillier's designs inspire—a graceful, relaxed elegance that is made for life's everyday moments. This Mother's Day, Monique Lhuillier is here to commemorate all the milestones you've already hit—and the amazing ones yet to come.
While Monique Lhuillier may be renowned for her dreamy bridal gowns, the co-founder and Creative Director embraces the idea that every chapter of your life story deserves a celebration. It's a spirit her fashion designs have always exemplified: "Our ready-to-wear and accessories reflect a modern femininity that is at the core of the brand," Lhuillier says. "I love dressing women from head to toe, allowing them to feel beautiful and confident on their journey."
For many moms, that journey starts with the ring—which is why Monique Lhuillier partnered with Kay Jewelers to design Monique Lhuillier Bliss, a collection of swooningly romantic engagement rings and diamond bands. Inspired by the delicate floral designs found in her bridal creations, each piece is elegant and unique—just like the bride-to-be. After the wedding, diamond bands are the perfect gift to commemorate milestone moments in a mom's life, from anniversaries to the birth of a child.
True to her brand, florals are Lhuillier's North Star. Her signature fragrance is a delicate, fresh floral that's bright and airy, with notes of Sicilian bergamot, freesia, and lily of the valley (Monique's favorite flower). "Everything I do has a floral inspiration to it," Lhuillier says. "What I hope to do with fragrance is what I do with my dresses, which is to make women dream." A great gift for mom, Monique Lhuillier's Eau de Parfum evokes beauty and confidence—not only for special occasions, but every day.
As a mom, Monique Lhuillier recognizes that home should be a sanctuary for your family and friends. As a result, her home decor partnerships, like all of her designs, celebrates every stage of life. Lhuillier's debut collection with Pottery Barn Kids—inspired by her own experience decorating rooms for her two children, Jack and Sophia—creates serene, magical nurseries and bedrooms. This season's rosette baby quilt, inspired by Lhuillier's Secret Garden gown - will be cherished by your little one. As her children are now approaching their teens, Lhuillier's latest partnership with Pottery Barn Teen was a natural progression, infusing fashion with a sense of modernity and self-expression. The stylish metallic stardust bedding is whimsical fashion at its finest.
And for the rest of the home, Monique Lhuillier's Pottery Barn collection exudes relaxed elegance, making it ideal for gifting and celebrations like Mother's Day, wedding showers, and birthdays. Whether you're hosting guests like a goddess or setting up a serene evening with your loved ones, Lhuillier's products—like the sophisticatedly chic footed champagne bucket and etched champagne flutes (featuring lily-of-the-valley, of course)—will make your home feel fresh, luxurious, and truly elevated.
Monique Lhuillier's designs instill magic into everyday moments, while joyfully embracing the big milestones, too. The brand's many collections are made to inspire every aspect of your well-lived life, so you can focus on living it.
Start your next journey by following Monique Lhuillier on Facebook and on Instagram at @moniquelhuillier, and visiting moniquelhuillier.com