I Wore a Red Carpet Gown in Real Life for an Entire Week
A meditation on train management, the Wine Bag Effect, and why no one talked to me.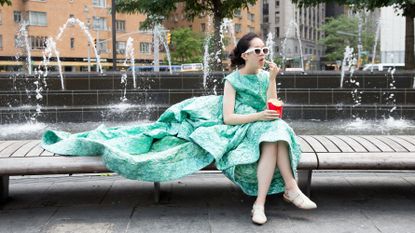 (Image credit: Marie Claire)
If I kept a diary, the entries from the past five days would, on the surface, seem normal. Meetings. Writing about Beyoncé. Frowning at people on the subway who think it's acceptable to lean on the pole. But if this were a *movie*, a montage would begin, and the camera would pan down to show what I was wearing while I did those things: a Christian Siriano Spring 2015 drop-waist gown in the silveriest green jacquard—with a 5-foot-long train. The ultimate all-day morning-after.
To entertain the internet, Kenny Thapoung, Marie Claire's social media editor and chief pain in the ass (love you!), was like, "Why don't we have someone wear a Serious Red-Carpet Dress for a week? It'll be fun!" And because I once dressed like Mark Zuckerberg and clearly have not suffered enough, I made some kind of vaguely affirmative noise the rest of the team took as a yes.
But the dress, guys. The dress!
We knew we wanted Christian Siriano because 1) all the celebrities, including Rihanna, Solange, and Coco Rocha, wear his stuff 2) his designs are the epitome of glam and 3) have you *seen* his work?
This gown in particular was perfect for the experiment, with its super-chic bateau neck, high-low hemline (my left arm will hereafter assume a slightly bent shape from carrying the back, kind of like how Eddie Redmayne's face was never the same after he played Stephen Hawking), and THE POCKETS. Reminder: I had to wear it everywhere while keeping it clean/snag-free/off the disease-ridden sidewalk, so pockets acted as a built-in place to put my metro card, emergency Gushers, and cash, and I was like 🙌.
Did I mention it's also *magical?* Like Gillian Flynn's wine-bag purse, it "creates a festive atmosphere." It instantly transforms you into Somebody with Somewhere Exciting to Go, and people—I know this is true because they told me—like to imagine your fancy life and the fiancé (HAHAHA) you're meeting for your rehearsal dinner at a meticulously restored 19th-century bank or whatever. Some other abnormal behaviors I observed:
Offering me a seat on the subway even though I am not elderly, pregnant, or visibly sick (twice)
Otherwise giving me a wide berth on the subway (all the time, except rush hour)
Open staring (4,972,613,620 times)
Taking my photo, presumably for Snapchat (approximately three times—that I could see)
Comparing me to a mermaid (three times)
Saying "congratulations" (once)
I didn't doubt it before, but I've never felt the personality-altering power of clothing so acutely as I did this week. For one thing, you simply cannot have poor posture in a fitted bodice, and for another, a bustle makes your butt protrude so you might as well go with it and stick your chest out for balance. I learned the art of skirt manipulation: By varying the speed/force/angle of the swish, you can convey attitudes ranging from sassy to prima donna to "to hell with you and your hypocritical chore charts." I ate a microwave dinner for contrast one night, and it felt very editorial. And I thought about not just owning the dress but owning the space because that skirt is like permanent manspreading. (Life lesson: Don't apologize when people have to step over your train. They should.)
But in the end, what it gave me the most was *feels*—essentially, profound sadness that the smiles, the frivolity, and, yes, the attention would have to end. My expectations of fielding questions and date offers left and right might have been…irrational, but outside of events and work, no one really said anything to me beyond one or two passing "nice dress"es.
We only meet 1,000 people in our lifetimes, so if we don't even talk to them when they put themselves in a situation specifically invented for "ASK ME ABOUT THIS WEIRD THING PLEASE," when do we go up to them? How many meaningful interactions are we missing out on because we made assumptions or weren't brave enough?
In this way, the dress didn't make me feel more different from anyone else. Everybody wants to be acknowledged. Everybody wants people to come to them. A ball gown makes the first part simpler, but for bridging the gap, it's pretty useless.
So the next time you see a girl in a Christian Siriano Spring 2015 drop-waist gown, don't be scared to ask her what she's doing. She'll be happy she had the chance to tell someone—before the clock strikes 12 and she has to give it back.
Celebrity news, beauty, fashion advice, and fascinating features, delivered straight to your inbox!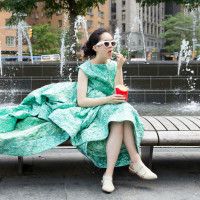 Chelsea Peng is a writer and editor who was formerly the assistant editor at MarieClaire.com. She's also worked for The Strategist and Refinery29, and is a graduate of Northwestern University. On her tombstone, she would like a GIF of herself that's better than the one that already exists on the Internet and a free fro-yo machine. Besides frozen dairy products, she's into pirates, carbs, Balzac, and snacking so hard she has to go lie down.