Kim Kardashian Rocks a Gucci Pantsuit Without a Top in L.A.
Okay Kim, we see you.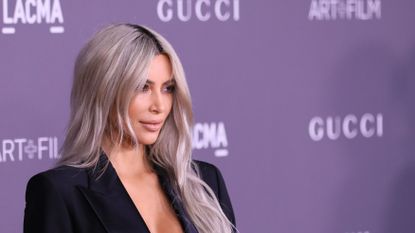 (Image credit: Getty Images)
Roll your eyes all you like, but Kim Kardashian is schooling us all when it comes to street style. The globe-strutting reality star never steps out without immaculate tailoring and head-to-toe styling that hits every trend on the head—no small feat when time is money (and lots of it). Here, find every instance when Kardashian takes to the streets as if it's Paris Fashion Week year-round.
1/94
November 4, 2017
Kim rocked a black Gucci pantsuit, foregoing a top underneath, at the 2017 LACMA Art + Film Gala in L.A.
2/94
November 2, 2017
Kardashian shows off her curves in a crop top and skin-tight midi skirt at Jimmy Kimmel Live in L.A.
3/94
September 9, 2017
Kim spotted in a blazer and shorts in NYC.
4/94
September 9, 2017
Kim wears a button-down, shorts, and fanny pack in NYC.
5/94
September 8, 2017
Kim seen in a three quarter sleeve crop top with a white midi skirt and fanny pack in NYC.
6/94
September 7, 2017
Kardashian rocks a bodycon cut-out dress in NYC.
7/94
September 6, 2017
Kim wears a strapless leather dress during NYFW in NYC.
8/94
July 11, 2017
Kim wore a sheer bra, blue velvet leggings, and a blazer while out in NYC.
9/94
June 13, 2017
Kim sports (pun fully intended) sweatpants, a white cami, and matching white sneakers while walking around NYC.
10/94
May 15, 2017
She stepped out in a Chalayan jumpsuit and tall boots for an NBC Universal event with sister Khloé.
11/94
May 11, 2017
With color-coordinated entourage in tow, she and North West visited the Museum of Ice Cream, both wearing slip dresses: hers body-con and accessorized with layered necklaces and strappy heels, North's over a black T-shirt.
12/94
May 8, 2017
For lunch with Jonathan Cheban, she paired a leather off-the-shoulder top with a leather mini. Nude strappy sandals and those tiny sunglasses (THEY'RE COMING) completed the look.
13/94
April 26, 2017
Kim K was spotted on her girls' vacation in Mexico baring her ASSets in a black thong and cropped muscle tee. She flashed the photogs a smile behind a pair of mirrored silver sunnies. All we can say is—dang.
14/94
April 24, 2017
Kim spent some quality gal time on the beach in Mexico, donning this incredible bikini from Dior that showed off her we-can't-believe-it curves. She paired the two-piece with oversized gold hoops and a pair of funky shades.
15/94
March 11, 2017
Onstage at the Family Equality Council's Impact Awards at the Beverly Wilshire Hotel in Beverly Hills, California, Kim wore this form-fitting white dress and a lip ring.
16/94
March 2, 2017
Leaving a dinner with friends at the Hollywood restaurant Craigs, Kim steps out in this daring pinstripe dress with a black bandeau underneath. She threw on a oversized clack puffy coat and pointed-toe boots to complete the look.
17/94
February 22, 2017
For lunch in L.A., she combines a corset top with Yeezy Season 4 sweats, boots, a puffer coat, and an Hermès Kelly bag.
18/94
February 14, 2017
She heads out for the day in New York city wearing a Jacquemus blazer dress and patent boots.
19/94
February 14, 2017
Then, for a Valentine's Day dinner at Carbone with husband Kanye West, she changes into a velvet slit skirt, bandeau, and moto-detail puffer jacket that coordinates with his casual, muted look.
20/94
February 13, 2017
After a quick change, Kardashian heads out for the night in satin-finish trousers, cropped cardigan, and puffer jacket worn the fashion-girl way.
21/94
February 13, 2017
She arrives at her New York apartment in sweats, Yeezys, and a full-length fur coat.February 13, 2017
22/94
January 18, 2017
Kim stepped out for lunch date with Kanye in Los Angeles wearing ripped jeans and a plaid flannel over a white tee. Her new lip ring was on display, as was a gold necklace and a pair of lace up ankle booties.
23/94
January 11, 2017
Kim shows off some new bling as she slowly returns to the spotlight: a lip ring and a simple, low-key wedding band. The reality mogul arrived at LAX wearing a black and red tracksuit with heeled booties and *extremely* oversized sunglasses.
24/94
January 16, 2017
Major cameo alert! Kim and Kendall were spotted on the set of Ocean's Eight in New York. Kim wore a sheer dress with white detailing and a furry coat to film her appearance.
25/94
October 2, 2016
Kim turned heads at the Givenchy show at Paris Fashion Week in this sheer white lace dress and barely-there makeup.
26/94
September 29, 2016
Kim showed off her killer bod in a black mesh halter dress with a matching jacket at the Balmain show during Paris Fashion Week. With sleek, straight hair and minimal accessories, Kimmy let her outfit do *all* the talking.
27/94
September 28, 2016
Kim goes for an all-black sheer ensemble with strappy nude heels while out and about in Paris.
28/94
September 23, 2016
Kim wore this body-hugging dress to a friend's wedding in Simi Valley, California.
29/94
September 6, 2017
Heading out for the night in NYC, she left little to the imagination in a see-through, silver bodycon mini-dress and thigh-high silver boots.
30/94
September 6, 2016
Out and about during NYFW, she wore an oversized Life of Pablo denim jacket, jorts, a Karma El Khalil choker, and see-through, thigh-high boots to brave the rain.
31/94
September 2, 2016
On a mother-daughter day out with North West in New York City, Kim K wore this form-fitting, all-white ensemble.
32/94
September 1, 2016
While indulging in what is most likely her first cheat day since relentlessly working on her post-second-baby bod, Kim K wore a low-cut bodysuit tucked into denim cut-offs with an oversized Yeezy bomber.
33/94
August 29, 2016
Out on a date with her husband Kanye in NYC, Kardashian took us back to the early 00's in a white henley shirt and distressed mini-skirt. However, she took things back to 2016 by layering on a muted pink duster coat.
34/94
July 22, 2016
Kim Kardashian revealed to People she's officially hit her goal weight after months of working out since giving birth to Saint. To show off the results of her efforts, the reality star stepped out at MGM Grand's Hakkasan nightclub in Las Vegas on Friday wearing a vintage strapless John Galliano dress that hugged her hourglass figure in all the right places.
35/94
July 21, 2016
Keeping her corset-over-a-T-shirt-game strong, she layered a bondage-inspired leather waist-cincher over a Life of Pablo long-sleeved shirt, wearing it as a dress.
36/94
July 16, 2016
Kim Kardashian took the Hamptons this weekend to host the 'Revolve in the Hamptons' party. The reality mogul eschewed the East End's standard beachy style in favor of a fitted nude mini dress by Trois x Revolve, paired with thigh-high denim Yeezy boots.
37/94
June 13, 2016
After jetting off to Paris, Kardashian returned to L.A. and looked the part in a white tank top and matching distressed jeans, paired with a beige duster coat and strappy sandals.
38/94
June 13, 2016
Flying to Paris in advance of North West's third birthday, she slipped her curves into what may be her tightest dress ever: A flesh-toned, bodycon maxi. She paired it with a matching duster cardigan and open-toe boots.
39/94
June 3, 2016
Recently Kim shared her workout routine on Snapchat and clearly it's paying off. The reality star was spotted leaving the Keeping Up with the Kardashians production studio in LA showing off her newly-26-inch waist in a skin-tight, flesh-toned dress and clear Yeezy heels.
40/94
June 1, 2016
Headed to a movie theater last night in Encino, Kardashian kept things fancy in a metallic silver-and-gold bodycon dress and strappy see-through sandals.
41/94
May 23, 2016
For a lunch date in London with sister Kendall, Kim donned an ultra body-hugging slip dress with sheer overlay, pairing the LBD with not strappy heels, but green, lace-up suede boots.
42/94
May 21, 2016
Kim Kardashian is 100 percent into the '90s fashion revival that's happening right now.—maybe a little too into it. The reality star stepped out in London today wearing practically every trend the decade had to offer, all in a single outfit. She's got the choker, the sporty bomber, the slip dress... All that's missing is some denim and a swipe of frosty eyeshadow and she's reached peak throwback.
43/94
May 21, 2016
Kim Kardashian was the picture of glamour at an event in London, wearing a glitzy blush pink dress and strappy sandals. Plus, we love the departure from her usual earth-toned and black wardrobe.
44/94
May 16, 2016
To receive her Webby Award, Kim opted for an asymmetrical, thigh-split black Vivienne Westwood dress to show off her curves. She paired the LBD with matching strappy sandals.
45/94
May 12, 2016
There she goes, Miss "I Only Wear Brown," leaving a studio in Van Nuys in a bodysuit, pencil skirt, camo bomber, and lace-up boots.
46/94
May 11, 2016
For lunch with Scott Disick (haha), she chose a bodysuit, Alpha Industries bomber, and thigh-high Tony Bianco boots she couldn't possibly have put on solo.
47/94
May 5, 2016
While visiting Cuba, she rocked an off-the-shoulder ruffly white top paired with a matching bodycon skirt. She accessorized with strappy denim heels, to complement Yeezy no doubt.
48/94
April 27, 2016
While filming Keep Up With the Kardashians, she looked decidedly chic in a not-your-grandma's-style floral robe paired with a sheer paneled nude turtleneck, bodycon midi skirt, and strappy sandals.
49/94
March 28, 2016
So THAT's what Kanye West has been cloaking under all those layers! His biceps stole the show, but his all-black ensemble matched perfectly his wife's bodycon tank top, high-waisted embroidered skirt, and coat worn on the shoulders.
50/94
March 23, 2016
If the Kardashian-Jenner Snapchats are any indication, they got matchy-matchy in all-black ensembles at Justin Bieber's star-studded show in L.A.. Always one for a bodycon silhouette, Kimmy herself sported a sheer turtleneck top, bra top, and a high-waisted midi skirt.
51/94
March 20, 2016
At a dinner in honor of the 2016 Daily Front Row Fashion Awards in L.A., Kardashian showed off her fresh new ombré with a long-sleeved, sequin midi dress and strappy sandals.
52/94
February 9, 2016
Hitting husband Kanye West's album release party at Electric Lady Studios in NYC, Kardashian showed off her post-baby physique in a black catsuit topped with a sumptuous fur-trimmed coat worn on the shoulders.
53/94
September 28, 2015
Proud of her ever-growing belly, the Queen of Naked Dressing continued to dress unseasonably covered up, yet skintight for California's indian summer temps. This time around, she opted for a peachy nude look comprised of a shawl coat, see-through fishnet top, bodycon midi skirt, and streamlined sandals. And because of course, she had a nude lip to match her monochrome outfit.
54/94
September 18, 2015
Kim Kardashian has been wearing oddly unseasonable outfits all summer long (click to the next slide to see her choice for an 80-degree day), and her latest is no exception. The dramatic plunge and major cleavage aside, we don't know whether we're more confused about her decision to wear tights in September or to wear tights with strappy sandals.
55/94
September 15, 2015
Every so casually, she struts around in a long fur coat, Pink Floyd T-shirt, and thigh-high boots.
56/94
September 11, 2015
Clad in a completely sheer Givenchy gown, the reality star showed off her baby bump as she attended the designer's Spring 2016 fashion show.
57/94
September 10, 2015
While wearing a monochrome Givenchy outfit, Kardashian gives us a preview of the new thigh-high, toeless sock boots designed by Yeezy.
58/94
September 8, 2015
Despite it being 90 degrees out, she goes gothic in a velvet blazer, sheet turtleneck, midi skirt, and leather boots.
59/94
September 6, 2015
Kim attended the wedding of music exec Steve Stout in a black Valentino cape gown and sparkling choker necklace.
60/94
August 4, 2015
While strutting through the airport, she layers a long, breezy white button-up over a matching bodycon dress.
61/94
August 3, 2015
En route to New Orleans, she tops off a nude bra top and bodycon midi skirt with a brown leather jacket.
62/94
July 24, 2015
At the LACMA event in Los Angeles, Kim put her baby bump on display like never before in a sheer black jumpsuit and long jacket.
63/94
July 19, 2015
In LAX Airport, she layers a silky black trench over a black ribbed tank top, high-waisted pencil skirt, and lace-up heels.
64/94
July 13, 2015
For dinner in West Hollywood, she brought the drama—and maybe the wardrobe malfunction?—in a Maison Martin Margiela tuxedo jacket with a nude bra underneath (visibility intention: unsure), Proenza Schouler fringe skirt, and strappy, lace-up Tom Ford sandals.
65/94
June 30th, 2015
In San Fransisco, Kardashian opts for a clingy black turtleneck dress with cut-outs on the shoulders and strappy black sandals.
66/94
June 27, 2015
In London, she wears a Maison Martin Margiela bodysuit, Woldford covertible skirt, and a silky Haider Ackerman trench. But the best part of her outfit is no doubt her Giuseppe Zanotti x Kanye West sandals.
67/94
June 26, 2015
While leaving a hotel in London, Kardashian shows off her curves in a black halter top and a fit-and-flare Givenchy ruffled skirt with peplum detail. She finishes off the look with strappy, see-through Manolo Blahnik sandals.
68/94
June 24, 2015
She goes the bra and high-waisted panty route yet again with a Laquan Smith mock neck maxi lace dress at the Daily Mail Yacht Cruise party.
69/94
June 24, 2015
As one of the speakers at the annual Cannes Lions creativity conference, she wore a floor-length, black and gold striped Balmain Fall 2015 jacket on the shoulders, matching wide-leg pants, and a fitted black tank top.
70/94
June 22, 2015
Kardashian covers up at the airport in black sunglasses and an oversized army green trench coat—to fight the amped-up, airplane air conditioning, no doubt.
71/94
June 16, 2015
While leaving the Dash store in L.A., she wears a nude fringed top and skirt by Magda Butryum and a R13 Oversize Truckerdenim jacket that costs an eye-watering $745.
72/94
June 14, 2015
For an event at the Armenian Bar Association, Kardashian recycles a soft pink silk Lanvin gown that she'd previously worn to a wedding back in October. This time around, she dresses it down with a matching trench coat.
73/94
June 12, 2015
She shows off her curves and newly-minted baby bump in a gray, form-fitting dress and brown sandals.
74/94
June 9, 2015
Here is Kim Kardashian carrying a slate Givenchy bag and, possibly, a male child. She also ate a sandwich in this outfit.
75/94
June 2, 2015
Arriving at LAX, she looks fierce in a Faith Connexion green rib tank dress, an army jacket worn on the shoulders, and nude sandals. We call this look "G.I. Kim."
76/94
May 31, 2015
Her first look since announcing she's pregnant with her second child, she went monochrome with a light gray look boasting a long shawl coat, spandex playsuit, and suede heels.
77/94
May 21, 2015
Kardashian and North West step out in matching, badass leather biker jackets. Kim pairs hers with sleek black leggings and high-tops, while her mini-me opts for a black tutu.
78/94
May 13 and May 14, 2015
It would seem Kardashian's really turning over a new leaf, as *yet again* she's worn the same outfit two days in a row. She's continuing her white winning streak (and anti-lazy-airport style world tour) in this body-hugging, ribbed tank dress, denim jacket, and alternating nude heels.
79/94
May 11 and 12, 2015
It's true: Kim Kardashian wore a body-hugging LBD from her Kim Kardashian West for C&A clothing line at the launch event in Brazil, then arrived at the airport in Los Angeles the next day wearing the very same look.
80/94
May 9, 2015
Upon arrival at LAX airport, she dons a second-skin white top and maxi skirt with a blazer.
81/94
May 5, 2015
This Christian Dior Spring 2015 lace turtleneck and high-waisted button skirt perfectly suited her curvaceous frame while heading to an event in NYC.
82/94
April 30, 2015
Killing it in a Balmain Spring 2014 sheer pleated skirt and tuxedo blazer upon arrival at Jimmy Kimmel Live! in Los Angeles.
83/94
April 24, 2015
This ivory Narciso Rodriguez Fall 2015 long vest, sheer top, and high-waisted trousers look is decidedly chic outside an event in NYC. She tops off her outfit with Giambattista Valli shoes and an Olympia Le Tan Clutch.
84/94
April 22, 2015
While traipsing around NYC, she sports an A.L.C. Fall 2015 brown turtleneck and mustard-hued pin skirt with a brown coat.
85/94
April 15, 2015
In Paris, she struts her stuff in a strapless crop top and draped skirt combination with a coat worn on the shoulders. (Chic.)
86/94
April 14, 2015
While shopping in Paris, she shows off some skin in a denim bra top, high-waisted skirt, long brown coat, and Alexander Wang ankle-strap heels.
87/94
April 7, 2015
Dressing for comfort but not sacrificing style, she's at ease in an ultra-long cardigan sweater, white tank, distressed white denim, and ankle-tie heels at the airport.
88/94
March 10, 2015
She opts for a plunging, studded jumpsuit with over-the-knee Givenchy boots and a sharp jacket on the shoulders in Paris.
89/94
March 9, 2015
Proving she's always got a trick up her sleeve, she flaunts a custom Givenchy Fall 2015 menswear look while shopping in Paris.
90/94
March 8, 2015
Channeling a kick-ass superhero, she steps out with her super-bleached blonde hair while wearing a plunging, lace-up Givenchy look (in Paris, because of course).
91/94
March 7, 2015
She proves an oversized, pink cropped fur jacket and Atsuko Kudo Couture latex leggings are a proper Parisian uniform.
92/94
March 5, 2015
During Paris Fashion Week, she hits the streets in a black-on-black by way of a boxy, velvet tuxedo blazer, LBD, tights, and pumps.
93/94
February 15, 2015
For an evening out in New York City, she looks to this silk, shawl-collar black blazer and pleated maxi dress.
94/94
February 10, 2015
Off to an event in New York City, she wears a soft pink, fur-collared coat over a strapless white crop top and body-hugging skirt combination.
Marie Claire email subscribers get intel on fashion and beauty trends, hot-off-the-press celebrity news, and more. Sign up here.