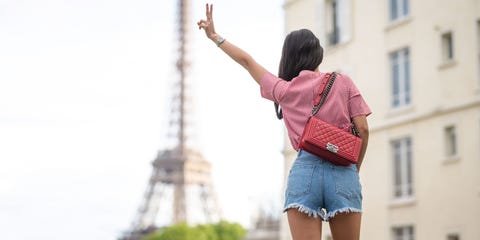 DIYs can lead to jagged edges and one leg ending up longer than the other until you end up with denim diapers trying to even them out. Store-bought, though safer, doesn't guarantee 100 percent satisfaction either, with the risk of weird crotches and pre-rolled hems. The search for the perfect cutoff jean shorts never ends—except here, with these 10 pairs, it just might.
Just call this guy Goldilocks: not too tight, not too short, with a just-right broken-in feel and wash.
Black Orchid, $154; blackorchid.com.
As with everything else the French brand produces, these are the platonic ideal. So for once in your life, try not to drip hot dog juice onto the bleached denim.
APC, $130; net-a-porter.com.
Also v. French with the high rise and symmetry, but in a more relaxed Bardot way. (Though you wouldn't want to get melted fior di latte on these either.)
Aritzia, $65; aritzia.com.
Meanwhile, back in the good ol' US of A, we've got these acid-dripped, exposed-button-fly Bombshell shorts.
Good American, $155; goodamerican.com.
Or these highly classic, darker-wash ones that come pre-turned-up.
J.Crew, $80; jcrew.com.
Okay, adding awnings to a preexisting pair is probably too difficult.
Mango, $50; shop.mango.com.