Small Business Spotlight: Dāl The Label
With her minimalist label, Dana Mortada brings Lebanese elegance to American workwear.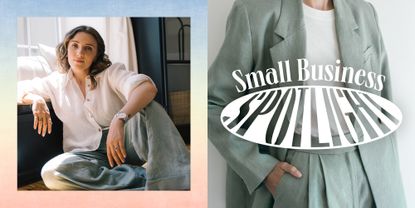 (Image credit: Future)
Women running their own companies? We love to see it. In our series Small Business Spotlight, we chat with independent fashion entrepreneurs about their journey to be-your-own-boss status. Here, tips for raising funds, developing a marketing strategy, navigating social media, and more—straight from women who have done it themselves.
---
Dana Mortada is a woman who's worn many hats over the course of her career. After earning degrees in psychology, media, and fashion, she jumped head-first into fashion journalism. "I was working at a couple of fashion magazines in Dubai," she recounts. "I was hopping from every place to place, but I've always had my foot in fashion somehow." While living in Dubai, Mortada served as fashion director at luxury Dubai-based magazine A&E, in addition to stints at publications like Aïshti and Marie Claire Arabia.
Still, the idea of starting her own label loomed in the back of Mortada's mind. "As I was meeting different people along the way, I've always had Dāl back in my mind," she says. "Seven years ago, I came up with the name, and I had mood boards. I was like, 'Okay this is what I want.' But I never actually pulled the trigger because it's really, really tough, and I wasn't settled."
It wasn't until 2021, after she'd met her husband and moved to California with him, that Mortada decided to finally pull that trigger, coining the brand with the name that'd lingered in her psyche for so long.
"Dāl is basically the letter D in Arabic," she explains, saying that Dāl the Label serves as both an acknowledgment of her first name and an homage to her Lebanese heritage.
"I've always wanted something Arabic to represent my Arab culture and to be part of the label," she says. The challenge, however, was how to consciously nod to Arab motifs without feeding into Orientalist notions of the Middle East and of Arab style. "A lot of people would say, 'Oh, it's super modern, it's not Oriental—but it doesn't have to be. Our styles, yes, are very minimal, but a lot of it is really focused on the detail and the finesse of every single piece. When you say Oriental or Arab, people strictly think of an abaya or something like that. But Beirut was actually named the Paris of the Middle East, and it's very modern. Some of the best couturiers were actually born in Lebanon—Elie Saab, Zuhair Murad, you name it. It's in their blood."
And through her chic, highly wearable designs, Mortada successfully creates a modern capsule wardrobe for any and every woman. With tailored fits, puffed sleeves, sharp collars, and other unique touches, Dāl the Label takes workday essentials and makes them fun and feminine while subverting the expectations of what it means to be an Arab-American clothing brand. Mortada's secrets to success? Perseverance, self-confidence, and a whole lot of community.
On Honoring Culture Through Design
We don't work with big production, and that's how the system works, actually, in Lebanon as well. I've worked with a couple of designers there, and I still work with them, and they are small batch, made-to-order designs with smaller ateliers. But my main focus about how Lebanon influences me has to do with the fact that I'm Muslim and I'm from the Middle East, and we are very conservative when it comes to clothing. So, all my life, I've been told not to show my shoulders, that I can't show cleavage, and whatnot. I've always had that in the back of my brain that this is how I dress. Obviously, after growing older and evolving into the woman I am today, and after becoming a mother, I realized that while I have a sense of style, I still try to go for oversized pieces and more comfort, but I'm attracted to a fitted, high-quality look.
And I think that's what Dāl is today. A lot of our pieces are pretty conservative, but you can still wear them in a sexy way. Our silk dresses are a little sheer, and they have a nice neckline that has a very feminine touch to it. They're accentuated around the bust area, are cinched like a corset, but are still very comfortable. You can do a lot of movement. We're focused on being comfortable, but still elegant and sophisticated—just not overly showing off your skin. And that's basically how I would want to keep going with it.
Something else I brought in from Lebanon is the technique of actually creating a garment that's fully tailored. Tailoring is very, very important to us.
On Sustainability
Sustainability starts with really keeping everything local, and that's something that we're doing to reduce our garment footprint for sure. The majority of our fabrics are actually sourced from LA. We also work with smaller workshops, like I mentioned, that work with lower minimums, because with some of our pieces, we decide to do only 30 to 60 pieces, or 50 pieces. And then sustainability comes down to the fabric choice as well. That's something that that's the most important to us, so we work with a lot of natural fibers. We don't have any polyester included in any of our styles.
On Finding the Right Partners
We work very closely with everyone that we partner with. I know them by the name. I'm very focused on that: I know who's working on my blazers, I know who's going to be working on my knits. So we have a couple of the workshops that we work with and we know them by the name and they're very small. It was a lot of trial and error, but it's just finding those right partners. You just need to talk to a lot of people, meet a lot of people, keep asking questions, and do a lot of research.
I was setting up appointments every day, just hopping from showroom to showroom to fabric store to vendors. I had to go there and meet them. I did some test samples, didn't love it, I had to move to another just to try to perfect it. To this day, we're perfecting and perfecting. It's always just a matter of research and a lot of legwork, for sure.
And we're definitely investing in PR, and hopefully we're going to be taking part in a lot of partnerships and different collaborations as well.
On Overcoming Imposter Syndrome
One struggle has been self-doubt—thinking that you're a fraud, or not good enough for this. But my support system is really helpful, which is why I think knowing who you work with is number one when you're building a business. Obviously you're going to hit a lot of roadblocks, a lot of hills that are going to make you feel like, "Oh, this is impossible. I'm not cut out for this." And there's a lot of failure, but I think failure is good. It has to happen in order for you to keep going.
On Funding
Our business is funded from our small family—my husband and I. We honestly didn't want to have any loans we'd need to pay interest on, which was part of it. And we really just had a long-term plan. In 2018, we sat down and we talked about our financials and what could be done, and we just split it up and made sure that we could survive for at least five years. That's our goal to keep it going, and after that, we'll see. We're really good with our financials, and we also don't want any extra influences. As a small business, we like to keep it very tight-knit and to make all of the decisions ourselves. And then if it grows—and we hope it will—we'll see what happens then.
On Perserverence
You have to face the hardships no matter what, so you can't be afraid of them. Things are hard and life is hard, so you just need to keep pushing. You need to keep going, and don't look back because whatever is hard right now is going to seem so easy down the line.
On Social Media
We cannot turn off social media, because we have to be present to grow our organic audience. I think that's the most important. Everyone is on there, so you really can't turn off, unfortunately. It's such a good marketing tool, and I think it made it so much easier for people like me to get out there and grow my organic community— And community is very important for Dāl as well, so that's what we're trying to grow. That's mostly where our audience is coming from, so we're investing in Meta. I also think that it makes you more credible, anyway, to just have beautiful pictures, beautiful captions, and to grow your audience that way.
Still, the presence of social media is so much harder on a business owner because you're always comparing yourself. You're always saying, "Oh, he did that. They did that. Oh my God, I'm so behind. They're doing this, they're doing that." Last summer, I was finally like, "You know what? I'm really going to not look at anyone's profile." It's easier said than done, but I decided to just run my social media from my laptop, because I don't want to look on my phone anymore. It really messes you up when you're working on something and are then like, "Oh no, there's something better out there." It's good to look for inspiration and all that, but you definitely can't let it get in your way.
On What's Next
We're working on a couple of unique partnerships with people, whether they're in the home space, the decor space, in fashion, or in wellness. The biggest partnerships that we're really excited about, and that work for us, are our muses. When we first launched, we started off with a small muse story with Sissy Chacon, a stylist. And then we realized that it did very well for our launch, so then we start reaching out to different women, whether they're in the industry or they're just ordinary, beautiful women. We don't really look at the number of followers they have. We care about who they are and what they're doing. They're making a change in this world, and they deserve the highlight. And that's a Dāl woman, basically.
And that's something that I'm really excited about because we're building our community through those stories and those muses, and you never know what's going to come after. We feature this woman, and then we get a lot of traffic and meet that specific crowd of women, and then it just snowballs, which I think is the most exciting part about Dāl. We are really focusing on the community part, because it's a lifestyle, at the end of the day. We're hoping that Dāl can be a lifestyle brand, and that's how I see our community growing more and more.
Celebrity news, beauty, fashion advice, and fascinating features, delivered straight to your inbox!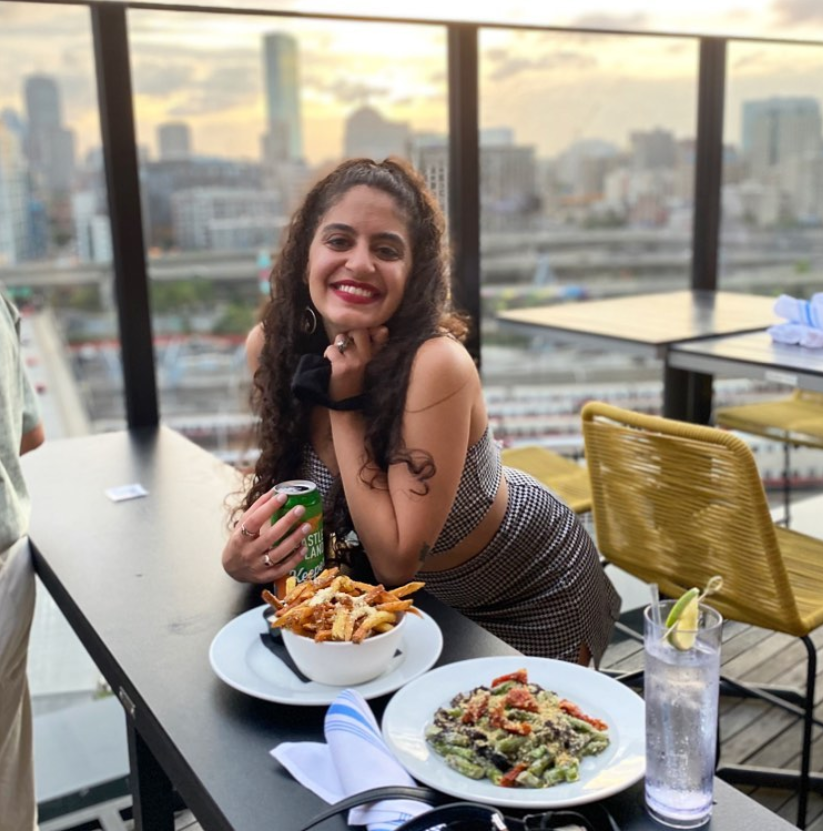 Gabrielle Ulubay is an E-Commerce Writer at Marie Claire and writes about all things beauty, sexual wellness, and fashion. She's also written about sex, gender, and politics for publications like The New York Times, Bustle, and HuffPost Personal since 2018. She has worked extensively in the e-commerce and sales spaces since 2020, including two years at Drizly, where she developed an expertise in finding the best, highest quality goods and experiences money can buy. As a film school graduate, she loves all things media and can be found making art when she's not busy writing.