I'm Relying on One Color Palette All Summer, and These 30 Items Nail It
I'm keeping my fashion and beauty picks in neutral.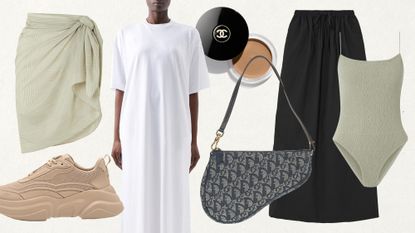 (Image credit: Original Illustration by Mira Thekdi)
Most Coveted is a new shopping series sharing our editors' curation of the must-know items they can't stop thinking about.
There's nothing more satisfying than shopping for summer pieces during a city heatwave, and it's no secret that this summer has been hot—like, ridiculously hot. So true to form, I've taken the scorching heat as a sign to reinvigorate my summer wardrobe. I've been snagging every light tank and airy linen dress I can get my hands on, and while my summer aesthetic begins with fresh, new clothes, it ends with the accessories and makeup looks to match. When it comes to fashion and beauty, I like to keep it neutral (beige is my love language), and I've got my eye on some real winners at the moment. White square-toed sandals, taupe sneakers, brown mascara, peachy eye shadow, and of course, lots of flowy, breathable pieces are topping my summer wish list. If you want to combat the heat with cool, neutral classics this summer, check out my entire wish list below.