How to Find the Best Plus-Size Button-Downs
Tired of shirts that pucker? Full-figured fashionista Ashley Falcon has the lowdown on the best-fitting blouses, regardless of your bra size.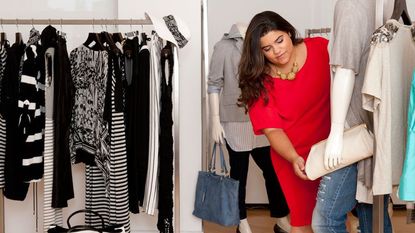 (Image credit: Greg Kessler)
Marie Claire Newsletter
Celebrity news, beauty, fashion advice, and fascinating features, delivered straight to your inbox!
Thank you for signing up to Marie Claire. You will receive a verification email shortly.
There was a problem. Please refresh the page and try again.
Here's a fashion memory that still makes me shudder: When I was in college, I interviewed for a prestigious fashion internship. Wanting to look chic yet professional, I opted for a freshly pressed white button-down and blazer. Unfortunately, I discounted those pesky gaps between buttonholes that often plague girls with a little extra somethin'-somethin' on top. But I was late and didn't have time to try on other shirts, so I grabbed a needle and thread and sewed those blubbles (blouse bubbles) shut. Quelle horreur!
For what it's worth, we big girls aren't the only ones vexed by ill-fitting blouses. I can't tell you how many times I've spotted a slim but curvy woman whose bra was on display through the gaps in her shirt. Ladies, you may feel sharp in that fresh-off-the-hanger oxford, but if it's struggling to stay buttoned, the look says only one thing: sloppy. Don't settle for a dress shirt that almost fits. Here, tips for finding one sure to work for you:
Quality cotton is key. Super-stiff cotton looks bulky on zaftig frames, while flimsy cottons are second only to wet T-shirts for clinging to every roll. Look for lightweight but sturdy material, ideally with stretch. Finger the fabric-if you can see your hand through it, that's a bad sign. You can't go wrong with a Lauren by Ralph Lauren Aaron Cotton Poplin Shirt, available up to 3X and blessedly wrinkle-free. Consider this one a wardrobe basic.
Find seasonally appropriate alternatives. For full-figured girls, summer workwear is a killer. (You mean I can't wear my black wool suit in August?!) Lighten up your favorite blazers and cardis with a Lands' End Sleeveless Poplin Collared Shirt (up to 3X), available in navy, light blue, red, and white. Note that the armholes are cut pretty wide-you may need to wear a cami underneath.
Button-downs make great day-to-night pieces. I didn't think this was true until I happened upon Marina Rinaldi's sophisticated lacy cream number (up to size 24W), a standout when paired with long black slacks or a pencil skirt. Wear this stunner to the office, then vamp up your makeup, heels, and jewelry for cocktail hour and beyond. This is one of the chicest, most delicate collared shirts I've ever laid eyes on. Well worth the hefty price tag.
Save loose blouses for the weekend. Invest in a few billowy shirts, which dress up otherwise ho-hum lazy weekend outfits. Instead of pairing your favorite shorts with a long tee, how about Talbots' boho-inspired "popover," made of a soft pink silk. Grab a pair of bejeweled sandals, throw on a long necklace, and you'll look like you just stepped out of a fashion shoot.
One parting tip, straight from my vault: To smooth out any lumps and bumps, I wear a Spanx seamless tank in nude underneath all my button-downs. God's gift, trust me. Be sure to check me out online at marieclaire.com/ashley. Next month, my fall essentials.
Celebrity news, beauty, fashion advice, and fascinating features, delivered straight to your inbox!